COVID-19 Drugs: Iranian Clinical Study Shows That Febuxostat, A Gout Drug Could Used For Treatment Of COVID-19
COVID-19 Drugs
: Iran is one of the worse hit countries by the COVID-19 crisis and initially as a result of drug shortages and misinformation, Iranian physicians were using hydroxychloroquine (HCQ) to treat many of its patients but as the lethal effects of the drug became known, many local researchers turned to drug-repurposing studies to find alternatives.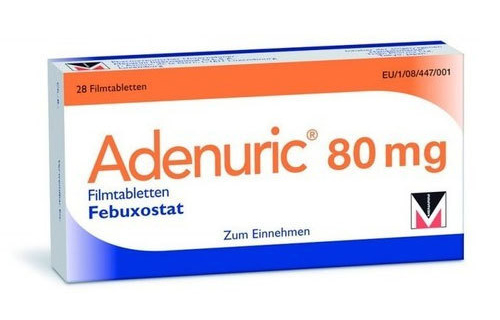 One such identified drug was Febuxostat. Researchers from the Mazandaran University of Medical Sciences, Sari, Iran identified that Febuxostat (FBX) can be used as an alternative treatment to hydroxychloroquine (HCQ) for COVID-19 patients. According to them,FBX thus can be considered in patients with precaution or contraindication to HCQ.
A clinical study was conducted on Febuxostat and the research findings were published in the International Journal of Clinical Practice.
https://onlinelibrary.wiley.com/doi/full/10.1111/ijcp.13600
The drug Febuxostat (FBX) is a novel non-purine xanthine oxidase (XO) approved for the treatment of hyperuricemia in patients with gout. It is already shown to have the anti-inflammatory, anti-oxidant, and anti-apoptosis effects.
Dr Lotfollah Davoodi, principal investigator from the Mazandaran University of Medical Sciences, Sari, Iran, and colleagues conducted this clinical trial to evaluate the effects of FBX versus HCQ on clinical symptoms, chest CT findings, and laboratory tests in outpatients having moderate symptoms of COVID-19 infection.
The Phase I clinical trial involved adult outpatients with moderate respiratory illness following COVID‐19 infection. They were randomly assigned to receive either FBX or HCQ for 5 days. Needs to hospitalization, clinical and laboratory data including fever, cough, breathing rate, C‐Reactive Protein level, lymphocytes count at the onset of admission, and was well as at 5 days of treatments were measured. In addition, CT findings were evaluated on admission and 14 days after initiation of treatment.
A total of sixty subjects were enrolled in the study with a 1 to 1 ratio in FBX and HCQ groups.
The main research findings include:
1. Upon admission, fever (66.7%), cough (87%), tachypnea (44.4%), dyspnea (35%), elevated CRP value (94.4%) and lung involvement according to chest CT (100%) were documented in enrolled patients with insignificant difference between FBX and HCQ groups.
2. Fever, cough and tachypnea were significantly mitigated in both groups after five days of treatments without any significant differences between groups.
3. The mean percentages of lung involvement were significantly reduced to 7.3% and 8% after 14 days of treatment with FBX and HCQ, respectively.
4. In adult outpatients with moderate COVID‐19 infection, the effectiveness of FBX and HCQ was not different in terms of resolution of clinical manifestations, laboratory tests, and lung CT findings.
Dr Davoodi told Thailand Medical News, "This trial suggests that FBX is as an alternative treatment to HCQ for COVID‐19 infection and may be considered in patients with a contraindication or precaution to HCQ."
More studies are being conducted by the team on the efficacy of Febuxostat including details of its mechanisms and a second larger clinical trial is currently underway.
For more on
COVID-19 Drugs
, keep on logging to Thailand Medical News.