South Korea Records 26,147 New COVID-19 Infections And 11 Deaths In The Last 24 Hours. Second Day COVID-19 Cases Exceeding 20,000 As Measures Eased
COVID-19 News
: South Korean health authorities reported 26,147 new COVID-19 infections in the last 24 hours and 11 Deaths due to COVID-19.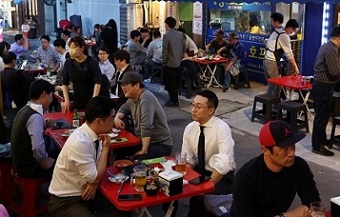 Pic Credit : Kim Hong-Ji / Reuters
According to officials from the Korea Disease Control and Prevention Agency (KDCA), South Korea's new daily COVID-19 cases stayed over 20,000 for a second day on Wednesday.
South Korea which recently had removed all COVID-19 preventive measures, rules and also eased all travel and border restrictions to leave behind the pandemic that upended people's lives for the past few years and start a new normal that involved learning to live with the virus is witnessing a new COVID-19 onslaught and once again it those that are in the vulnerable groups ie the aged, the obese, the immunocompromised, those with existing comorbidities such as diabetes, hypertension, heart and kidney issues that are most at risk of disease severity and increased risk of mortality irrespective of vaccine or booster status.
The KDCA said that of 26,147 cases, 39 were imported cases, bringing the total caseload to 31,465,107.
Health officials said that Wednesday's tally was higher than the 23,515 cases the country reported a week ago. The corresponding figure was 20,192 two weeks ago.
The KDCA said that there added 11 COVID-19 deaths, raising the death toll to 34,634. The previous day recorded 13 deaths. The current fatality rate was 0.11 percent.
Also, it was reported that the number of critically ill patients came to 147, down 3 from the previous day of 150.
According to local
COVID-19 News
outlets, South Korea is set to lower the national crisis level for COVID-19 to "alert" from "serious" next month, thereby removing remaining antivirus measures, in line with the World Health Organization's declaration early this month that the COVID-19 global health emergency is over.
Data from the CoV Spectrum platform shows that there are more than 90 different XBB sub-lineages circulating in the country in the 30 days between April 11
th
to May 11
th
2023!
https://cov-spectrum.org/explore/South%20Korea/AllSamples/from%3D2023-04-11%26to%3D2023-05-11/variants?nextcladePangoLineage=xbb*&
The XBB.1.5 is still the predominant sub-lineage accounting for about 25.47 % pf all sequences while the XBB.1.9.1, EG.1, XBB.1,16, XBB.1,9.2, FL.4 and XBB.2.3.8 are following.
With low testing rates, many no longer adhering to any COVID-19 preventive measures including masking, and also many not bothered to get tested when they exhibit mild symptoms coupled with the fact that here is no monitoring of asymptomatic infections and transmissions, the country is turning into a perfect "human population laboratory" for various sub-lineages to evolve and also to recombine as coinfections are becoming the norm. South Korea is joining the list of many other co untries where we can expect to see many new sub-lineages emerge with varying degrees of immune evasiveness, transmissibility and pathogenesis.
Excess deaths rates should also be very closely monitored as incidences of heart failures, strokes, kidney damage etc are increasing in South Korea.
For the latest
COVID-19 News
, keep on logging to Thailand Medical News.