COVID-19 News: Indian Researchers Warn That Microplastics In Waste Water Could Be Aiding SARS-CoV-2 Transmission!
COVID-19 News
: In the ongoing battle against the COVID-19 pandemic, researchers worldwide have been tirelessly investigating the various pathways of transmission of the virus. While contact and aerosol transmission have been well-documented, a recent study by Indian researchers raises concerns about a potential, lesser-known vector - microplastics present in wastewater. The study suggests that these tiny plastic particles could be aiding the transmission of SARS-CoV-2, the virus responsible for COVID-19. This new research sheds light on a previously neglected aspect of the pandemic, highlighting the urgent need for further investigation and public awareness.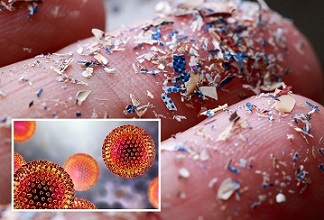 The Unseen Threat in Our Sewage
Researchers from esteemed Indian institutions, including the University of Calcutta, The Neotia University, Birla Institute of Technology, University of Kalyani, and Kalinga Institute of Industrial Technology, have conducted a wastewater-based epidemiological review to explore the possibility of SARS-CoV-2 transmission through microplastics. Their findings reveal that the virus not only persists in influent and treated sewage but also finds stability and support within the vast quantities of microplastics released into open waters.
The Formation of Viral Plastispheres
Microplastics, particularly particles made of Polyvinyl Chloride and Polyethylene, act as substrates and vectors for microbes, enabling the formation of what scientists term as "plastispheres." These plastispheres provide a stable environment for the virus, enhancing its longevity and potential for transmission. Shockingly, previous research on plastispheres and their presence in sewage has been remarkably scarce, indicating a significant oversight in understanding the risks associated with microplastics.
From Aquatic Organisms to Human Populations
The ubiquity of microplastics, combined with their release into open waters alongside the virus, raises concerns about the formation of viral plastispheres. Aquatic organisms may ingest these plastispheres, facilitating the reverse zoonotic transmission of the virus. Furthermore, commercial organisms that accumulate microplastics through the food chain pose a risk to human populations. In economically less developed countries, where high population density areas rely on open waters contaminated by untreated sewage, the potential for viral transmission is particularly alarming.
Previous
COVID-19 News
reports already shown that certain sea organisms can be reservoirs for the SARS-CoV-2 virus.
https://www.thailandmedical.news/news/breaking-the-findings-of-the-prevalence-of-active-sars-cov-2-in-seafoods-like-bivalve-mollusks-by-authorities-in-southern-italy-raises-lots-of-questio
s">https://www.thailandmedical.news/news/breaking-researchers-warn-that-sars-cov-2-could-also-infect-aquatic-mammals-such-as-dolphins-and-whales-creating-new-viral-reservoirs
https://www.thailandmedical.news/news/coronavirus-news-canadian-researchers-say-sars-cov-2-poses-major-threat-to-marine-mammal-species-seafood-supplies-possibly-next
https://www.thailandmedical.news/news/breaking-chinese-study-confirms-sars-cov-2-transmission-via-frozen-seafood-such-as-salmon,-virus-can-survive-for-days-and-is-still-infectious
https://www.thailandmedical.news/news/breaking-u-s-study-finds-that-sars-cov-2-can-survive-on-frozen-or-refrigerated-meats-and-seafood-for-up-to-30-days,-validating-china-s-claims
Transmission Routes - Beyond Respiratory Droplets
While respiratory droplets remain the primary mode of transmission for SARS-CoV-2, the review highlights additional pathways, including contact with contaminated surfaces (fomites) and fecal contamination. Untreated sewage released into water bodies can harbor the virus, posing a risk if proper treatment measures are not implemented. The intricate nature of transmission routes complicates efforts to track the source of infections, making it essential to understand the survivability and infectivity of the virus on various surfaces.
Microplastics as Silent Carriers
The review delves into the implications of microplastics serving as carriers of SARS-CoV-2. Given the vast array of plastic pollutants present in aquatic environments, these particles provide ideal substrates for the formation of biofilms, which could be exploited by the virus for transmission. Understanding the physical and chemical factors that influence the stability of viral plastispheres is crucial in assessing the potential health risks associated with microplastics.
Unseen Fallout- Airborne Microplastics
In addition to water contamination, the review draws attention to the atmospheric fallout of microplastics. Due to their low particle density, these tiny plastic particles can accumulate in the atmosphere and be transported globally through air currents. The inhalation or ingestion of airborne microplastics poses health risks, including respiratory diseases. However, further research is needed to fully comprehend the presence and fallout fluxes of microplastics from the atmosphere. These airborne microplastics can serve as vectors for the SARS-CoV-2 virus!
The Urgency for Further Research
To gain insights into the current research landscape surrounding microplastics and sewage, the study team performed a bibliometric analysis. The results highlighted a scarcity of studies on the presence of microplastics in sewage, underscoring the need to explore wastewater-based epidemiology as a potential early warning system for disease transmission related to microplastics as vectors. The analysis also identified research gaps that require attention and emphasized the importance of overcoming negligence in addressing the issue.
Conclusion
As the world continues to grapple with the COVID-19 pandemic, Indian researchers have uncovered a potential contributor to the virus's transmission i.e. microplastics present in wastewater. Their study highlights the formation of viral plastispheres within these plastic particles, which could aid the longevity and transmission of SARS-CoV-2. The implications of this research extend from aquatic organisms to human populations, particularly in densely populated areas relying on untreated sewage. Urgent action is required to further investigate this novel pathway of transmission and implement necessary measures to mitigate the risks associated with microplastics in wastewater.
The review was published in the peer viewed journal: Environmental Pollution.
https://www.sciencedirect.com/science/article/abs/pii/S0269749123011739
For the latest
COVID-19 News
, keep on logging to Thailand Medical News.
Read Also:
https://www.thailandmedical.news/news/breaking-news-covid-19-research-shows-that-sars-cov-2-coronavirus-can-survive-in-water-for-up-to-25-days-and-could-also-be-water-borne
https://www.thailandmedical.news/news/coronavirus-latest-news-singaporean-and-irish-study-confirms-that-sars-cov-2-virus-can-be-harbored-by-fresh-and-frozen-food-for-at-least-21-days
https://www.thailandmedical.news/news/covid-19-transmission-research-finds-that-food-products-are-potential-sars-cov-2-carriers
https://www.thailandmedical.news/news/coronavirus-news-chinese-authorities-report-of-sar-cov-2-coronavirus-being-found-on-ice-cream-in-the-city-of-tianjin-could-the-virus-be-food-borne
https://www.thailandmedical.news/news/south-korean-study-validates-that-sars-cov-2-can-remain-viable-on-foods-for-a-long-time-depending-on-storage-temperatures