Transient Low T3 Syndrome In COVID-19 Patients: A Promising Indicator Of Disease Severity
34.48% of the COVID-19 patients had low T3 levels at admission with distinctive characteristics, including advanced age, lower levels of hemoglobin, lymphocytes, prealbumin, and albumin, but higher levels of white blood cells, neutrophils, CRP, ESR and D-dimer
COVID-19 News
: In the battle against COVID-19, researchers continue to explore various aspects of the disease to improve early detection and predict its severity. One intriguing area of investigation involves the relationship between COVID-19 and thyroid function. Previous studies and
COVID-19 News
reports have revealed that functional abnormalities of the thyroid, including low T3 syndrome, are associated with COVID-19. Low T3 syndrome, characterized by decreased levels of triiodothyronine (T3) but normal levels of thyroxine (T4) and thyroid-stimulating hormone (TSH), has been found to be a prevalent condition among COVID-19 patients. However, its significance in predicting disease severity remained uncertain until now.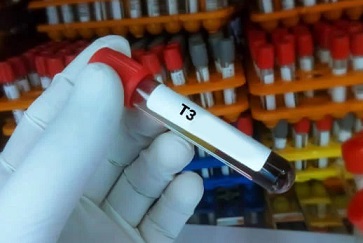 New Study Uncovers the Link
A recent study conducted by researchers from multiple Chinese medical institutions sheds light on the connection between low T3 syndrome and COVID-19 severity. The study retrospectively analyzed the clinical data of 145 COVID-19 patients and investigated the prevalence of low T3 levels among them. The patients were divided into two groups: a low T3 group and a normal T3 group. The researchers used logistic regression models to assess the predictive performance of free T3 (FT3) and conducted receiver operating characteristic (ROC) analysis to evaluate the utility of low T3 syndrome in predicting critical disease. Furthermore, they employed Kaplan-Meier analysis to determine the impact of low T3 syndrome on mortality.
Key Findings and Implications
The study revealed that 34.48% of the COVID-19 patients had low T3 levels at admission. The low T3 group exhibited several distinctive characteristics, including advanced age, lower levels of hemoglobin, lymphocytes, prealbumin, and albumin, but higher levels of white blood cells, neutrophils, C-reactive protein (CRP), erythrocyte sedimentation rate (ESR), and D-dimer. Moreover, the low T3 group had a higher prevalence of critical disease and mortality compared to the normal T3 group.
Multivariate logistic regression analysis identified lymphocytes, FT3, and D-dimer as independent risk factors for disease severity in COVID-19 patients. ROC analysis demonstrated that FT3, lymphocyte count, and D-dimer, either individually or in combination, provided reliable predictions of critical disease. Furthermore, the Kaplan-Meier analysis substantiated the association between low T3 syndrome and increased mortality.
However, a ray of hope emerged when the researchers followed up with 42 survivors from the low T3 group. They observed that all patients had their T3 levels return to normal after recovery from COVID-19, without requiring thyroid hormone therapy.
Implications and Future Prospects
The study findings provide valuable insights into the role of low T3 syndrome as an early predictor of COVID-19 severity. The researc hers speculate that several mechanisms could explain the link between low T3 syndrome and adverse outcomes in COVID-19 patients. These mechanisms include direct damage to thyroid tissues by the virus, elevated cytokine levels induced by severe COVID-19, the importance of normal thyroid hormone levels in protecting the lungs from injury, and the association between low T3 levels and anemia with poor nutritional status.
The normalization of T3 levels after recovery suggests that low T3 syndrome in COVID-19 patients is a transient condition. This emphasizes the need for further investigation into the underlying mechanisms and long-term impact on thyroid function.
While the study has its limitations, such as its retrospective design, small sample size, and single-center focus, it highlights the potential of low T3 syndrome as a valuable tool for early evaluation and prediction of disease severity in COVID-19 patients.
As researchers continue to unravel the complexities of COVID-19, the discovery of transient low T3 syndrome opens a new window of opportunity for improving patient care. With further research and validation, this finding may aid in the development of targeted interventions and personalized treatment strategies to mitigate the severity and impact of COVID-19.
The study findings were published the peer reviewed journal: Frontiers In Endocrinology.
https://www.frontiersin.org/articles/10.3389/fendo.2023.1154007/full
For the latest
COVID-19 News
, keep on logging to Thailand Medical News.
Read Also:
https://www.thailandmedical.news/news/breaking-news-french-physicians-uncover-malignant-pseudothyroiditis,-a-new-type-of-thyroid-cancer-in-a-post-covid-individual
https://www.thailandmedical.news/news/breaking-news-thai-study-reveals-alarming-rate-of-about-20-2-percent-of-covid-19-patients-found-with-thyroid-incidentalomas
https://www.thailandmedical.news/news/covid-19-news-study-shows-that-sars-cov-2-infections-causes-thyroxine-fluctuations
https://www.thailandmedical.news/news/long-covid-italian-researchers-warn-that-sars-cov-2-induced-thyroid-dysfunction-can-linger-on-for-more-than-a-year
https://www.thailandmedical.news/news/breaking-cso-from-london-medical-laboratory-warns-that-thyroid-issues-escalating-rapidly-in-the-united-kingdom-could-be-due-to-omicron-or-previous-var
https://www.thailandmedical.news/news/italian-study-presented-at-endocrine-society-s-2021-annual-meeting-shows-that-sars-cov-2-causes-a-unique-thyroid-inflammation-in-some-patients-
https://www.thailandmedical.news/news/covid-19-latest-yet-another-study-showing-effects-of-sar-cov-2-on-the-thyroid-gland-including-thyrotoxicosis
https://www.thailandmedical.news/news/breaking-covid-19-research-new-study-reveals-that-sars-cov-2-coronavirus-also-affects-thyroid-functions-in-majority-of-covid-19-patients
https://www.thailandmedical.news/news/warning-covid-19-patients-could-also-develop-thyroid-infections