Japanese Study Finds That T-Cell Immunity Plays A Role In Long COVID Manifestations
Weaker T-cell Responses Linked To Significantly Higher Number Of Persistent Symptoms In Post COVID Individuals.
Long COVID
: Long after recovering from COVID-19, many individuals continue to experience persistent symptoms, known as "long COVID" or post-acute COVID-19 syndrome (PACS). While the involvement of B-cell immunity in this phenomenon has been extensively studied, the contribution of T-cell immunity remains uncertain. Addressing this knowledge gap, researchers from Kobe University Graduate School of Medicine and Hyogo Prefectural Kakogawa Medical Center in Japan conducted a retrospective study to investigate the relationship between the number of symptoms, cytokine levels, and T-cell immunity in COVID-19 patients.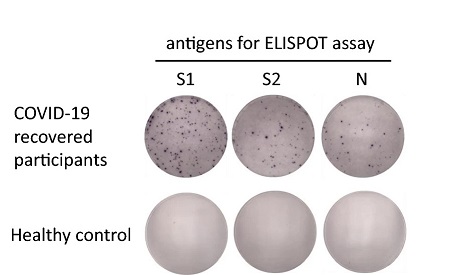 The representative spot images of ELISPOT assay. Each parameter was
compared between HC; healthy control (n = 10) and COVID-19; COVID-19
recovered participants (n = 15). P-values were tested by the Mann–Whitney U
test. SU sysmex unit, SFC spot forming cells.
Unraveling the Connection: T-Cell Immunity and

Long COVID
To assess the inflammatory conditions, the study team analyzed plasma samples obtained from both COVID-19 recovery patients and healthy controls. They examined the levels of interleukin (IL)-6, IL-10, IL-18, chemokine ligand 9 (CXCL9), chemokine ligand 3 (CCL3), and vascular endothelial growth factor (VEGF). The results showed significantly higher levels of these markers in the COVID-19 group compared to the healthy control group, indicating persistent inflammation in COVID-19 patients.
The researchers employed the Enzyme-linked immunosorbent spot (ELISPOT) assay to investigate the correlation between COVID-19 persistent symptoms and T-cell immunity. By categorizing the COVID-19 recovery patients into ELISPOT-high and ELISPOT-low groups based on ELISPOT values, they found that the ELISPOT-low group, characterized by weaker T-cell responses, experienced a significantly higher number of persistent symptoms than the ELISPOT-high group. These findings suggest that robust T-cell immunity is crucial for the prompt elimination of long COVID symptoms.
T-Cell Immunity: A Key Player in COVID-19
SARS-CoV-2, the virus responsible for COVID-19, has caused a global pandemic. In some patients, the virus persists in certain organs or tissue reservoirs, affecting immunity and leading to chronic symptoms even after the resolution of acute infection. The relationship between T-cell immunity and COVID-19 has been a topic of interest, with previous studies highlighting a correlation between the duration of symptoms and antigen-specific T-cell responses to the SARS-CoV-2 spike protein. Therefore, measuring T-cell responses after SARS-CoV-2 infection or vaccination could serve as an important indicator for assessing COVID-19 outcomes.
The Power of ELISPOT Assay
The study team utilized the ELISPOT assay, a technique that detects and quantifies antigen-specific cytokine-producing cells in periph eral blood. This assay measures interferon (IFN)-γ released from antigen-specific T cells stimulated with pathogen-specific peptides. While the clinical significance of the ELISPOT assay for COVID-19 is still being established, it holds the potential to become a valuable tool, similar to the QuantiFERON-TB Gold test used for diagnosing tuberculosis.
Insights from the Study
In this study, the ELISPOT assay was performed on peripheral blood mononuclear cells (PBMC) obtained from COVID-19 recovery patients. The results revealed a negative correlation between ELISPOT assay counts and the number of symptoms. Patients with fewer symptoms exhibited stronger T-cell responses, indicating a more efficient immune system in eliminating the virus. On the other hand, patients with multiple persistent symptoms showed lower T-cell reactivity.
This suggests that post-infection or Long COVID patients with a greater symptom burden may have impaired memory T-cell activation, leading to diverse and prolonged symptoms
.
Implications for Future Research
While this study sheds light on the critical role of T-cell immunity in long COVID manifestations, it has some limitations. The sample size was relatively small, and the data on symptoms were collected retrospectively, relying on patient recollection. Additionally, all participants were unvaccinated, and further investigation is needed to explore potential differences in vaccinated populations. Prospective studies involving larger cohorts are warranted to validate the findings of this study.
Conclusion
The study conducted by Japanese scientists highlights the significant contribution of T-cell immunity in the elimination of long COVID symptoms. Monitoring T-cell responses immediately after COVID-19 recovery may serve as a predictive measure for the development of long-term COVID-19 or PACS. The findings underscore the importance of understanding the complex immune responses involved in COVID-19 to provide appropriate treatments and care for individuals experiencing long-lasting symptoms post-infection.
The study findings were published in the peer reviewed journal: Scientific Reports
https://www.nature.com/articles/s41598-023-35505-w
For the latest on
Long COVID
, keep on logging to Thailand Medical News.