WARNING! Newer SARS-CoV-2 Variants Have Evolved To Overcome The Robust Innate Immune System Of Children! Infants And Children Are More Vulnerable Now!
In the last few weeks, the number of infants and children being admitted to hospitals due to COVID-19 severity is fast increasing in many states across the United States and worse in countries like the United Kingdom, Belgium, Germany, France, Denmark and Austria
https://doh.wa.gov/sites/default/files/2022-02/421-019-ChildrenYouthReport.pdf
https://www.ons.gov.uk/peoplepopulationandcommunity/healthandsocialcare/conditionsanddiseases/articles/coronaviruscovid19latestinsights/hospitals
https://www.ecdc.europa.eu/en/cases-2019-ncov-eueea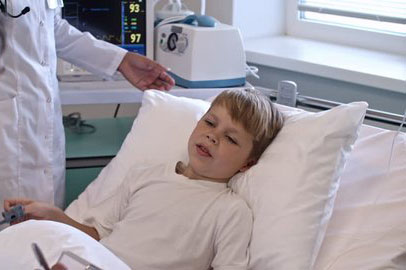 In the early parts of the COVID-19 pandemic, when the initial Wuhan wildtype strain was spreading in many parts of the world, it was found that the SARS-Cov-2 virus did not have much of an impact on children and babies.
This was due to the fact that unlike adults, babies and young children did not have a properly developed adaptive immunity but instead had a more crude but robust innate immunity to deal with invading pathogens such as the SARS-CoV-2 virus.
One study conducted in late 2020 found that although pediatric patients did not produce much antibodies upon infection, the children produced higher levels of the signaling proteins interferon-γ and interleukin-17, which alert the immune system to the arrival of a pathogen. These were probably produced by cells that line the airways, and are involved in mediating innate immunity. It was suspected that the children mounted a less robust adaptive immune response because their innate response was more efficient at eliminating the threat whereas an overactive adaptive response found in adults was causing some of the complications in COVID-19 including cytokine storms.
https://www.science.org/doi/full/10.1126/scitranslmed.abd5487
Another study also found that children tend to have a higher number of innate lymphoid cells in the blood compared to older adults and these were believed to help ward of the initial SARS-CoV-2 variants.
https://www.medrxiv.org/content/10.1101/2021.01.14.21249839v4
One study also found that compared with adults, children recently infected with SARS-CoV-2 have also been found to have higher levels of activated neutrophils, cells that are on the front line in the response to unfamiliar invaders. Neutrophils ingest viral particles before they have a chance to replicate.
https://pubmed.ncbi.nlm.nih.gov/33597531/
It was also found that the epithelial cells that line the insides of children noses could also be coordinating the quick response. In children, these cells are flush with receptors that can recognize molecules commonly found in pathogens; specifically, researchers have found that children have significantly higher expression of genes encoding MDA5, a receptor known to recognize SARS-CoV-2, than do adults. After spotting the viral intruder, these cells immediately trigger the production of interferons.
https://www.nature.com/articles/s41587-021-01037-9
Thailand
Medical News
however observed that with the debut of the Delta variant, it was observed that the more children and babies were getting stricken by the COVID-19 disease but not with the debut of the original Omicron variants.
However ever since the debut of the BA.5, BA.2.75 and BA.4.6 variants and also other newer Omicron variants and sub-lineages, it has been observed that children and babies are being more susceptible to the virus and are often developing disease severity alongside a number of complications.
In Taiwan for instance, it was reported that the new BA.2.3.7 variant was not only causing children to become more sick but was also triggering a variety of critical neurological complications in infected children.
https://www.thailandmedical.news/news/scientist-in-taiwan-report-that-a-new-sars-cov-2-ba-2-3-7-sub-variant-with-k97e-spike-mutation-is-causing-critical-neurological-illness-in-children
Researchers are speculating that the newer Omicron variants and sub-lineages have evolved to disrupt the innate immune systems of children and babies and affect dysregulate not only the interferon signally pathways and genes but also disrupt neutrophil production and innate lymphoid cells.
More research is currently underway but parents and teachers need to be aware that children and babies are now just as susceptible to the newer Omicron variants and sub-lineages and more preventive measures need to be implemented in schools including proper air ventilation, air filtering and air disinfecting systems, and also basic preventive measures. Parents need to ensure that their kids are given proper balanced nutritious meals alongside proper supplements and herbs that are approved for pediatric use to enhance their immune system and general health. Sufficient sleep and proper exercise are also needed and careful attention should be paid to the slightest of health or medical symptoms or conditions arising with immediate reference to proper healthcare personnel.
The coming winter surge is expected to be real bad with the multitude of new Omicron variants and sub-lineages emerging and preliminary research data is already indicating that most will be left defenseless against these new variants.
https://www.thailandmedical.news/news/with-the-debut-of-over-200-new-immune-evasive-omicron-variants-and-sub-lineages-expect-a-winter-of-dangerous-reinfections-and-coinfections
https://www.thailandmedical.news/news/spike-346-mutations-emerging-in-many-new-omicron-variants-and-sub-lineages-is-helping-sars-cov-2-to-escape-neutralization-by-all-known-antibodies
https://www.thailandmedical.news/news/sars-cov-2-presents-its-fall-and-winter-2022-variant-collections-featuring-ba2-75-2,-bq-1-1,-bw-1,-xbb,-bu-1,-br-2,-bm-1-1-1,-ca-1,-bj-1-and-bn-1
Sadly, this winter, children and babies will be joining the aged alongside the immunocompromised, the obese and those with existing comorbidities as being the most vulnerable group.
For more on
Pediatric COVID-19
, keep on logging to Thailand
Medical News
.
Read Also:
https://www.cdc.gov/coronavirus/2019-ncov/hcp/pediatric-hcp.html