BREAKING NEWS! Metformin Shows Remarkable Results in Reducing SARS-CoV-2 Viral Loads In Phase 3 Randomized Clinical Trial Conducted In America
Cheap, Easily Available Generic Diabetic Medication Shows Promising Potential In Treating COVID-19
COVID-19 News
: In a groundbreaking development, a Phase 3 randomized placebo-controlled clinical trial has revealed that metformin, a commonly used medication for diabetes, exhibits significant potential in reducing SARS-CoV-2 viral loads. The trial, known as COVID-OUT, involved a collaboration between multiple prestigious institutions in the United States including the University of Minnesota, University of North Carolina, Northwestern University, John Hopkins University School of Medicine, University of California-Los Angeles and many more.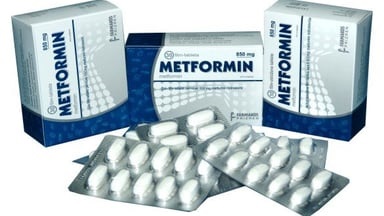 The ongoing COVID-19 pandemic has posed immense challenges globally, with limited availability and efficacy of antiviral treatments. Furthermore, certain medications cannot be combined with existing antiviral therapies, limiting treatment options.
However, the study team turned their attention to metformin after biophysical modeling of SARS-CoV-2 replication highlighted protein translation as a promising target for antiviral therapy. Metformin, known for its ability to regulate the mTor pathway in the human body, was found to potentially suppress protein translation and display antiviral properties against RNA viruses, including SARS-CoV-2, in laboratory studies.
Past
COVID-19 News
coverages showed that Metformin demonstrated great potential to treat COVID-19 infections.
https://www.thailandmedical.news/news/yet-another-study,-this-time-led-by-scientists-from-the-university-of-minnesota-shows-that-metformin-decreases-risk-of-covid-19-severity
https://www.thailandmedical.news/news/spanish-study-shows-that-metformin-glucophage-lowers-risk-of-disease-severity-and-fatal-outcomes-in-diabetic-patients-infected-with-covid-19
https://www.thailandmedical.news/news/university-of-minnesota-led-phase-three-randomized-clinical-trial-shows-that-metformin-reduces-risk-of-covid-19-disease-severity-and-mortality-
https://www.thailandmedical.news/news/covid-19-drugs-university-of-alabama-study-shows-that-metformin-decreases-mortality-rate-in-type-2-diabetes-patients-contracting-covid-19
-news-reports-that-metformin-can-drastically-reduce-covid-19-mortality-risks-in-women">https://www.thailandmedical.news/news/latest-medical-news-reports-that-metformin-can-drastically-reduce-covid-19-mortality-risks-in-women
https://www.thailandmedical.news/news/breaking-metformin-might-emerge-as-another-covid-19-drug-candidate-with-university-of-minnesota-now-receiving-funding-for-further-research
https://www.thailandmedical.news/news/metformin-university-of-minnesota-researchers-discover-that-metformin-may-lower-risk-of-covid-19-deaths-in-obese-and-or-diabetic-women
One study even showed that metformin could prevent Long COVID.
https://www.thailandmedical.news/news/long-covid-news-university-of-minnesota-study-shows-that-early-use-of-metformin-during-sars-cov-2-infection-can-prevent-long-covid
The COVID-OUT trial aimed to assess the efficacy of outpatient treatments for COVID-19, and its findings have taken the medical community by storm.
Participants who received metformin experienced a staggering 42% reduction in emergency room visits, hospitalizations, and deaths within 14 days compared to those who received a placebo. The benefits were even more pronounced over the course of 28 days, with a remarkable 58% reduction in hospitalizations and deaths. Additionally, metformin demonstrated a 42% reduction in Long COVID symptoms over a period of 10 months.
However, the most groundbreaking aspect of the trial was the analysis of viral load in collected specimens. The results showed that metformin led to a significant 3.6-fold reduction in the mean SARS-CoV-2 viral load compared to the placebo group. This reduction in viral load reinforces the clinical benefits observed in the trial, establishing metformin as a potential game-changer in the fight against COVID-19.
It is worth noting that the trial did not find any significant virologic effect for ivermectin or fluvoxamine compared to the placebo. This further emphasizes the unique and promising antiviral properties of metformin.
The implications of these findings are vast and transformative. Metformin is a well-established medication, widely available, inexpensive, and known for its tolerability by patients. Repurposing metformin as an antiviral treatment could potentially revolutionize the global fight against COVID-19, especially in regions where access to specialized antiviral therapies is limited.
Dr Carolyn T Bramante, MD, MPH; the lead researcher from the University of Minnesota, told
Thailand Medical
News, "These study findings open up new possibilities in the treatment of COVID-19. Metformin has the potential to become a readily accessible and affordable solution for reducing viral loads and preventing severe outcomes associated with the disease."
While more research is needed to fully understand the impact of decreased viral load on the transmission of SARS-CoV-2, these study findings mark a significant milestone in the battle against the pandemic. The successful identification of metformin's antiviral properties through biophysical modeling showcases the power of computational approaches in discovering novel therapeutic targets, not only for COVID-19 but also for future infectious diseases.
As the scientific community continues to explore potential combination therapies and further investigate metformin's mechanism of action, the hope remains that this breakthrough discovery will pave the way for effective and accessible treatments against SARS-CoV-2.
In conclusion, the Phase 3 clinical trial of metformin in the treatment of COVID-19 has yielded remarkable results, demonstrating its ability to significantly reduce SARS-CoV-2 viral loads. The potential of repurposing a widely available and well-tolerated medication like metformin as an antiviral treatment has sparked excitement and offers hope in the ongoing battle against the global pandemic. As further research unfolds, the medical community eagerly anticipates the development of new treatment strategies and the possibility of transforming the landscape of COVID-19 therapeutics.
The findings of the clinical trial were published on preprint server and are currently being peer reviewed.
https://www.medrxiv.org/content/10.1101/2023.06.06.23290989v1
For the latest
COVID-19 News
, keep on logging to Thailand Medical News.
Read Also:
https://www.thailandmedical.news/news/metformin-new-possibility-to-reverse-lung-fibrosis
https://www.thailandmedical.news/news/cleveland-clinic-and-northwestern-university-study-shows-that-metformin-could-be-repurposed-to-treat-atrial-fibrillation-findings-relevant-in-covid-se
https://www.thailandmedical.news/news/metformin-emerging-as-new-treatment-for-fibromyalgia-as-study-links-insulin-resistance-as-the-cause
https://www.thailandmedical.news/news/study-shows-metformin-helps-in-certain-types-of-breast-cancer
https://www.thailandmedical.news/news/new-study-shows-that-metformin-may-prevent-ovarian-cancer
https://www.thailandmedical.news/news/molecular-mechanisms-of-the-wonder-drug-:-metformin
https://www.thailandmedical.news/news/med-news-stanford-study-find-metformin-use-is-associated-with-lower-incidence-of-osteoarthritis
https://www.thailandmedical.news/news/metformin-and-leucine:-a-novel-anti-aging-tool-combating-muscle-atrophy-and-cellular-senescence
https://www.thailandmedical.news/news/drug-combo-of-metformin-and-syrosingopine-has-potential-in-future-cancer-therapy