COVID-19 News: German Study Shows That Monocyte-Derived Macrophages In SARS-CoV-2 Infection Causes Vascular And Lung Damage In Hamsters
COVID-19 News
: A new study lead by researchers from the Institute of Molecular Virology and Cell Biology, Friedrich-Loeffler-Institut, Greifswald-Germany haas found that monocyte-derived macrophages in SARS-CoV-2 infection causes vascular and lung damage in hamsters.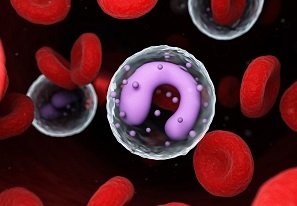 Credit: SEBASTIAN KAULITZKI/SCIENCE PHOTO LIBRARY / Getty Images
The innate immune response plays a crucial role in how the body responds to SARS-CoV-2 infections. In particular, macrophage infiltration is often associated with disease severity.
In this study, researchers used a combination of techniques, including 3D spatiotemporal analysis, virological, immunohistochemical, and RNA sequence analyses, to examine the spread of SARS-CoV-2 in the lungs of hamsters.
The study team discovered a wave of monocyte-derived macrophage (MDM) infiltration that was closely linked to virus elimination and vascular and tissue injury.
The study findings help scientists to better understand how the immune system reacts to the virus, leading to potential long-term effects in the lungs.
Golden Syrian hamsters were chosen as a suitable model for studying moderate COVID-19 pathogenesis in humans. The study team combined 3D tissue imaging with global transcriptomics and immunohistochemistry to reveal a pattern of MDM influx that correlated with a decrease in SARS-CoV-2 levels.
The study findings showed that the MDMs appeared in large clusters near blood vessels rather than directly at the sites of infection. The migration of MDMs towards the infected cells may be driven by chemoattractants produced by these cells, as reported in previous COVID-19 studies and
COVID-19 News
coverages.
The study team observed that lung tissue damage and cell death after SARS-CoV-2 infection were similar in hamsters and humans. One critical consequence is vascular hyperpermeability, which disrupts the respiratory vascular barrier and contributes to severe COVID-19 cases.
The study findings suggest that vascular hyperpermeability may serve as a trigger for MDM entry into the tissue, and areas of vascular damage may define the sites of MDM infiltration.
The study team also observed that lung epithelial cells were able to recognize viral Pathogen-Associated Molecular Patterns (PAMPs), leading to the activation of immune transcriptional profiles and changes in pulmonary innate immunity. This response included the recruitment of MDMs and the upregulation of MHC II in infected cells.
Finally, the researchers found that hamsters demonstrated a rapid antiviral response followed by MDM-driven virus clearance. At the same time, simultaneous tissue damage, thrombotic, and proliferative responses occurred, leading to high levels of apoptosis, vascular damage, and early lung repair. While the hamsters were able to resolve most of these processes, some immunopathological characteristics remained, including inflammation and fibrosis.
The study findings show that MDMs play a crucial role in virus clearance and tissue damage in SARS-CoV-2 infected hamster lungs. The rapid antiviral response is followed by MDM-driven virus clearance, but this is accompanied by tissue damage, thrombotic responses, and lung repair. Although hamsters are able to resolve most of these processes, some immunopathological characteristics remain, including inflammation and fibrosis. This suggests that the presence of MDMs observed in severe COVID-19 cases may be a consequence of the decreased ability to maintain a balance between tissue damage and repair, which is critical for complete lung function restoration.
The study findings were published on a preprint server and is currently being peer reviewed.
https://www.biorxiv.org/content/10.1101/2023.03.22.533759v1
For the latest
COVID-19 News
, keep on logging to Thailand Medical News.