The Dramatic Takeover of Credit Suisse by UBS With One Winner And Many Losers. Asia Markets Mostly Fall After News Of Takeover
How the $3.2 billion emergency rescue deal changed the landscape of Swiss banking
The Unprecedented Deal to

Save Credit Suisse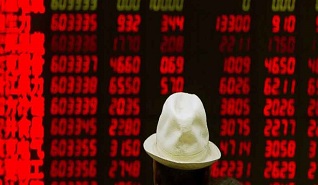 Switzerland's largest bank, UBS, made headlines after agreeing to purchase its struggling rival, Credit Suisse, in an emergency rescue deal designed to halt the financial panic sparked by the collapse of two American banks earlier this month. The Swiss National Bank announced the takeover, emphasizing its goal to secure financial stability and protect the Swiss economy. With a purchase price of 3 billion Swiss francs ($3.25 billion), Credit Suisse shareholders will be left with only a fraction of their previous stock value.
In a surprising move, the Swiss government altered the law to eliminate any uncertainty surrounding the deal, bypassing the need for shareholder approval. This marks a historic turning point for Credit Suisse, which has experienced a decline in investor and customer trust, culminating in its worst loss since the global financial crisis in 2022.
The Desperate Search for a Solution
As Credit Suisse's confidence plummeted and the banking crisis threatened to spread, Swiss authorities sought a private sector solution with limited state support. They also considered full or partial nationalization as a backup plan. After days of intense negotiations with financial regulators from Switzerland, the United States, and the United Kingdom, the emergency takeover was agreed upon.
UBS and Credit Suisse are among the 30 most important banks in the global financial system, with combined assets nearing $1.7 trillion. Regulators worldwide applauded the takeover, with statements of support from the US Treasury Secretary Janet Yellen, Federal Reserve Chair Jerome Powell, European Central Bank President Christine Lagarde, and the Bank of England.
Combining Forces: UBS and Credit Suisse
Though their global headquarters are only 300 yards apart in Zurich, UBS and Credit Suisse have experienced starkly different fortunes in recent years. UBS saw its shares rise by 15% over the past two years, while Credit Suisse's shares lost a staggering 84% of their value in the same timeframe.
The Swiss National Bank will provide a loan of 100 billion Swiss francs ($108 billion) to UBS and Credit Suisse to bolster liquidity. Ralph Hamers, UBS Chief Executive, will serve as CEO of the combined bank, with Colm Kelleher as chairman. The takeover will reinforce UBS as the world's leading wealth manager, with $5 trillion of invested assets, and support its growth ambitions in the Americas and Asia.
Winners and Losers in the UBS-Credit Suisse Rescue
The historic deal has produced both winners and losers. UBS emerges as a rare victor, with its wealth and asset management invested assets soaring to $5 trillion. The bank also received a special waiver to keep Credit Suisse's profitable Swiss unit. Ralph Hamers and his team will have plenty to work through as they decide which businesses and personnel to retain, modify, or discard.
However, the losers are numerous, inc luding Credit Suisse's top shareholders, CEO Ulrich Koerner, former Citigroup investment bank head Michael Klein, and AT1 bondholders. The Swiss regulators, Finma, also faced their first systemically important bank rescue since the financial crisis, forcing the Swiss government to provide billions of francs in guarantees to UBS and the central bank to offer extensive liquidity backstops.
The Impact on Asian Markets
Asia-Pacific markets experienced a mostly negative response on Monday following the announcement of UBS's $3.2 billion acquisition of its banking rival, Credit Suisse. In addition to the takeover, investors kept a close eye on China's upcoming release of its one-year and five-year loan prime rates, which currently stand at 3.65% and 4.3% respectively.
Market Performance Across the Asia-Pacific Region
-
In Australia, the S&P/ASX 200 index declined by 0.45% as investors processed the news of the UBS-Credit Suisse deal.
-Japan's Nikkei 225 opened 0.25% lower, while the Topix index experienced a 0.4% drop.
-Contrastingly, South Korea's Kospi and Kosdaq indices started the trading day with slight gains.
Central Banks Increase US Dollar Swap Line Arrangements
The U.S. Federal Reserve, in collaboration with five other central banks, announced plans to increase the frequency of their US dollar swap line arrangements from weekly to daily. The central banks involved include the Bank of Canada, Bank of England, Bank of Japan, European Central Bank, and Swiss National Bank.
Starting on March 20th and continuing until at least the end of April, the frequency of 7-day maturity operations will increase. According to the monetary authorities, this move aims to "serve as an important liquidity backstop to ease strains in global funding markets, thereby helping to mitigate the effects of such strains on the supply of credit to households and businesses."
The announcement comes just ahead of the Federal Reserve's two-day meeting this week, during which it is expected to reveal its intentions regarding interest rates.
For the latest
Banking and Financial News
, keep on logging to Thailand Medical News.