COVID-19 News: Vietnam Reports A Rise To 3000 New COVID-19 Cases Within A 24 Hour Period!
COVID-19 News
: The XBB.1.16 sub-lineage has been grabbing headlines worldwide due to its rapid transmission rate and in some cases has been found to be contributing to an increase in disease severity as reported by Indian researchers in a recent preprint study.
https://www.thailandmedical.news/news/indian-study-shows-that-xbb-1-16-does-increase-risk-for-disease-severity-contrary-to-claims-by-clueless-experts-or-stupid-health-authorities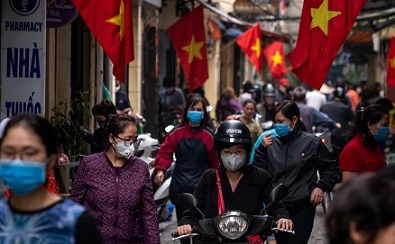 Pic Credit: Getty
Medical professionals in Vietnam are now also complaining of increasing COVID-19 caseloads and the total complacency among the general population.
On April 28th, the Vietnamese Ministry of Health reported nearly 3,000 new infections within a 24-hour period - a significant increase of about 300 cases compared to the previous day and the highest daily count since the beginning of April 2023.
The number of patients requiring supplemental oxygen therapy decreased to 85, with 38 fewer cases than the day before. Among these patients, six were on invasive ventilators, one on a non-invasive ventilator, and the remaining patients on high-flow nasal cannula (HFNC) oxygen therapy and oxygen masks.
A comprehensive analysis of 25 severe and critical cases requiring supportive oxygen interventions, such as ventilators, HFNC, and oxygen masks, revealed that 90% of these patients had severe pre-existing health conditions. After receiving appropriate treatment, 76% of this group fully recovered.
The Vietnamese Preventive Health Department at the Ministry of Health, stated that the proportion of severe cases has remained between 1.1% and 1.4%, despite the increase in the number of infections.
Gene sequencing results from virus samples collected in March and April showed that the majority of infections were caused by the XBB sub-lineages with the XBB.1.16 variant slowly becoming the prevalent strain.
Most patients exhibited upper respiratory tract infection symptoms, such as fever, cough, and muscle aches.
It was reported that the gene sequencing results from virus samples in Hanoi and Ho Chi Minh City since mid-April align with global trends with the various XBB sub-lineages behind the new COVID-19 onslaught in Vietnam.
Most of these new XBB sub-lineages have a higher transmission rate than their predecessors and are also causing breakthrough infections and reinfections.
In fact, it has been reported that most of the recently logged COVID-19 infections in Vietnam were reinfections.
According to local Vietnamese
COVID-19 News
coverages, many also complained that the symptoms were more severe in the reinfections than in the previous initial infections.
Vietnamese healthcare professionals however clarified that it is impossible to definitively conclude that reinfection will result in more severe symptoms than the initial infection. The severity of symptoms depends on each individual's immune system, the type of vaccine they received, and the concentration of antibodies in their body. There is currently insufficient evidence to definitively state whether the duration of positive test results is longer or shorter compared to previous outbreaks.
Some Vietnamese experts stressed that the severity of the illness depends on various factors, with the immune system's strength being the most critical. A robust immune system can rapidly fend off viral invasions, while a weaker immune response may result in a more severe illness.
One doctor explained, "Many people who had mild symptoms during their first COVID-19 infection may experience more severe symptoms during reinfection due to a long interval since their last vaccination and a weakened immune system."
The Vietnamese Ministry of Health and medical experts continue to recommend COVID-19 vaccinations for high-risk groups to prevent severe cases and fatalities.
During the coming Labor Day holidays, the Ministry also advises the public to adhere to safety measures, such as wearing masks and sanitizing hands, as well as getting vaccinated to ensure the health and safety of themselves, their families, and their communities.
For the latest
COVID-19 News
, keep on logging to Thailand Medical News.