COVID-19 News: Despite Minimal And Pathetic COVID-19 Testing Rates, Data Shows That SARS-CoV-2 Infections Are Rising In Ottawa, Canada
COVID-19 News
: In a concerning development, Ottawa, Canada, is witnessing a significant rise in COVID-19 cases, even as testing rates remain minimal and ineffective. Ottawa Public Health (OPH) reported three new deaths attributed to COVID-19 and a staggering 207 new cases over the past seven days. The total death toll has now reached 1,136, with a cumulative total of 94,917 confirmed COVID-19 cases since the onset of the pandemic in 2020.
https://www.ottawapublichealth.ca/en/reports-research-and-statistics/covid19-dashboard.aspx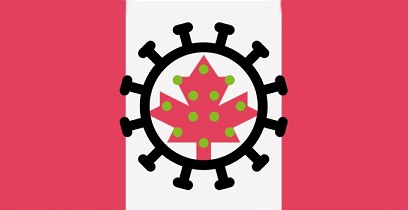 The current situation in Ottawa is alarming, with 77 confirmed COVID-19 patients admitted to local hospitals as of Tuesday, including one patient in intensive care. An additional 77 patients were admitted for other health issues, further straining the healthcare system. OPH has identified 18 new outbreaks in institutional settings, contributing to a total of 37 ongoing outbreaks in the region.
The infection rate per 100,000 people over the past seven days stands at 19.8 percent, indicating a worrisome upward trend. The OPH respiratory and enteric surveillance dashboard reveals escalating trends in COVID-19, influenza, and other respiratory viruses as of November 11. Of particular concern is the "very high levels and rising" of COVID-19 and influenza detected in wastewater testing.
Recent data highlights the concerning situation in Ottawa, with COVID-19 numbers on the rise, reaching categorizations of "high" or "very high" in recent OPH updates. Respiratory syncytial virus (RSV) activity is notably high, with 22 new hospitalizations, while influenza trends fluctuate between low and very high.
It should be noted that the official figures are not reliable as testing rates are very minimal in Ottawa and the official data does not represent what is actually occurring. Already local
COVID-19 News
in smaller independent media are reporting about rise in both COVID-19 outpatients and also inpatients across various clinics and hospitals and also there is a shortage of COVID-19 rapid antigen test kits at various drugstores and pharmacies for a while now.
Health experts emphasize the importance of preventive measures, urging the public to cover coughs and sneezes, wear masks, maintain hand hygiene, stay home when sick, and stay updated on COVID-19 and influenza vaccinations. OPH underscores the continued high risk for respiratory illnesses in the city's healthcare institutions, a risk that has persisted since early September.
Wastewater analysis conducted by a research team indicates a concerning rise in the average coronavirus wastewater level over the past ten days, reaching one of the highest levels recorded this year. This has prompted OPH to categorize the situation as "very high."
https://613covid.ca/wastewater/
Hospitalization rates are also at their highest since OPH shifted to reporting weekly averages in the summer. The aver age number of Ottawa residents hospitalized for COVID-19 has surged to 71, with one patient in intensive care.
Another count, which includes patients testing positive after admission, those admitted for lingering COVID complications, or transferred from other health units, has also increased by 54 new patients, indicating a shift from moderate to high scale.
Despite the surge in cases, testing rates remain insufficient, with a weekly average test positivity rate of approximately 19 percent, classified as high by OPH. The city is grappling with 37 active COVID outbreaks, primarily in retirement homes and hospitals, with a high number of new outbreaks reported.
Over the broader region, health units in Kingston, Eastern Ontario, and Hastings Prince Edward report varying degrees of stability and risk. Kingston reports stable to very high COVID trends, with low flu indicators and rising RSV trends. The Eastern Ontario Health Unit cites a high-risk period for COVID, with elevated wastewater readings and a rising test positivity of 23 percent. Hastings Prince Edward notes an increase in COVID vaccinations, now at 12 percent of residents in the last six months.
Hospitalization and death rates in neighboring regions paint a concerning picture. Kingston reports 22 active COVID-19 patients, though this number has dropped. The Eastern Ontario Health Unit witnesses a threefold increase in COVID hospitalizations, now at 25, which it categorizes as high. Western Quebec maintains a stable count of 85 hospital patients with COVID, while Leeds, Grenville, and Lanark counties report two more COVID deaths.
As Ottawa grapples with rising COVID-19 cases, the need for increased testing, preventive measures, and vaccination campaigns becomes imperative. The situation in the broader region underscores the interconnected nature of the pandemic and the need for coordinated efforts to curb the spread of the virus. OPH is expected to provide the next COVID vaccination update in early December, shedding light on the ongoing vaccination efforts in the region.
For the latest
COVID-19 News
, keep on logging to Thailand Medical News.