While The U.S. CDC Is Cutting Isolating Periods, New UK Study Reports That One In 10 People With COVID-19 Could Still Be Infectious Beyond 10 Days And Even Longer!
It is becoming more apparent day by day that America is run by buffoons and disgusting greedy politicians and billionaires and its time that the common American people start waking up. Not just America but in many other countries, people start to need to wake up to the what we are calling as the new "Baseball Bat Revolution" that will start in a few months' time, where the masses need to protect themselves and the lives of their loved ones against the big pharma, the owners and staff or big tech conglomerates, greedy politicians and so called medical 'experts' and unethical scientists and doctors, the rich families and also the mainstream media that are acting on the orders of those controlling the COVID-19 narratives and feeding us daily with fake information and news in order to pursue their own agendas. People should start standing up when they realize that the health of themselves and their families have been jeopardized as a result of listening to advice and recommendations dished out by greedy politicians and so called medical 'experts'. More about that in coming weeks as more details will be released by reputable sites and ethical scientists about all the lies that we have been fed in the last 16 months.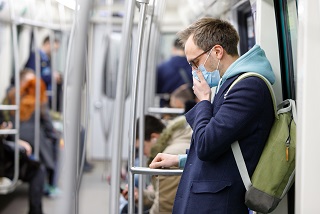 The U.S. CDC has recently changed its guidelines on isolation and quarantine periods especially with the emergence of the Omicron variant despite not having any real published medical data to substantiate its policies.
The U.S. CDC had announced that people with COVID will only need to isolate for five days, and this stupid policy was adopted by other stupid countries whose leaders have no brains of their own and simply follow the American leaders like obedient dogs! Hence even the UK adopted the same policy with the additional clause of needing two negative lateral flow tests by day six. (Note that lateral flow test are not the least reliable especially with newer variants like the Omicron!)
Meanwhile, a new study by UK researchers have shown that one in 10 people may have clinically relevant levels of potentially infectious SARS-CoV-2 past the older 10-day quarantine period and in some, the virus could be present in the infectious state for as long as two months!
The U.K. researchers utilized a new test that could detect whether the
SARS-CoV-2 coronavirus
was potentially still active. They used it to analyze samples from 176 people who had tested positive on standard PCR tests.
Shockingly after 10 days, 13% of the people still had levels of active virus, indicating they could potentially still be infectious. These levels continued in some for as long as two months (68 days)!
The study findings were published in the peer reviewed International Journal of Infectious Diseases.
https://www.sciencedirect.com/science/article/pii/S1201971221012066
"Although this is a relatively small study, our results suggest that potentially active virus may sometimes persist beyond a 10-day period, and could pose a potential risk of onward transmission," said Dr Lorna Harries, a professor from the University of Exeter Medical School who oversaw the study.
Dr Harries added in a university news rele ase, "Furthermore, there was nothing clinically remarkable about these people, which means we wouldn't be able to predict who they are."
The current standard PCR tests check for the presence of viral fragments and can reveal if someone recently had the coronavirus, but not whether it's still active or infectious.
This new test which is not yet available only gives a positive result when the virus is active and potentially infectious.
The study team believes this new test should be applied in settings where people are vulnerable, to stop the spread of COVID-19.
Dr Merlin Davies, of the University of Exeter Medical School who was also the lead author said, "In some settings, such as individuals returning to care homes after illness, individuals continuing to be infectious after ten days could pose a serious public health risk. We may need to ensure individuals in those setting have a negative active virus test to ensure they are no longer infectious. We now want to conduct larger trials to investigate this further."
Carla Owen, the Animal Free Research UK CEO who funded the research said, "The University of Exeter team's discovery is exciting and potentially very important. Once more, it shows how focusing exclusively on human biology during medical research can produce results that are more reliable and more likely to benefit humans and animals. Pioneering animal free work is providing the best chance of not only defeating COVID 19 but also finding better treatments for all human diseases. The results also send a loud and clear message to the Government to better fund modern medical research and make the UK a world leader in cutting edge, kinder science."
The study was a collaboration between the University of Exeter Medical School, the Royal Devon & Exeter NHS Foundation Trust, and the NIHR Exeter Clinical Research Facility.
Thailand
Medical News
would also like to highlight that viral persistence that many authorities are not talking about despite a recent U.S. NIH funded study verifying that viral persistence is a major occurrence, is actually an alarming problem. That study finding also raises questions as to whether current guidelines using nasal swab tests and saliva tests are enough to deem an individual as being recovered from the SARS-C0V-2 infection!
https://www.thailandmedical.news/news/breaking-u-s-nih-study-shockingly-reveals-sars-cov-2-viral-persistence-throughout-human-body-and-in-the-brain-even-in-those-who-were-asymptomatic
For the latest
SARS-CoV-2 Research
, keep on logging to Thailand Medical News.