COVID-19 News Updates: Flu Infections In Zambia Are Actually COVID-19! Japan's Okinawa Prefecture In Crisis, South Korea Facing New Surge.
COVID-19 Is Far From Over! The Past Few Years Were Just Trial Runs For The SARS-CoV-2 Virus. The Worse Is Yet To Come!
COVID-19 News

: Zambia's Health Ministry Admits That Recent Rise Flu Cases Were Actually COVID-19!
Dr George Sinyangwe, Zambia's permanent secretary at the health Ministry admitted over the weekend that the rising flu infections in the country are actually COVID-19 infections and said that the public should not panic as the current COVID-19 infections were mild with many simply of the infected simply having fever, coughing, sneezing and mild headaches and other flu like symptoms.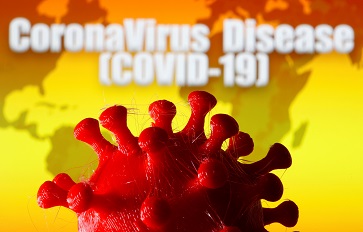 Credit: Dado Ruvic/Reuters
Zambia has been witnessing a rise in respiratory infections over the last 7 days and Zambia National Public Health Institute (ZNPHI) director general Roma Chilengi said adequate measures had been put in place to ensure that the COVID-19 situation in Zambia did not reach shocking levels.
It was reported that there are now more than 1500 active COVId-19 cases with an average of more than 210 new cases being confirmed each day via testing and the current test positivity rate is about 9 percent.
Because of lack of genomic sequencing data, scientists are not able to accurately say what SARS-CoV-2 sub-lineages could be causing the surge in Zambia.
But rest assured, with a HIV rate in the country and many immunocompromised individuals in the country who do not have proper medical access, we can expect some interesting new SARS-CoV-2 sub-lineages to emerge in Zambia!
https://diggers.news/local/2023/06/25/the-flu-people-are-having-is-covid-19-moh/
https://www.times.co.zm/?p=126067
https://newsaf.cgtn.com/news/2023-06-18/Zambia-sees-rising-COVID-19-cases-in-fresh-wave-1kIAazfVj7W/index.html
COVID-19 News

: Japan' Okinawa Prefecture In Health Crisis As COVID-19 Cases Surge.
The recent surge in COVID-19 cases across Japan has sparked alarm, with Okinawa Prefecture at the epicenter of a mounting health crisis. Experts warn that the overwhelmed medical system could collapse within a week, leaving those in need of hospitalization without adequate care. As the country battles a resurgence of the virus, Okinawa Prefecture finds itself grappling with a dire situation, prompting emergency measures to curb the spread and protect essential healthcare services.
According to the Ministry of Health, Labor and Welfare, the number of new COVID-19 cases reported nationwide from June 12 to 18 stood at an alarming rate of 5.60 cases per medical institution, a 1.10-fold in crease from the previous week. This upward trend has been a cause for concern, especially in Okinawa Prefecture, where the infection rate has skyrocketed. With an average of 28.74 infected patients per medical institution, Okinawa has witnessed a staggering 4.73-fold increase in just over a month. Hospitalizations have exceeded 500, surpassing previous waves of infections, pushing the region's healthcare system to the brink.
Dr Yoshihiro Takayama from Okinawa Chubu Hospital highlighted the challenges faced by the healthcare system. The combination of community-acquired infections, a shortage of medical personnel due to infections, and an increase in hospital-acquired infections has placed immense pressure on medical care. Additionally, the shift in classification to Category 5 under Japan's infectious disease control law has complicated the coordination of hospitalizations. The lack of centralized organization has exacerbated the strain on emergency medical facilities.
Recognizing the urgency of the situation, the Okinawa Prefectural Government has urged residents to take proactive measures. They have advised households to prepare test kits and fever-reducing medicines in advance and discouraged individuals with minor symptoms from visiting emergency rooms. The cooperation of the public is crucial in preventing the spread of infections, particularly among vulnerable populations. Elderly individuals, at a higher risk of severe illness, are urged to avoid gatherings during the current outbreak.
Experts and advisory bodies within the health ministry have expressed concerns about a potential surge in infections during the summer. The rising number of COVID-19 cases, coupled with the dominance of the XBB strains known for their ability to evade immunological responses, has heightened the need for vigilance. The efficacy of current vaccines may be somewhat reduced against these strains. Nevertheless, health authorities emphasize the importance of elderly individuals receiving vaccination to minimize the risk of severe symptoms. Plans are underway to expand vaccination eligibility to all age groups and develop a vaccine specifically targeting the XBB strains.
https://mainichi.jp/english/articles/20230624/p2a/00m/0na/013000c
https://japannews.yomiuri.co.jp/society/coronavirus/20230624-118349/
COVID-19 News

: New COVID-19 Surge In South Korea
Local South Korean media have bee reporting that the country is facing a new surge with an average of 16,000 new cases per day over the last week! It was also reported that about 72 individuals died for COVID-19 lats week, representing an increase of about 26.3% form the previous week that had 57 COVID-9 deaths.
Local health authorities blame the surge on various XBB sub-lineages including XBB.1.9.1, XBB.1.16, XBB.2.3 and XBB.1.9.1.
COVID-19 News

: COVID-19 Surging In Many Countries.
Thailand Medical News will provide more updates as reports are showing COVID-19 surges are occurring in many countries around the world including Australia, New Zealand, Philippines, Indonesia, Malaysia, Vietnam, Taiwan, China, Bolivia, France, Germany, Denmark and even the United States!
For the latest
COVID-19 News
, keep on logging to Thailand Medical News.