COVID-19 Hospitalizations Rise In British Columbia-Canada As Province Reduces Frequency Of COVID-19 Infection Updates
COVID-19 News
: British Columbia (B.C.) has reported 316 people in hospitals with COVID-19, an increase from the 282 cases recorded two weeks ago. The number of hospitalized individuals is the second highest in 2023, but still well below the peaks seen in the previous year.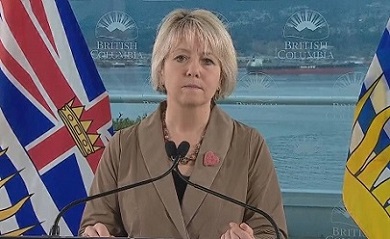 Provincial health officer Dr Bonnie Henry on B.C.'s weekly COVID-19 numbers
As of May 4, the B.C. Centre for Disease Control (BCCDC) will shift to providing monthly updates on COVID-19 numbers instead of the current biweekly updates.
Provincial health officer Dr Bonnie Henry said that the change reflects the province's respiratory disease monitoring winding down in the spring, and the slower fluctuation of coronavirus-related data compared to the past.
The modest increase in hospitalizations matches the patterns observed in other data released recently. The weekly case count, which only includes lab-confirmed COVID-19 cases, increased from 459 in the week of March 26-April 1 to 519 from April 9-15. This marks the first time since January that the BCCDC has reported over 500 new lab-confirmed cases in a week.
Wastewater surveillance data has also shown increases in some parts of the province in the past two weeks. The BCCDC has adopted a new, more sensitive test for wastewater, which initially resulted in the appearance of dramatic surges in SARS-CoV-2 concentrations in B.C. wastewater. However, corrected data now shows more modest increases in concentrations in recent weeks.
Hospitalizations, deaths, and the number of patients in intensive care have remained steady since a surge in late 2022 and early 2023 due to the Omicron variant. As of Thursday, there were 316 people in hospital with 20 in intensive care, and 519 new cases confirmed.
An additional 19 people died in the week of April 8-15, who had tested positive for COVID-19 within 30 days before their deaths were recorded. The number of deaths has been relatively consistent in recent months, with an average of three to five deaths per day.
Since the start of the pandemic, 5,430 people have died in B.C. after a positive COVID-19 test according to local
COVID-19 News
coverages. However, COVID-19 was the underlying cause of death in slightly less than half of the cases, with the virus possibly contributing to others but not being the leading cause. The BCCDC will release its next data report in two weeks, followed by monthly updates thereafter. B.C. health officials will continue to monitor the situation, particularly as the next respiratory season approaches, to decide whether safety measures need to be reinstated.
Dr Bonnie Henry continues to recommend vaccinations or booster shots for individuals who are not fully vaccinated, particularly those who have not received the newer bivalent boosters that better target recent variants. B.C.'s spring booster program is focusing on individuals over 80 and the immunocompromised, rather than the general population who received bivalent boosters last fall.
It was also reported that in September 2023, respiratory disease reporting will resume, and the final repo rt for the 2022/23 season will be released. The BCCDC previously scaled back its COVID-19 data reporting from daily to weekly in October 2021, as the situation evolved more than two years into the pandemic.
At present, there is more than 45 different XBB sub-lineages circulating in Canada including XBB.1.9.1, XBB.1.9.2, XBB.2.3, XBB along with the XBB.1.16!
https://cov-spectrum.org/explore/Canada/AllSamples/Past6M/variants?nextcladePangoLineage=xbb*&
https://cov-spectrum.org/explore/Canada/AllSamples/Past6M/variants?nextcladePangoLineage=xbb.1.16*&
For the latest
COVID-19 News
, keep on logging to Thailand Medical News.