COVID-19 News: U.S. FDA Halts Usage Of Bebtelovimab To Treat COVID-19 As Drug Is Not Able To Neutralize New SARS-CoV-2 Variants And Sub-Lineages!
COVID-19 News
: The U.S. FDA issued an announcement in the last 24 hours stating that Bebtelovimab is not currently authorized in any U.S. region to treat COVID-19.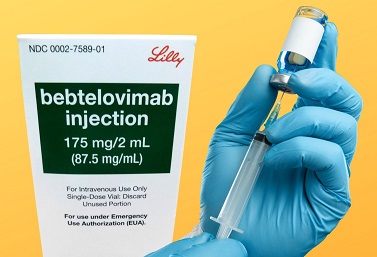 According to the announcement, the predominant variants in circulation that includes the BQ.1 and BQ.1.1 variants ad sub-lineages can no longer be neutralized by the monoclonal antibody drug Bebtelovimab that is made by pharma giant Eli Lily.
https://www.fda.gov/drugs/drug-safety-and-availability/fda-announces-bebtelovimab-not-currently-authorized-any-us-region
Bebtelovimab was approved in early February 2022 by the U.S. FDA under an EUA status for the treatment of mild to moderate COVID-19 disease.
https://investor.lilly.com/news-releases/news-release-details/lillys-bebtelovimab-receives-emergency-use-authorization
However, with the emergence of more than 300 odd new Omicron variants and sub-linages and also recombinant variants that are more transmissible and immune evasive and able to cause breakthrough infections that has already been covered in various
COVID-19 News
coverages, even Bebtelovimab the last standing monoclonal therapeutic after Evusheld, has been found to be ineffective.
https://cov-spectrum.org/collections/24
https://www.thailandmedical.news/news/sars-cov-2-presents-its-fall-and-winter-2022-variant-collections-featuring-ba2-75-2,-bq-1-1,-bw-1,-xbb,-bu-1,-br-2,-bm-1-1-1,-ca-1,-bj-1-and-bn-1
In actual reality, the world is really is a worse state compared to initial onset of the COVID-19 pandemic as it does not really have any more drugs left in its arsenal to fight SARS-CoV-2 infections and considering the current kinetics of the pandemic where millions are infected with varying variants in different geolocations and there are simply no more preventive measures nor travel restrictions with a huge variety of variants and sub-lineages in circulation. Although we are not yet seeing a rise in disease severity nor deaths, it is only a matter of time before new mutations that drive enhanced pathogenesis and virulence appear.
While the U.S, FDA still insist that the antivirals Paxlovid, Remdesivir (Veklury) and Molnupiravir (Lagevrio) are still effective to treat COVID-19, many researchers and physicians have already written them off due to a variety of reasons.
Remdesivir has been found to be ineffective in treating COVID-19 along with the fact that it causes a variety of adverse issues and is toxic.
t;>https://www.thailandmedical.news/news/latest-who-s-solidarity-drug-trial-shows-that-remdesivir-is-not-the-least-effective-in-treating-covid-19
https://www.thailandmedical.news/news/covid-19-antivirals-interim-who-solidarity-trial-results-confirms-that-remdesivir,-lopinavir-and-interferon-have-no-effect-on-covid-19-mortality
https://www.thailandmedical.news/news/covid-19-scams-who-issues-warning-against-use-of-remdesivir-for-covid-19--countries-should-beware-of-any-therapeutics-approved-in-the-usa
https://www.thailandmedical.news/news/breaking-japanese-study-finds-u-s-fda-approved-and-promoted-covid-19-drug-remdesivir-induces-cardiomyocyte-dysfunction-and-is-cardiotoxic
https://www.thailandmedical.news/news/covid-19-drugs-study-published-in-journal-of-the-heart-rhythm-society-warns-that-remdesivir-can-cause-dangerously-low-heart-rate-in-covid-19-patients
https://www.thailandmedical.news/news/covid-19-drugs-university-of-cincinnati-study-warns-against-use-of-u-s-fda-approved-remdesivir-due-to-drug-interactions-and-increased-toxicity
https://www.thailandmedical.news/news/remdesivir-researchers-with-vested-interest-release-final-trial-report-saying-that-remdesivir-is-effective-and-well-tolerated-while-in-europe-regulato
Paxlovid has been found to cause rebound issues and also has adverse interactions with a variety of drugs.
https://www.thailandmedical.news/news/breaking-leading-cardiologists-and-doctors-from-massachusetts-issue-warning-of-adverse-drug-interactions-in-covid-19-patients-treated-with-paxlovid
Molnupiravir which is a mutagenic drug is now believed to be driving the virus evolution and mutations.
https://www.thailandmedical.news/news/breaking-covid-19-news-researchers-warn-that-molnupiravir-is-driving-rapid-evolution-of-sars-cov-2-variants-and-causing-mutations
Hence, there is no antiviral left to deal with the emerging SARS-CoV-2 variants and sub-lineages.
Some of the fraudulent doctors and groups that are promoting ivermectin to treat COVID-19 are not even aware that since the advent of the delta variant, ivermectin has no whatsoever efficacy against the Omicron variant or even the newer emerging sub-lineages and is no better than a placebo although newer emerging data shows that extended use can cause dysbiosis which can affect the immune system and make people even more susceptible to not only the virus but other secondary opportunistic pathogens.
Another dangerous drug fluvoxamine that some idiots are promoting to treat COVID-19 has now been found to be causing deaths due to heart failures in COVID-19 patients whose hearts are already vulnerable due to the virus.
https://www.thailandmedical.news/news/world-health-organization-issues-warning-against-the-use-of-fluvoxamine-and-colchicine-to-treat-covid-19
https://www.thailandmedical.news/news/utah-study-validates-that-selective-serotonin-reuptake-inhibitors-ssris-such-as-fluoxetine-or-fluvoxamine-do-not-reduce-covid-severity
https://www.thailandmedical.news/news/most-who-have-been-exposed-to-the-proteins-of-the-sars-cov-2-virus-will-have-shortened-lifespans-stop-using-fluvoxamine-for-ba-2-infections
Even though the newer Omicron variants and sub-lineages and recombinant variants are not causing any increase in disease severity or mortality just yet, Long COVID incidences and excess deaths are going to be increasing exponentially as the masses are no longer going to witness surges driven by one particular variant but rather they will face a constant onslaught of breakthrough infections and reinfections, each time having their general wellness being depleted and more medical and health issues arising, some even with even fatal outcomes.
https://www.thailandmedical.news/news/warning-next-covid-19-surges-will-be-lead-not-by-a-one-or-a-couple-of-new-variants-but-by-a-multitude-of-sub-lineages-with-convergent-rbd-escape-mutat
Fun times should be arising in coming weeks and in 2023 as a whole.
For the latest
COVID-19 News
, keep on logging to Thailand
Medical News
.