GREAT NEWS! New Omicron Sublineages Do Not Discriminate Against The Old Or Young, Healthy Or The Immunocompromised, Jabbed Or Unjabbed. They Love All!
During the early days of the COVID-19 pandemic, we saw that it was the elderly and those with existing comorbidities like high blood pressure, cardiac issues and diabetes that were more susceptible to the disease severity and mortality risk of SARS-CoV-2 infections. Most of the young especially babies and young kids were spared from the original Wuhan wildtype strain and also from the early variants before Delta.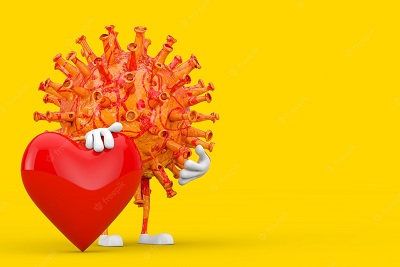 With the advent of the Delta variant, we started seeing that even young adults and children were being vulnerable to the effects of such infections.
With the debut of the COVID-19 jabs, claims were made that the during the Delta and early Omicron waves that these jabs prevented disease severity and mortality in all!
However, with the emergence of various new third generation Omicron sub-lineages and new recombinant variants, these new 'super immune evasive' SARS-CoV-2 variants do not discriminate against the old or young, the healthly or those who are with existing comorbidities or are immunocompromised, the jabbed or unjabbed.
These new Omicron sub-lineages and new recombinant variants simply 'love all human host' and simply want to get into them as fast as possible without causing too much distractions, hence have found effective ways to disarm these immune responses. Hence most of the newly infected are only developing mild symptoms during the early days of the infections.
However without actually having an real intention of wanting to kill their human host, these new sub-lineages have a higher rate of replication in the host and also increased pathogenesis……unfortunately resulting in the human host cells, tissues organs and various cellular pathways, genes and critical proteases unable to co-exists normally and symbiotically with these peace loving sub-lineages and hence these components of the host eventually deteriorate very fast and rapidly, killing the totally 'clueless' host very fast! In fact we can still stick to the terms described by the South African Omicron minimizers that the deaths are actually mild! (most die very fast in the ICU especially after rendered unconscious by the sedatives used while the are placed in intubation as their conditions deteriorate very fast.) The new sub-lineages are also very kind to take into consideration that critical and ICU beds are limited and hence solve the problem by causing rapid deaths so that bed spaces can be freed faster!
The various new omicron-sub-lineages like BR.2, BJ.2, BM.1.1, BQ.1.1, BQ.1.2, BQ.1.3, BW.1, BU.1, CA.1, CB.1, BM.4.1.1, BY.1, BZ.1 etc and the new recombinant variants like XBB, XBC, XAZ, XaY, XAW, XAN, XAK, XAV, XAS are not only more immune evasive but are also able to evade even antibodies generated by infections with the BA.5 variant, hence the current bivalent boosters and also the monoclonal drugs like Evusheld and Bebtelovimab are of no use.
https://www.biorxiv.org/content/10.1101/2022.09.15.507787v3
Unfortunately, we are witnessing a rise in pediatric hospitalizations around the world due to not only COVID-19 but alongside influenza, rhinoviruses, enteroviruses and respiratory syncytial viruses as the new variants are also destroying the robust innate immune systems of the young.
https:// doh.wa.gov/sites/default/files/2022-02/421-019-ChildrenYouthReport.pdf
https://twitter.com/DrEricDing/status/1578768928482160640
https://www.cdc.gov/mmwr/volumes/71/wr/mm7140e1.htm
https://www.choa.org/medical-services/infectious-diseases/covid-19/covid-census
https://toronto.citynews.ca/2022/10/07/childrens-pain-medication-shortage/
https://twitter.com/DGBassani/status/1578957241998520321
In Singapore where the new SARS-CoV-2 recombinant XBB variant has started a new surge, details of Hospital and ICU admissions show that almost all age groups are being affected through those above 70 are still vulnerable. At the same time differences between the jabbed and un-jabbed in terms of disease severity and risk of mortality remains undifferentiated between both groups!
https://www.thailandmedical.news/news/breaking-singapore-is-under-attack-by-the-new-sars-cov-2-xbb-recombinant-variant-with-covid-19-infections-and-hospitalizations-rising-thailand-could-
The new Omicron lineages are expected to cause a massive catastrophic wave in coming weeks globally.
https://cov-spectrum.org/collections/24
https://www.thailandmedical.news/news/sars-cov-2-presents-its-fall-and-winter-2022-variant-collections-featuring-ba2-75-2,-bq-1-1,-bw-1,-xbb,-bu-1,-br-2,-bm-1-1-1,-ca-1,-bj-1-and-bn-1
We at Thailand
Medical News
are not here to spread 'fear porn' but rather we hope that many will heed our advice to start taking all kinds of preventive measures to protect themselves and their loved ones.
For more updates on the
New Omicron Sub-lineages
and recombinant variants, keep on logging to Thailand
Medical News
.