Proteomics Study Shows Human Milk Does Not Contribute To SARS-CoV-2 Transmission. Human Colostrum Has Protective Properties Against COVID-19
COVID-19 News
: Human milk, particularly colostrum, is renowned for its multifaceted roles in infant nutrition, anti-inflammatory action, immune system fortification, and overall organ development. In the midst of the ongoing COVID-19 pandemic, questions surrounding the potential transmission of the SARS-CoV-2 virus through breast milk have gained considerable attention. As a result, understanding the protective effects of human milk against the infection has become a pivotal area of investigation.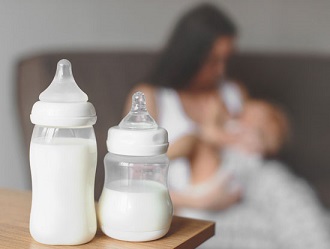 This new study delved into the presence of the virus and identified the protein expression profile in human colostrum among active COVID-19 patients and those who have successfully recovered from the infection. The researchers behind this study hail from the University of Alicante in Spain, in collaboration with Campus de Ciencias de la Salud-Spain, Campus Mare Nostrum (CMN)-Spain, Hospital Clínico Universitario Virgen de la Arrixaca-Spain, and Universidad de Murcia-Spain.
The Context and Significance
In the United States alone, over 200,000 pregnant women have contracted the SARS-CoV-2 virus according to
COVID-19 News
reports. The potential transmission risk from mothers to infants, coupled with insufficient evidence of the protective effects of human milk against the virus, has sparked debates on the advisability of breastfeeding for mothers with COVID-19. Given that the virus spreads through aerosols and close contact, global health measures have included social distancing, resulting in the separation of COVID-19-positive or suspected mothers from their newborns, thus hindering breastfeeding initiation.
Human Milk's Nutritional and Immune Significance
Human milk is not just a source of essential nutrients; it contains an array of bioactive molecules that are vital for newborn development and health. Its short-term advantages include reduced infant infection rates and corresponding decreases in hospitalization risks. On a long-term scale, breastfeeding contributes to enhanced cognitive development, reduced obesity risks, and even protection against diabetes and certain cardiovascular conditions. Moreover, breastfeeding offers protective benefits for mothers as well, lowering the risk of breast and ovarian cancer.
Colostrum: A Unique Milk Component
Human milk's composition evolves as days pass, resulting in distinct types of milk, such as colostrum, transitional milk, and mature milk. Colostrum, the earliest form of human milk produced within the first 72 hours after birth, is characterized by high protein content, growth factors, and fat-soluble vitamins. It also holds immune-enhancing properties, with a strong concentration of immunoglobulins that confer passive immunity to newborns, supporting their early health.
The Intricacies of COVID-19 and Colostrum
The study endeavors to analyze colostrum from COVID-19 patients, examining the presence of the SARS-CoV-2 virus through RT-qPCR, and conducting a comprehensive proteomic analysis using SWATH-MS, an advanced mass spectrometry technique. The investigation involved three groups: COVID-19 patients (n = 3), individuals who had recently recovered from COVID-19 (n = 4), and non-infected women (n = 5).
Understanding the Findings
The research unveiled that the colostrum from COVID-19 patients did not test positive for SARS-CoV-2, effectively ruling out the risk of virus transmission through breast milk. This discovery contradicted findings from some previous studies where the virus was detected in colostrum samples.
The SWATH-MS analysis identified 301 common proteins across all samples. Intriguingly, 19 proteins were upregulated and 7 were downregulated in the COVID-19 patient group when compared to the control group. A similar trend was observed when comparing the COVID-19 group to the group of recovered patients.
Insights from Protein Alterations
The proteins found to be altered in COVID-19 colostrum primarily pertain to immunity, inflammatory responses, and protein transportation. A total of 11 proteins were identified as biomarkers of active COVID-19 infection. Among these, 10 proteins were upregulated, including ACTN1, CD36, FAM3B, and IGHA2, while one protein, PSAP, was downregulated. These proteins play pivotal roles in immune modulation, inflammatory responses, and protein transport.
Colostrum as a Protective Source
In conclusion, this study's outcomes suggest that colostrum does not serve as a medium for transmitting SARS-CoV-2 from mother to child. Moreover, the proteomic analysis of colostrum from active and recovered COVID-19 patients provides strong indications that it may indeed confer immune benefits to newborns.
Challenges and Future Prospects
The COVID-19 pandemic has posed challenges to maternal milk supply due to factors like reduced breastfeeding rates, fear of infection, and constraints within healthcare systems. These challenges might lead to an escalation of common infant disorders. The dearth of conclusive studies on human milk's protective effects against SARS-CoV-2 has further complicated breastfeeding decisions for mothers.
The study's objectives encompassed the analysis of SARS-CoV-2 presence in colostrum and characterizing its protein profile using innovative SWATH-MS technology. The research provides essential insights into the intricate interplay between COVID-19 infection and colostrum composition. While the study's scope was confined to a relatively small number of samples, its findings lay the groundwork for further investigations into the unique immunological properties of colostrum in the context of viral infections. With additional research, the identified proteins could potentially serve as biomarkers for COVID-19 infection and severity. Furthermore, these findings encourage exploring the potential therapeutic applications of colostrum proteins in COVID-19 treatment and management.
Acknowledging Limitations
The study acknowledges limitations arising from the restricted access to hospitals during the initial stages of the pandemic, which led to a reduced number of colostrum samples for analysis. To fully comprehend the function of the detected proteins in newborns and the broader implications, more comprehensive and longitudinal studies are required.
Final Thoughts
This research brings to light the unique attributes of colostrum in the context of COVID-19 infection. Not only does it reassure mothers that the virus is not transmitted through breast milk, but it also underscores the significance of human milk's immune-boosting properties in the face of a global health crisis. The study's implications extend beyond the immediate scope of COVID-19, potentially contributing to advancements in understanding and managing various viral infections. Through its combination of cutting-edge proteomic techniques and a focus on a vital aspect of maternal health, this study provides valuable building blocks for a healthier future.
The study findings were published in the peer reviewed journal: Children.
https://www.mdpi.com/2227-9067/10/8/1423
For the latest
COVID-19 News
, keep on logging to Thailand Medical News.