COVID-19 News: Researchers Warn That SARS-CoV-2 Evolving With Emergence Of The 'FLip Lineages' That Are Superbly Immune Evasive!
COVID-19 News
: Researchers, virologists and variant hunters are warning that the SARS-CoV-2 sub-lineages are evolving in a peculiar manner such that they are generating what are known as "Flip" lineages that are superbly immune evasive.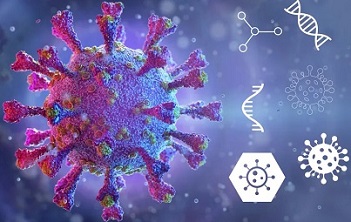 A virus evolving in such a manner in a short time has been unprecedent in the history of virology so far and is a cause for concern.
The FLip sub-lineages are such that they have two adjacent mutations between two specific amino acids- F and L- which confer a high level of immune escape.
At present, it has been found that the virus is rapidly evolving to converge onto these mutations as they confer advantages.
For example, some of the sub-lineages are possessing both the spike mutations: F456L and L455F.
The name 'FLip lineages' was coined by Associate Professor Raj Rajnarayanan, the Assistant Dean of Research and Associate Professor at Arkansas State University-USA.
He called them the FLip sub-lineages because both mutations are between the amino acids F and L i.e. one L to F, the other F to L.
https://twitter.com/RajlabN/status/1697860484681155040
These sub-lineages do not only demonstrate enhanced ACE2 bindings hence being more infectious and transmissible but they are excellent at immune evasiveness.
Not only will these FLip lineages make the new COVID-19 vaccine boosters with the XBB.1.5 spike protein redundant and obsolete but they will lead to constant reinfections as any infections from even a very close predecessor or spawn of it will possibly render no protection whatsoever!
Some of the new FLip sub-lineages to have emerged and are gaining predominance in circulation include the HK.3, EG.5.1.3, XBB.1.16.6, DV.7.1, GW.5, JD.1.1, JG.3, XCH.1 and JF.1 ((XBB.1.16.6.1 with FLip and Spike mutation:T478R) sub-lineages.
The T478R spike protein is known to increase disease severity!
https://www.mdpi.com/2036-7449/15/5/53
Worryingly, these FLip lineages are increasing in number and spreading fast and with the exception of Associate Professor Raj Rajnarayanan and researcher cum variant hunter Federico Gueli who have been monitoring and warning about the emergence of these variant strains, no one else especially the WHO or U.S. CDC has been paying any attention to these FLip sub-lineages.
https://twitter.com/RajlabN/status/1700718603018887664
https://twitter.com/siamosolocani/status/1701000350818591201
Most of the
COVID-19 News
outlets and research community have been engrossed with the BA.2.86 variant and its new spawn i.e. BA.2.86.1 which are also concerning variants as they are now found to be also more transmissible and immune evasive and possibly even more pathogenic though not so fuso genic.
https://www.thailandmedical.news/news/breaking-news-amidst-flawed-covid-19-variant-monitoring-and-fake-claims,-new-preprint-suggest-ba-2-86-is-more-transmissible-and-possibly-wide-spread
It is anticipated that the coming winter will see many clusters of worrying SARS-CoV-2 variants and sub-lineages emerge and become predominant in circulation not just the FLip sub-lineages and the BA.2.86 variant and its spawns.
The current low levels and in some cases totally none-existence genomic surveillance in many countries is making it very difficult for variant hunters, virologists and researchers to monitor the evolutionary behavior of the SAR-CoV-2 virus and to properly keep track of all emerging variants and sub-lineages.
It is believed that many new worrisome SARS-CoV-2 sub-lineages are slipping below the "radar ' and are gradually spreading in various geolocations around the world and even worse, in term of monitoring the SARS-CoV-2 evolution in various animal species and their potential zoonotic threat, the so called One Health approach has failed to keep up to its initial proclamations.
It is very likely with the lack of preventive measures and the current kinetics of the COVID-19 pandemic, SARS-CoV-3 should also make its much-anticipated debut in the mid of the Winter of 2023/2024!
One thing is for sure, we should enough SARS-CoV-2 variants and sub-lineages for this coming winter to keep the hospitals, crematoriums and undertakers busy!
For the latest
COVID-19 News
, keep on logging to Thailand Medical News.