Health News: South Korean Study Finds That Restless Legs Syndrome Could Increase Dementia Risk
Health News
: A new study by researchers from Yonsei University College of Medicine, Seoul-Republic of Korea has found that restless legs syndrome (RLS) might be a risk factor or an early indicator of dementia in older adults.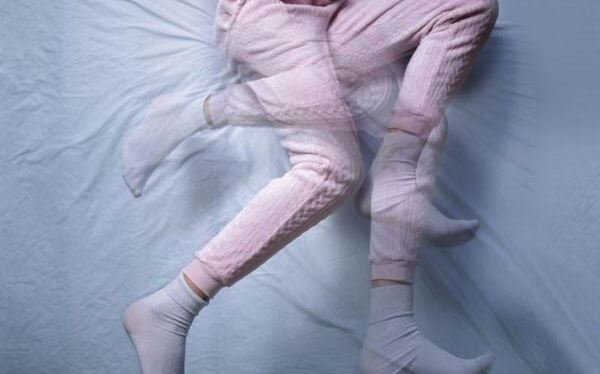 RLS is characterized by an uncontrollable urge to move the legs, typically occurring during evening or nighttime hours when sitting or lying down.
Restless leg syndrome (RLS) is associated with poor sleep quality, depression or anxiety, poor dietary patterns, microvasculopathy, and hypoxia, all of which are known risk factors for dementia. However, the relationship between RLS and dementia remains unclear.
This large retrospective cohort study involving older adults found that those with RLS were significantly more likely to develop dementia over a decade compared to individuals without RLS.
For the study, the Korean researchers studied approximately 2,500 adults with RLS and over 9,900 matched individuals without RLS. This was a retrospective cohort study used the Korean National Health Insurance Service-Elderly Cohort (aged ≥ 60). The subjects were observed for 12 years, from 2002 to 2013. Identifying patients with RLS and dementia was based on the 10th revised code of the International Classification of Diseases (ICD-10).
The study team compared the risk of all-cause dementia, Alzheimer's disease (AD), and vascular dementia (VaD) in 2501 subjects with newly diagnosed RLS and 9977 matched controls based on age, sex, and index date. The association between RLS and the risk of dementia was assessed using Cox regression hazard regression models. The effect of dopamine agonists on the risk of dementia among RLS patients was also explored.
The study findings showed that over about ten years, 874 participants developed dementia, with those having RLS being significantly more likely to do so (10% versus 6%). After adjusting for factors that could influence dementia risk, adults with RLS were 46% more likely to develop dementia than those without the condition.
Details Of Study Findings
The baseline mean age was 73.4, and the subjects were predominantly females (63.4%). The incidence of all-cause dementia was higher in the RLS group than that in the control group (10.4% vs 6.2%). A baseline diagnosis of RLS was associated with an increased risk of incident all-cause dementia (adjusted hazard ratio [aHR] 1.46, 95% confidence interval [CI] 1.24–1.72). The risk of developing VaD (aHR 1.81, 95% CI 1.30–2.53) was higher than that of AD (aHR 1.38, 95% CI 1.11–1.72). The use of dopamine agonists was not associated with the risk of subsequent dementia among patients with RLS (aHR 1.00, 95% CI 0.76–1.32).
The study findings were published earlier this month in the peer-reviewed journal Alzheimer's Research and Therapy.
https://alzres.biomedcentral.com/articles/10.1186/s13195-023-01191-z
Corresponding author, Dr Eosu Kim, MD, PhD, of Yonsei University College of Medicine in Seoul, told
Health News
re porters at TMN, "RLS might precede cognitive decline leading to dementia, and could be considered a newly identified risk factor or early symptom of dementia. If future studies confirm this finding, regular cognitive decline checkups for older individuals with RLS may aid in early detection and intervention for those at risk for dementia."
Previous studies have presented conflicting results regarding the cognitive impact of RLS, with some showing deficits in attention and frontal lobe function, while others found no impairment.
The exact mechanism linking RLS and dementia remains unclear, but poor sleep quality, depression, anxiety, unhealthy diet, obesity, and poor cardiovascular conditions are risk factors for both conditions. Additionally, RLS is associated with microvascular disease and gliosis in the brain, which could contribute to dementia.
Sleep disturbances caused by RLS could increase the risk of dementia, as insomnia has been shown to increase dementia risk by 27%. Other shared pathophysiologies include central dopamine and iron deficits. Although this study found a possible temporal relationship between RLS and dementia, the causal relationship cannot be confirmed.
Furthermore, the study has several limitations, such as a predominantly female and aged population, reliance on ICD-10 codes for diagnoses, and a follow-up duration of around 4 years, which may not be enough to confirm the relationship between RLS and dementia. Additionally, hidden factors that could confound the results were not accounted for, such as diet or severity of RLS.
Dopamine agonists, which could potentially improve cortical plasticity, did not affect the cumulative incidence of dementia in the RLS group. This study could not assess the influence of other medications, such as oral iron, benzodiazepines, or α2δ ligands, due to their non-approval in Korea.
Despite these limitations, this is the first study to evaluate the association between incident RLS and increased dementia risk using a large nationwide elderly cohort with a follow-up of up to 10 years. The study minimized detection bias by setting a gap of 2 years between RLS and dementia diagnoses and adjusted for comorbidities and socioeconomic status.
Future prospective studies using formal diagnostic criteria, brain imaging, cognitive testing, and considering other types of dementia are needed to confirm the relationship between RLS and dementia. Additionally, research on the pathophysiological mechanism or protective factors between the two conditions would be valuable.
The study team concluded, "We found that incident RLS is associated with an elevated risk of dementia in older adults, suggesting that RLS could be regarded as a newly identified risk factor or prodromal sign of dementia. If so, regular check-ups for cognitive decline in older patients with RLS may facilitate earlier detection and intervention for those with dementia risk. Prior to realizing this proposal, however, some evidence provided here will remain to be confirmed; more extensive and mechanistic studies should follow."
For the latest
Health News
, keep on logging to Thailand Medical News.