South Korea's COVID-19 Cases Surge for 5th Consecutive Week Amid Rising Variant Concerns
Eased Restrictions and Waning Immunity Contribute to the Growing Challenge
COVID-19 News
: South Korea is facing a concerning situation as new COVID-19 cases have been soaring for five consecutive weeks, recording the highest daily infections in six months.
https://ourworldindata.org/coronavirus/country/south-korea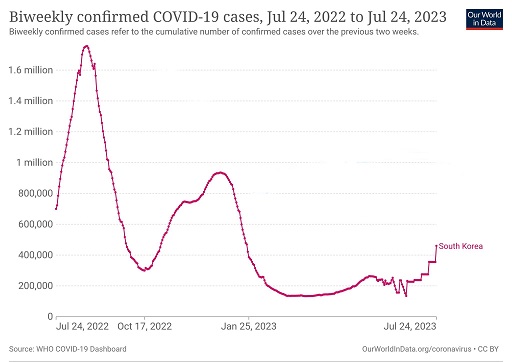 As the nation lifted all antivirus curbs earlier this year, health authorities are now grappling with the repercussions, raising fears of a potential new wave. The surge in infections, largely attributed to the dominance of the XBB 1.5 variant, has sparked discussions about the gradual wearing off of Covid-19 vaccination immunity and the emergence of variants with increased immune evasion capabilities. Experts warn that the country's medical system is facing an extended period of pressure as the infection trend is expected to continue. Meanwhile, the government is planning to take bold steps by transitioning to a normal medical system and easing mask mandates despite the persisting challenges.
Alarming Surge of COVID-19 Cases
South Korea reported a daily average of 45,529 new infections for the week of July 25-31, bringing the total caseload to 33,201,796, according to data supplied by the Korea Disease Control and Prevention Agency (KDCA).
It was reported that out of the seven days, daily COVID-19 infections jumped to over 50,000 from Tuesday to Thursday last week, surpassing the threshold for the first time in about six months.
South Korea also reported an average of 13 COVID-19 deaths per day for the one-week period, raising the death toll to 35,313. According to local
COVID-19 News
reports, there were 23 deaths reported last Thursday.
https://en.yna.co.kr/view/AEN20230731005100320?section=coronavirus/news
Another
COVID-19 News
coverages showed that South Korea's battle against COVID-19 has entered a critical phase, with a 35.8 percent on-week increase in confirmed cases reported in the third week of July, a trend that is fast escalating.
https://asianews.network/south-korea-sees-covid-19-cases-surge-for-4-weeks-in-a-row-amid-eased-restrictions/
The Dominance of the XBB Variants And Possibly Presence Of New BA.5 Sun-lineages.
Experts have identified the XBB 1.5 variant as the dominant strain behind the recent resurgence. This variant has exhibited a higher ability to evade immunity, raising concerns about the effectiveness of existing vaccines. Professor Dr Kim Woo-joo, an infectious disease expert at Korea University, warns that the combination of waning immunity and the emergence of these more transmissible variants is fueling the surge.
However,
="https://www.thailandmedical.news/">

Thailand Medical
News would like to point out that data from the CoV Spectrum platform shows that the XBB.1.16, EG.1, XBB.2.3.8 and EG.5.1 sub-lineages are driving the COVID-19 surge in South Korea.
https://cov-spectrum.org/explore/South%20Korea/AllSamples/from%3D2023-06-01%26to%3D2023-07-25/variants?nextcladePangoLineage=xbb*&
Further more due to lack of genomic sequencings an also bias reporting, there could also be the presence of newer BA.5 sub-lineages in the circulation mix that is driving disease severity and COVID-19 deaths as was discovered in Japan.
https://www.thailandmedical.news/news/breaking-surge-in-covid-19-hospitalizations-in-japan,-china,-south-korea-are-driven-by-ba-5-sublineages-including-bf-7-and-co-infections-not-eg5-1
Eased Restrictions and Weakened Immunity
The easing of COVID-19 restrictions earlier this year has been pinpointed as one of the key factors contributing to the current surge. With restrictions lifted, people have been resuming social activities, which has led to increased transmission opportunities. Additionally, experts believe that the immunity provided by previous vaccinations may be weakening over time, leaving individuals more susceptible to infection.
Potential New Wave on the Horizon
Health authorities are closely monitoring the situation as daily infections exceeded 50,000 from Tuesday to Thursday, marking the first time this threshold has been surpassed in about six months. With the ongoing upward trend in infections, concerns are mounting about the possibility of a new wave overwhelming the country's healthcare system.
Government's Controversial Approach
Despite the alarming surge, the Korean government is considering lowering the infectious disease level of COVID-19 to the lowest level of Class 4 from the current Class 2. This move, planned for as early as next month, aims to transition the medical system to a normal state. However, critics argue that such a measure might be premature, risking further spread of the virus and potential strain on the healthcare system.
Vaccination Strategy for the Winter Season
In response to the evolving variants, the government is planning to provide free COVID-19 vaccinations with updated vaccines based on the Omicron XBB variants in October for the winter season. This proactive approach aims to bolster immunity and prepare for potential challenges during the colder months.
Directions Ahead
South Korea's battle against COVID-19 has entered a critical phase, with a relentless surge in cases for five consecutive weeks. Experts emphasize the need for continued vigilance, a focus on vaccination efforts, and robust strategies to combat the threat of variant-driven infections. As the nation navigates the delicate balance between resuming normalcy and safeguarding public health, the world watches closely.
For the latest
COVID-19 News
on South Korea, keep on logging to
Thailand Medical
News.