South Korea Faces Growing Monkeypox Outbreak as Cases Spread Across the Country While Canada Witnessing Sporadic Monkeypox Cases
Monkeypox News
: Not sure if the rising temperatures are causing some of the reckless and irresponsible risqué individuals within the gay community to start 'humping' again in unprotected sex groups and orgies, but monkeypox or mpox seems to be starting to rise once again in various geolocations across the world and despite trying to be politically correct and non-homophobic, data once again shows that it is occurring in men with history of having unprotected sex with other men. My advice to the gay community is to stop having sex with strangers or to indulge in unprotected group orgies and other nonsensical activities that is detrimental to their health and well-being and to be more socially responsible.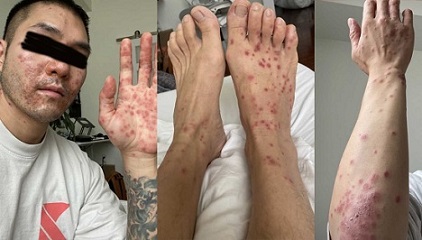 South Korea has experienced a surge in monkeypox (mpox) cases, with a total of 16 confirmed cases as of April 18. Seoul has been hit the hardest, with five cases reported, while Gyeonggi province has three cases, South Gyeongsang has two cases, North Gyeongsang has two cases, and South Jeolla has one case. Health officials anticipate that more cases will be identified in the coming weeks as disease surveillance and contact tracing efforts continue.
The first confirmed mpox cases in South Korea were reported on June 22, 2022, in Seoul. While the initial cases in 2022 were associated with overseas travel, all cases in 2023 have resulted from local transmission. Human-to-human transmission occurs among people in close physical contact, with a recent increase in cases linked to sexual contact.
The current outbreak in South Korea emphasizes the importance of safe sexual practices, as mpox can be transmitted even when the infected person displays few or no symptoms. However, the risk is currently assessed as low for individuals who do not routinely engage with multiple or anonymous sexual partners.
Monkeypox is a virus closely related to smallpox but does not have the same capacity for rapid human-to-human transmission. It primarily affects people in West and Central Africa, particularly those in the Democratic Republic of the Congo, Nigeria, and Cameroon who have contact with wild rodents or other mammals carrying the disease. Mpox is mainly transmitted to humans through direct contact with the bodily fluids of infected rodents or primates. Human-to-human transmission primarily occurs through close personal contact with an infected individual via respiratory droplets, direct contact with bodily fluids, or indirect contact with lesion material (e.g., contaminated clothing or bedding).
Symptoms typically appear 6-16 days after exposure but can develop up to 21 days after exposure. Symptoms generally include fever, headache, muscle aches and backaches, swollen lymph nodes, chills, exhaustion, and a distinctive rash characterized by lesions that progress through several stages before falling off.
The Korea Centers for Disease Control and Prevention reported three additional mpox cases over the weekend, bringing the total number of cases to 16. All three new patients have no history of overseas travel within three weeks of symptom onset and are presumed to be domestic infections. The first case of mpox in Korea was reported in June last year. Until the fifth patient, all cases were from patients who had traveled abroad. However, since the sixth patient who was confirmed in early April, health officials believe that all cases are local transmissions according to local
.news/articles/monkeypox">Monkeypox News
coverages.
In Canada, sporadic new mpox cases have experts urging vaccination ahead of summer. Since the start of 2023, a handful of new cases have cropped up in Montreal and Toronto, serving as a reminder that the disease is still circulating. The Canadian mpox epidemic peaked in late June and early July 2022, with around 25-30 new cases being reported every day, mostly in Ontario and Quebec. The number of cases rapidly declined, with almost all cases ceasing by December 2022.
Tens of thousands of Canadians were vaccinated against mpox in response to the initial outbreak last summer, with vaccine campaigns focused on at-risk groups. However, the vaccine requires two doses, and many people never received the second dose. As summer approaches, experts encourage Canadians to remain vigilant and get vaccinated, particularly those in at-risk groups. Vaccination isn't a 100% guarantee against contracting mpox, but it can mitigate serious disease even if it fails to prevent transmission.
In conclusion, as more countries face a growing mpox outbreak, it is crucial for individuals to practice basic health precautions, including frequent handwashing with soap and water, covering the nose and mouth when coughing and also to avoid having sex with strangers or having multiple sexual encounters or partners.
For the latest
Monkeypox News
, keep on logging to Thailand Medical News,