Omicron Cases Increasing In Denmark, UK and US. Variant Now Found In Chile, Senegal and Tunisia. In All 45 Countries Have Detected The Omicron Variant
Omicron Updates
: While many countries around the world are still seeing new winter surges due to the Delta variant and its emerging sub-variants, the Omicron variant has now been detected in a total of 43 countries around the world and is causing an increase of cases in Denmark, UK and US via local transmissions.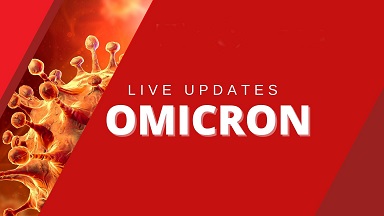 In France, the Delta variant is now causing a surge due to the emergence of new sub-variants and the country recorded more than 50,000 new infections in the last 24 hours. Many other European countries are facing similar onslaughts including Germany, Ukraine, Poland, Romania, Austria etc.
In the United States, the Delta variant is causing caseloads to exceed an average of 110,000 new COVID-19 infections per day over the past week and an average of more than 1,500 COVID-19 deaths per day over the last few days.
South Africa is the only country witnessing an exponential surge of COVId-19 infections caused by the new Omicron variant. In the last 24 hours, a total of more than 16,366 new infections were detected and more than 21 deaths were recorded.
(Note: The WHO issued a fake statement last Friday that was promoted by many non-credible Western mainstream media saying that no one died from the Omicron variant so far! In the last 5 days, a total of 139 people died in South Africa due to COVID-19 of which more than 70 percent were with the Omicron variant!
)
https://sacoronavirus.co.za/
Denmark Sees A Big Jump In Omicron Cases.
Health authorities in Denmark reported on Sunday that the country had seen a "concerning" jump to 183 confirmed cases of the Omicron variant of COVID-19.
Alarmingly the number represented a tripling of confirmed cases in 48 hours, from 18 confirmed and 42 suspected cases on Friday, according to data from the SSI public health institute.
The ECDC or European Centre for Disease Prevention and Control had previously tallied just 182 cases across all of the European Union, plus Norway and Iceland.
Denmark is one of Europe's most advanced countries in sequencing of coronavirus variants. The country often detects more cases more quickly than its neighbours-which does not necessarily indicate higher rates of infection.
SSI chief said the increase in Omicron cases was nevertheless "concerning", adding that "there are now chains of infection where the variant is found in people who have not travelled abroad or been in contact with travellers".
It was also reported on Sunday by the ECDC that the Omicron had been reported in 17 countries in its region!
The ECDC officials told Thailand
Medical News
, "The majority of confirmed cases have a history of travel to countries in Africa, with some having taken connecting flights at other locations between Africa and Europe."
However nevertheless, "several EU/EEA countries (Belgium, Germany, Spain) detected cases without an epidemiological link to areas where community transmission of the Omicron variant is documented or presumed," the ECDC added.
The ECDC warned, "This indicates that undetected community transmission could be ongoing in these countries."
UK Omicron Cases Reach 246 After 86 New Infections
An additional 86 cases of the new Omicron COVID variant have been reported in the UK, taking the total to 246.
When compared with a total of 160 yesterday, this alarmingly represents an increase of more than 50%.
The UKHSA or UK Health Security Agency which publishes the figures, says 18 of the cases are in Scotland, taking its total up to 48.
It was also noted that another 43,992 COVID-19 cases were recorded in the UK in the last 24 hours compared to 42,848 on Saturday.
Also, there were another 54 deaths within 28 days of a positive test for the virus.
To date, separate figures published by the Office for National Statistics show there have now been 170,000 deaths registered in the UK where COVID-19 was mentioned on the death certificate.
Leading expert Professor Sir Dr David Spiegelhalter from the University fo Cambridge said the emergence of Omicron in the UK was "appalling timing" as the next few weeks are "one of the highest risk periods... with a lot of indoor socializing".
He added that the government "would love not to disrupt Christmas", but he warned: "What happens after Christmas is another matter."
Omicron Found In Nearly One-Third Of U.S. States
The new Omicron variant of the coronavirus has spread to about one-third of U.S. states, but the Delta version remains the majority of COVID-19 infections as cases rise nationwide, U.S. health officials said on Sunday.
To date, at least 16 U.S. states have reported Omicron cases: California, Colorado, Connecticut, Hawaii, Louisiana, Maryland, Massachusetts, Minnesota, Missouri, Nebraska, New Jersey, New York, Pennsylvania, Utah, Washington and Wisconsin.
Worryingly local community transmissions are now been seen in California, New York and Washington.
Many of the cases were among fully vaccinated individuals with mild symptoms, although the booster shot status of some patients was not reported.
CDC Director Dr. Rochelle Walensky told media that despite several dozen Omicron cases, the Delta variant still accounts for 99.9% of new COVID cases in the United States.
She said, "We are everyday hearing about more and more probable cases so that number is likely to rise."
America over the last seven days has averaged 119,000 new cases a day and lost nearly 1,500 lives to COVID each day on the average.
The state of Louisiana currently has one Omicron case from an individual who traveled within the United States, its health department said on Sunday.
Tunisia Reports Its First Case Of The Omicron Variant
Tunisia health authorities reproted their first case of the omicron variant on Sunday in the North African country after a man traveling in from Turkey tested positive.
Dr Hachemi Louzer, a member of Tunisia's COVID-19 task force said the man was from the Democratic Republic of Congo. He tested positive Friday at the Tunis international airport after arriving from Istanbul and a subsequent screening of the sample at the Pasteur Institute for Public Health in the capital, Tunis, confirmed the omicron variant, Dr Louzer said.
Many of his fellow travelers, including his brother, who tested negative for COVID-19 have been quarantined, he said.
Local health authorities have restricted travel to Tunisia after the spread of the omicron variant in Africa and Europe over the past week.
The whole epidemiological situation in Tunisia has improved in the past two months after the country received vaccine shipments from several countries, including the United States, health experts said.
To date, more than 25,000 people have died of coronavirus in Tunisia.
Chile Confirms Initial Case Of Omicron Variant
Health authorities in Chile said on Saturday that they had found its first case of the Omicron variant of COVID-19 in a traveler who arrived late last month from Ghana.
The infected traveler had provided proof of a negative PCR test, but an additional mandatory test upon arrival at the airport proved positive, health authorities in the Valparaiso region said in a statement.
Local health authorities said the passenger, who was not identified, had had two rounds of Pfizer vaccine and appeared in good health. The person has been in isolation since arriving.
The other passengers on the same flight are being retested.
To date, COVID-19 has claimed more than 38,000 lives in Chile to date.
Senegal Detects First Case Of Omicron Variant
The very first case of the Omicron variant of COVID-19 has been reported in Senegal, in a visitor who was leaving the country after an international meeting in capital Dakar, a research institute said.
Late Saturday the IRESSEF health body said that the 58-year-old patient arrived in Senegal by air from another West African country on November 22.
The infected traveler had been vaccinated earlier this year with the AstraZeneca and Pfizer shots and had no symptoms by Saturday.
Though the man has now been quarantined in a medical centre, he stayed at a Dakar hotel and took part in an event with 300 people from different countries on November 24-25.
To date, Senegal has recorded more than 74,000 coronavirus cases since the pandemic began.
Despite being launched in February 2021, the country's vaccination campaign has made slow progress, with 1.3 million people inoculated out of a total 17 million population.
Please help to sustain this site and also all our research and community initiatives by making a donation. Your help means a lot and helps saves lives directly and indirectly and we desperately also need financial help now.
https://www.thailandmedical.news/p/sponsorship
For the latest
Omicron Updates
, keep on logging to Thailand Medic