COVID-19-News: Excess Deaths Rising Exponentially In The United Kingdom With COVID-19 Being A Major Contributing Factor
COVID-19 News
: While the government and health authorities in UK have been busy finding ways to either conceal or manipulate data with regards to the daily COVID-19 infections, hospitalization and deaths, recent reports from the Office of National Statistics (ONS) are showing that excess death rates in the United Kingdom is rising at a very exponential phase.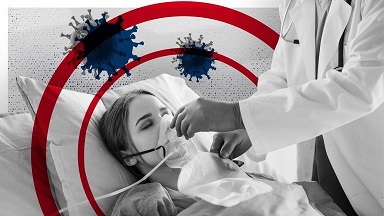 In December 2022 alone, for the week ending 23 December 2022 (Week 51), 14,530 deaths were registered in England and Wales; 429 of these deaths mentioned "novel coronavirus (COVID-19)", accounting for 3.0% of all deaths.
This is an increase in all deaths compared with the week ending 16 December 2022 (Week 50), when the number of all-cause deaths registered was 12,389; COVID-19 accounted for 390 of these deaths (3.1%).
Of the 429 deaths involving COVID-19 in Week 51, 71.8% (308 deaths) had this recorded as the underlying cause of death, which was a greater proportion when compared with Week 50 (66.9%).
The number of deaths was above the five-year average in private homes (37.5% above, 1,120 excess deaths), hospitals (18.8% above, 1,031 excess deaths), care homes (10.5% above; 282 excess deaths) and other settings (7.0% above, 61 excess deaths) in Week 51 in England and Wales.
Worryingly, deaths due to influenza and pneumonia have increased in recent weeks, to 829 deaths in the week ending 23 December, an increase of 329 deaths compared to week ending 9 December (500 deaths).
https://www.ons.gov.uk/peoplepopulationandcommunity/birthsdeathsandmarriages/deaths/bulletins/deathsregisteredweeklyinenglandandwalesprovisional/weekending23december2022
For the whole of 2022, about more than 650,000 deaths were registered in the UK, 9% more than 2019.This represents one of the largest excess death levels outside the pandemic in 50 years.
https://www.ons.gov.uk/peoplepopulationandcommunity/birthsdeathsandmarriages/deaths/datasets/excessdeathsinenglandandwales
Even then, despite a relative high figure, many researchers and medical professionals are still contesting the figures and claim that the reported figures seem to be low compared to what is actually being reported in certain parts of the country or data that is procured form other various sources.
The largest jump in excess deaths was seen in men aged 50-64, most commonly caused by heart problems.
https://app.powerbi.com/view?r=eyJrIjoiYmUwNmFhMjYtNGZhYS00NDk2LWFlMTAtOTg0OGNhNmFiNGM0IiwidCI6ImVlNGUxNDk5LTRhMzUtNGIyZS1hZDQ3LTVmM2NmOWRlODY2NiIsImMiOjh9
The increase in excess death rates is prompting many to ask questions as to why more British citizens are still dying than normal although the COVID-19 narratives by health authorities and
>COVID-19 News
coverages in garbage media like the BBC keep on insisting that the COVID-19 shots are working and that COVID-19 cases, hospitalizations and deaths are down.
https://finance.yahoo.com/news/alternative-healthcare-activists-file-antitrust-162100012.html
In reality, COVID-19 is still killing more Brits than ever it just that methods of reporting, criteria for claiming that the classifying the cause of death due to COVID-19 is fluid and authorities are concealing the true data.
The British health authorities have claimed that that there were only 38,000 deaths involving COVID-19 in 2022 compared with more than 95,000 in 2020.This is far from the truth!
Many kept on saying that at the start of 2022, death rates were looking like they'd returned to pre-pandemic levels. However, it wasn't until June that excess deaths really started to rise just as the number of individuals waiting for hours in English hospitals hit levels normally seen in winter.
Since then, hospitalizations rates have risen drastically and the NHS has literally collapsed but there are not much reporting on the state of things by the garbage mainstream English media.
Despite a warning by the president of the Royal College of Emergency Medicine On 1 January 2023, suggesting that the crisis in urgent care could be causing "300-500 deaths a week", nothing was addressed by the English health authorities, government officials or media.
We have already seen how bad the situation was in United Kingdom in mid and late December 2022 and to date nothing has improved but rather the situation is becoming far worse.
https://www.thailandmedical.news/news/breaking-covid-19-news-uk-s-covid-19-crisis-is-now-worse-than-china-no-hospital-beds-and-no-oxygen-and-no-death-reporting-who-should-intervene
https://www.thailandmedical.news/news/covid-19-news-while-the-world-is-concerned-about-china-s-covid-19-situation,-no-media-is-reporting-about-uk-s-covid-crisis-and-the-collapse-of-the-nhs
With a number of new variants such as the XBB.1.5, CH.1.1 along with the more worrisome new BF variants such as BF.7.14 and BA.5.2 sub-lineages like BA.5.2.48, BA.5.2.49 already detected in UK, it is only a matter of time before the situation really gets out of hand and the government and health authorities along with the garbage mainstream media will no longer be able to contain nor conceal the actual situation in the United Kingdom and the number of deaths and hospitalizations.
While there are some nice British people, the majority are filthy, arrogant and nasty individuals as we have seen on twitter or the behavior of executives and staff from the BBC, and they truly deserve what is coming to them.
https://amgreatness.com/2023/01/10/rfk-jr-group-sues-trusted-news-outlets-including-bbc-ap-reuters-and-wapo-over-alleged-antitrust-first-amendment-violations/
https://davidicke.com/2023/01/11/robert-kennedy-jr-sues-bbc-driven-censorship-cartel-trusted-news-initiative-which-has-conspired-to-censor-information-about-covid-that-it-knows-is-true-anyone-still-paying-the-bbc-licence-fee/
https://ussanews.com/2023/01/11/bbc-sued-for-setting-up-global-network-of-news-liars-and-corporate-censors/
For the latest
COVID-19 News
, keep on logging to Thailand Medical News.