COVID-19 News: Brazil's University Of Sao Paulo Study Findings Validates Previous Research Showing Ultrasound Can Inhibit SARS-CoV-2!
COVID-19 News
: Researchers from University of Sao Paulo - Brazil have in a new study demonstrated that inhibits SARS-CoV-2 in vitro infectivity, adding more published evidence to validate previous research data that shows ultrasound vibrations may kill coronaviruses including the SARS-CoV-2.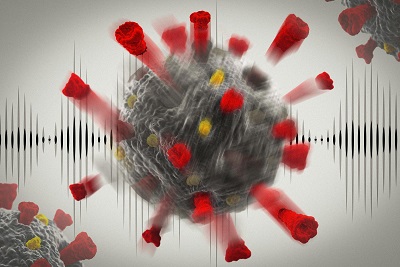 As early as May 2021, researchers from Massachusetts Institute of Technology published study findings in the peer reviewed Journal of Mechanics and Physics of Solids claiming that vibration frequencies similar to that used in medical ultrasound diagnostics could literally cause the virus to disintegrate into pieces, hence inhibiting its replication.
https://www.sciencedirect.com/science/article/pii/S0022509621000600
Strangely once again, not many
COVID-19 News
outlets picked up the discovery and no research or private companies explored using the virucidal properties of ultrasound in many possible ways to help control the spread of the virus and also in COVID-19 therapeutics.
The process of using ultrasound to inhibit the novel coronavirus is almost similar to a process called cell sonification in which cells are subjected to high frequency sounds to literally break them open.
https://www.sepmag.eu/blog/sonication-cell-lysis-protocol
The COVID-19 disease is caused by infection with the severe acute respiratory syndrome coronavirus 2 (SARS-CoV-2), affecting millions of individuals worldwide, with a high rate of deaths.
The Brazilian study team aimed to evaluate ultrasound (US) as a physical method for virus inactivation.
The ultrasound transductor was exposed to the SARS-CoV-2 viral solution for 30 minutes. Vero-E6 cells were infected with medium exposure or not with the ultrasound (US), using 3-12, 5-10, or 6-18MHz as frequencies applied.
The study team performed confocal microscopy to determine virus infection and replicative process. The study team also detected the virus particles with a titration assay.
The study findings showed an effective inhibition of SARS-CoV-2 Wuhan, Delta, and Gamma strains using ultrasound.
The ultrasound treatment was able to inhibit the Wuhan strain in all applied frequencies.
However, 3-12 and 6-18MHz did not inhibit SARS-CoV-2 delta and gamma variants infection, on the other hand, 5-10MHz was able to abrogate infection and replication in all experimental conditions.
The study findings showed that SARS-CoV-2 is susceptible to ultrasound (US) exposure at a specific frequency 5-10MHz and could be a novel tool for reducing the incidence of SARS-CoV-2 infection.
The study findings were published on a preprint server and are currently being peer reviewed.
https://www.biorxiv.org/content/10.1101/2022.11.21.517338v1
Ultrasound are sound waves that have higher frequencies than are audible to humans. Medical professionals often use ultrasound for diagnostic imaging; By transmitting ultrasound through the body, they can use devices to record the sound waves that bounce back, which creates images of the inside of the body.
However, ultrasound can also be used therapeutically. For example, through a technique called lithotripsy, doctors can use ultrasonic waves to pulverize large kidney stones into smaller pieces. It's similar to a trained opera singer who's able to shatter a wine glass by singing loudly at a specific pitch.
Past studies have also shown that ultrasound can inhibit viruses like the herpes simplex virus, hepatitis virus and even other micro-organisms by destroying their structures and preventing them from binding to receptors and from replicating.
https://virologyj.biomedcentral.com/articles/10.1186/1743-422X-8-446
https://link.springer.com/referenceworkentry/10.1007/978-981-287-470-2_69-1
A study in 2015 also showed that airborne respiratory viruses could be inhibited using ultrasound.
https://pubmed.ncbi.nlm.nih.gov/26647655/
The MIT and University of Sao Paulo study findings showed that ultrasound vibrations between 25 and 100 megahertz caused the shell and spikes to rupture almost immediately.
The Brazilian study team concluded, "It was clearly shown that lower frequencies of the ultrasound contribute to SARS-CoV-2 virus inactivation. In addition, influences on virus inactivation occurred in different applied energy ranges without the interference of temperature. In addition, this novel method could potentially be combined with existing physical, and chemical methods and antiviral agents."
For the latest
COVID-19 News
, keep on logging to Thailand Medical News.
Please help share this article to as many people as possible as hopefully more applications and products can be developed using ultrasound in home, school, office, hospitals and other outside settings such as restaurants and malls to help control the spread of the SARS-CoV-2 virus, and also to be used alongside in existing therapeutic protocols.