COVID-19 News: Sweden Witnessing A Sudden Worrisome Rise In SARS-CoV-2 Infections With Health Authorities Reporting A 38% Increase In Weekly Infections!
COVID-19 News
: In a recent update on the COVID-19 situation in Sweden, health authorities have sounded the alarm as the country experiences a sudden and worrisome rise in SARS-CoV-2 infections. The Public Health Agency of Sweden reported a staggering 38% increase in the number of confirmed COVID-19 cases in the past week compared to the previous week.
https://www.dn.se/sverige/covidsmittan-okar-i-landet/
https://www.gp.se/nyheter/sverige/allt-fler-covidsmittade-uppt%C3%A4cks-1.113760275
https://www.aftonbladet.se/nyheter/a/WRzAM2/covid-19-fallen-okar-i-sverige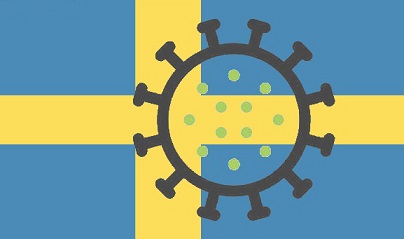 While this surge is concerning, experts suggest it may be the early signs of a significant autumn and winter peak.
State Epidemiologist Dr Magnus Gisslén acknowledged the increase in cases and told various
COVID-19 News
outlets, "It may be the early beginning of a significant autumn/winter peak."
Despite the surge in cases, it's worth noting that the increase is still at relatively low levels. In absolute numbers, the changes are not very large, but the percentage-wise increase is significant.
The rise in infections is also accompanied by an increase in the number of patients being hospitalized with COVID-19. However, it's important to stress that the hospitalization rates remain relatively low. Dr Gisslén explained, "There are regional differences. In some regions, there has been a clearer increase in the number of admissions." This includes regions like Värmland and Västernorrland.
As Sweden navigates this concerning phase of the pandemic, the big question is whether this recent increase is the start of a substantial peak for the autumn and winter or if it will level off only to see a resurgence later in the winter. Dr Gisslén emphasized, "Regardless, it is fairly certain that there will be a larger increase at some point during the autumn or winter."
To combat the rising cases and protect vulnerable populations, Sweden is launching a major vaccination campaign. Starting on November 7, 2023, the campaign aims to offer vaccinations against both COVID-19 and seasonal influenza. The target groups for this vaccination effort include individuals aged 65 or older, those aged 18 or older who belong to a risk group, and individuals between 50 and 64 years of age who have not yet been vaccinated against COVID-19. Dr Magnus Gisslén stressed the importance of vaccination, stating that it reduces the risk of severe illness.
Despite the surge in cases, the true number of COVID-19 infections may be higher than reported since testing remains limited. Dr Gisslén mentioned that "It is likely that there are many more people with COVID-19 now than the number of confirmed cases because very few ar e tested." This situation highlights the need for individuals with cold symptoms to take precautions, such as staying home and maintaining distance at work, to curb the spread of the virus.
One region that has experienced a significant increase in cases is Norrbotten, where one in three individuals with cold symptoms who are tested turn out to have COVID-19. Dr Anders Nystedt, an infectious disease doctor in Norrbotten, emphasized the need for caution. He stated, "There is an incredible amount of COVID-19 in society right now, and what we see is a fairly significant increase. At the same time, relatively few end up in the hospital, but it still places an additional burden on healthcare."
Dr Nystedt pointed out that the situation, while concerning, does not currently pose an unsustainable burden on healthcare services. Most hospitalized individuals are older, with limited margins to manage at home, and their conditions often do not require intensive care. He emphasized that the character of COVID-19 has changed, as many people are now vaccinated and have some level of immunity.
Nonetheless, the timing of the peak and the extent of the surge remain uncertain.
Dr Gisslén noted that the increase is typical for this time of year, with more people returning to schools and workplaces and spending more time indoors. The situation will be closely monitored, and experts will continue to adapt their response based on the evolving data.
Vaccination efforts have been initiated in many regions, with a particular focus on residents of special accommodation for the elderly. The vaccination campaign now offers the convenience of receiving both the seasonal flu vaccine and the COVID-19 vaccine simultaneously. While the seasonal flu has not seen a significant increase yet, health authorities stress that it remains a serious illness, especially for older and vulnerable individuals, and should not be underestimated.
In conclusion, Sweden is currently grappling with a sudden and concerning increase in COVID-19 cases. Health authorities are closely monitoring the situation and have initiated a vaccination campaign to protect high-risk groups. While the situation is challenging, it is not yet reaching pandemic levels, and experts continue to adapt their strategies to address the evolving circumstances. As the nation enters the autumn and winter seasons, the focus remains on minimizing the impact of the virus on the healthcare system and the population.
For the latest
COVID-19 News
, keep on logging to Thailand Medical News.