U.S. Medical News: Hospitals In America Bring Back Mask Mandates As COVID-19 Hospitalizations Rise By 21.6 Percent And Deaths Increase By 21.4 Percent!
U.S. Medical News
: As COVID-19 cases surge and hospitalizations rise across the United States, hospitals are grappling with a difficult decision: to reinstate mask mandates or not. The sudden resurgence of the virus has forced medical institutions to reconsider their stance on mandatory mask-wearing, a move that comes just months after a group of health care experts called for the end of universal masking in healthcare settings.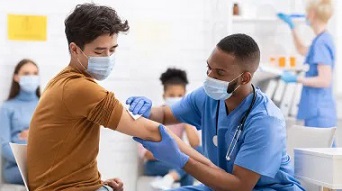 In April 2023, a consortium of health care epidemiologists and infectious diseases specialists from various corners of the nation published a paper in the prestigious Annals of Internal Medicine.
https://www.acpjournals.org/doi/10.7326/M23-0793
The publication marked a significant moment as it advocated for an end to the practice of universal masking in hospitals and other healthcare establishments. Dr Shira Doron, Chief Infection Control Officer for Tufts Medicine Health System and Hospital Epidemiologist at Tufts Medical Center, emphasized that the calculus of risk and benefit had shifted after three years of mandatory masking. The drawbacks of masks, including communication barriers and a sense of detachment between individuals, led experts to believe that the time had come to consider an end to compulsory mask-wearing.
Following the lead of the nation's trajectory towards normalcy and President Biden's declaration ending the COVID-19 national emergency on May 11, 2023, several states started phasing out mask mandates, even within hospital premises, as early as April of the same year.
https://www.nortonrosefulbright.com/en/knowledge/publications/5980de73/federal-and-state-unwinding-of-covid-19-rules
However, the hopes of a mask-free hospital environment were swiftly challenged by a surge in COVID-19 cases and subsequent hospitalizations throughout the country. As grim statistics from the Centers for Disease Control and Prevention (CDC) revealed, COVID-related hospitalizations had climbed by a staggering 21.6% in the most recent week, with deaths trailing closely at 21.4%.
https://covid.cdc.gov/covid-data-tracker/#datatracker-home
These alarming figures served as a stark reminder that the pandemic was far from over and that the virus could regain momentum at any given moment.
In fact, various
U.S. Medical News
outlets are reporting that across various counties in many states, COVID-19 infections rates are rising at unprecedented rates.
In response to the escalating situation, several hospitals and health systems reconsidered their policies on mask-wearing. A number of institutions that had previously lifted mask mandates were left with no choice but to reinstate them in order to curtail the spread of the virus. It was reported that hospitals across the country were reinstating mask requirements for both patients and staff members.
A mong the hospitals taking this measure was the United Health Services in New York, which reintroduced mask mandates on August 23. The reinstated policy required masks in clinical areas and common spaces, affecting patients, visitors, employees, medical staff, volunteers, students, and vendors. Similarly, the Kaiser Permanente Santa Rosa Medical Center in California reinstated the mask mandate on August 22, citing a rise in positive COVID-19 tests.
https://www.thailandmedical.news/news/u-s-medical-news-u-s-cdc-forecasts-that-covid-19-hospitalizations-in-america-can-rise-up-to-7,500-admissions-per-day-by-18th-of-september-2023
In an unexpected reversal, the Auburn Community Hospital in New York, which had just lifted its mask mandate a month prior, re-imposed mask requirements on August 19. The hospital emphasized that face coverings were now mandatory for all, regardless of vaccination status, within clinical areas.
Furthermore, the University Hospital in Syracuse, New York, enforced its mask mandate anew on August 17. The directive encompassed all staff, visitors, and patients within clinical areas across multiple hospital facilities.
Amid these decisions, experts' opinions remained divided. Dr Marc Siegel, a Clinical Professor of Medicine at NYU Langone Medical Center and a Fox News medical contributor, acknowledged the importance of mask mandates in hospitals with high-risk patients. He cited observational studies demonstrating the potential effectiveness of masks among healthcare workers. However, Dr Siegel stressed the importance of using high-quality masks, such as KN95, and following proper usage instructions.
However, Dr Siegel also pointed out that universal mask mandates had shown limited effectiveness, largely due to improper mask usage. He stated that mandating masks for the general population might not be as effective as anticipated, especially among young children who might not adhere to proper masking practices.
As hospitals across the nation grappled with the decision of whether to reintroduce mask mandates, the resurgence of COVID-19 highlighted the unpredictable nature of the pandemic and the need for a balanced approach to public health measures. The ongoing debate between universal masking and individual freedom underscored the complex challenges faced by medical institutions and the society at large in the ongoing fight against the pandemic.
For the latest
U.S. Medical News
, keep on logging to Thailand Medical News.