US. Medical News: Hospitals In America Are Increasing Policing and Security Measures Amidst Growing Violence Against Healthcare Staff!
US. Medical News
: the United States is now emerging as one of the most dangerous countries to live in due to growing crime rates including murders, rapes, gun violence, mobs, looting, robbery and other local crimes. The Biden administration has also been a contributing cause to the growing violence in the country due to its divisive policies and support for the negative elements in society.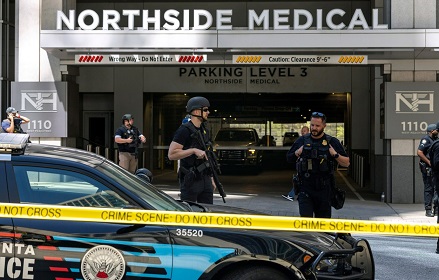 Police stand outside the Northside Medical office building, where five people were
shot, one fatally, on May 3 in Atlanta.

Pic Credit: arvin temkar / atlanta journal-constitution
Interesting enough, even many countries are now issuing travel advisories against travelling to the United States due to the increasing violence in the country.
https://edition.cnn.com/travel/article/travel-warnings-other-countries-us-violence/index.html
Violence in the United States is not only limited to the subways, trains, malls, schools etc but has now even seeped into hospitals and healthcare facilities! Such is the modern-day American society!
In this new era of escalating tension and rising acts of violence against healthcare workers, hospitals in the United States are resorting to a somewhat controversial solution - increased policing and security measures.
Destiny, a charge nurse at Northeast Georgia Health System, stands as a living testament to the rising tide of violence that is sweeping across healthcare establishments. The horrifying memory of a patient assaulting her and a fellow technician, ripping out chunks of her hair and leaving her with post-concussion headaches for months, haunts her still. Destiny's narrative was presented as testimony to the Georgia Senate Study Committee on Violence Against Healthcare Workers, amplifying a significant cry for help from the healthcare sector.
https://trackbill.com/bill/georgia-senate-resolution-281-senate-study-committee-on-violence-against-health-care-workers-create/2079357/
May 2023 marked a significant milestone in healthcare protection, as the Republican Governor Brian Kemp signed into law a critical piece of legislation - one that boosts criminal penalties for assaults against hospital workers and also allows healthcare facilities in Georgia to establish independent police forces.
https://georgianurses.nursingnetwork.com/nursing-news/193803-governor-kemp-signs-the-safer-hospitals-act-into-law-enhances-punishment-for-violence-against-healthcare-professionals-on-the-job
The new legislation serves as a potent response to the alarming rise in violence against healthcare workers, a reality sadly validated by hospital lobbying and data documentation.
In response to similar crises, close to 40 states have implemented laws ai med at establishing or increasing penalties for assaults on healthcare workers, a fact substantiated by the American Nurses Association. This trajectory continues with lawmakers in 29 states either approving or working on similar legislation.
Healthcare facilities are not just hospital buildings; they are complex ecosystems that harbor life, illness, pain, healing, and unfortunately, in recent times, violence. Recognizing this, the new laws facilitate the creation of hospital police forces that are equipped with higher training requirements than traditional security personnel. The members of these forces can carry firearms and possess the authority to make arrests.
While critics voice concerns over the potential escalation of violence in healthcare settings, proponents argue that these laws address the very real, daily threat posed by aggressive or agitated patients. Healthcare workers are five times more likely to experience violence than employees in other industries, according to federal data.
The sobering reality of a shooting incident at a midtown Atlanta medical office, just a day after Kemp signed the Safer Hospitals Act, only adds weight to these statistics.
https://edition.cnn.com/2023/05/04/us/atlanta-midtown-shooting-suspect-thursday/index.html
The present global pandemic has brought with it an unwelcome surge in verbal and physical threats, significantly impacting the mental health of healthcare professionals and exacerbating a dire nursing shortage. Matt Caseman, CEO of the Georgia Nurses Association, corroborates this fact by highlighting the instance of one of Destiny's co-workers leaving the profession after a violent incident.
In November 2022, the Centers for Medicare & Medicaid Services took note of the alarming rise of violence in healthcare settings and recommended the implementation of a patient risk assessment strategy, increased staffing levels, and better training for staff members. However, they did not advocate for a law enforcement presence boost.
Yet, hospitals have found merit in these new security measures. They are witnessing better staff retention rates and improved patient care due to a decrease in the number of violent incidents, says Mike Hodges, secretary of the Georgia chapter of the International Association for Healthcare Security and Safety.
Hodges told
U.S. Medical News
outlets, "Georgia's new law steps up the penalties for aggravated assaults against all healthcare workers on a hospital campus. It also provides hospitals with the power to establish law enforcement offices, akin to those on university campuses. The officers must be certified and maintain law enforcement records that can be made public."
Despite the notable benefits, concerns arise over the "unintended consequences" of legislation that increases the presence of law enforcement in places where people receive medical care. Ji Seon Song, a law professor at the University of California-Irvine, who studies policing in healthcare settings, warns against the potential for criminalization, especially among vulnerable populations. He told media, "While we debate the pros and cons of a stronger law enforcement presence, let's remember the primary objective at the heart of it all: creating safe and healthy workplaces for our healthcare workers, who tirelessly toil to safeguard our health."
Atrium Health Navicent, an entity operating hospitals across central Georgia, exemplifies an organization embracing this change. Delvecchio Finley, its president, stated that the health system staffs certified law enforcement officers, even before the new law's institution. Atrium Health's approach to hiring officers who reflect community diversity, counteracting implicit biases through training, and conducting post-incident debriefings could serve as a model for other institutions.
It's important to recognize that hospitals, unlike other businesses, can't simply dismiss patients who display inappropriate or violent behavior. Terri Sullivan, an Atlanta-based emergency nurse, recalls an episode when a patient physically attacked her, fracturing two ribs. She believes that the visible presence of hospital security can deter patients from acting out violently.
However, as we move towards a paradigm of heightened security, it is equally important to consider the lack of comprehensive data on the effectiveness of such measures in preventing hospital violence. There are legitimate concerns about exacerbating an already fraught relationship between patients, especially those from marginalized communities, and law enforcement.
A ProPublica investigation claims this potential issue, highlighting that the private police force of Cleveland Clinic disproportionately charges and cites Black individuals despite the fact that mots offenders that commit violence in healthcare settings tend to be blacks!
In a controversial and disturbing episode, a video emerged showing police and hospital staff in Virginia holding down a patient undergoing a mental health crisis, tragically leading to his death.
A study by Johns Hopkins University revealed that in 23% of emergency department shootings from 2000 to 2011, the perpetrator seized a gun from a security officer. These events underscore the potential risks of an increased law enforcement presence in sensitive healthcare environments.
The Georgia law currently does not mandate hospital police officers to arrest patients with outstanding warrants for off-campus offenses. Yet, it doesn't curtail these powers either. This ambiguity in legislation could potentially lead to misuse, warns Mazie Lynn Guertin, executive director of the Georgia Association of Criminal Defense Lawyers.
Elinore Kaufman, a trauma surgeon at the University of Pennsylvania, holds a slightly different perspective. She argues that law enforcement should be a last resort and suggests other measures such as investing more in healthcare staffing, improving overall training, and teaching de-escalation skills. Kaufman strongly advocates for a shift in perspective, "Our primary lens shouldn't be that our patients are a danger to us. It's a harmful lens. We should develop safe and healthy workplaces through other ways."
The debate surrounding increased law enforcement in hospitals is a nuanced one, rooted in the complexities of American societal structures and the inherent vulnerabilities of healthcare environments. As Americans grapple with these complexities, it is paramount that they keep their focus on the ultimate goal - to ensure the safety of healthcare staff while providing an environment of trust and care for patients.
Just as hospitals embody the ethos of healing and compassion, the solutions to their challenges must echo the same values. The pivotal challenge lies not in merely increasing the presence of law enforcement in hospitals, but in creating an environment that promotes understanding, respect, and safety for all.
For the latest
U.S. Medical News
, keep on logging to Thailand Medical News.