Drugs That Target the Acid Sphingomyelinase/Ceramide System Found To Reduce 28-Day Mortality Among Adult Patients Hospitalized With COVID-19
COVID-19 Drugs
: The COVID-19 pandemic has been a significant global health crisis, challenging healthcare systems and economies worldwide. Despite advancements in vaccination efforts, effective outpatient treatments for COVID-19 remain crucial, especially for low- and middle-income countries. The acid sphingomyelinase (ASM)/ceramide system has emerged as a potential target for treating COVID-19, with preclinical evidence suggesting its role in SARS-CoV-2 infection. In this comprehensive multicenter observational study, researchers aimed to investigate the association between medications functionally inhibiting acid sphingomyelinase (FIASMA) and 28-day all-cause mortality in adult patients hospitalized with COVID-19.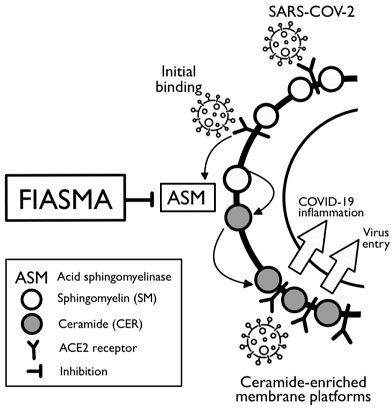 Biological mechanisms, underlying the potential effects of the functional inhibitors of acid sphingomyelinase (FIASMAs) on SARS-CoV-2 infection. SARS-CoV-2 may activate the acid sphingomyelinase/ceramide pathway, which, in turn, facilitates viral entry into cells through gel-like platforms that favor the clustering of activated SARS-CoV-2 cellular ACE2 receptors. Inhibition of the ASM by FIASMAs may result in a reduced concentration of ceramides, decreased viral entry, and subsequent inflammation
Methods
Researchers from various esteemed institutions, including INSERM, Université Paris-France, DMU Psychiatrie et Addictologie, Hôpital Corentin-Celton-France, Universidad Complutense de Madrid-Spain, Universidad Autónoma de Madrid-Spain, Friedrich-Alexander-University of Erlangen-Nuremberg (FAU)-Germany, University of Duisburg-Essen-Germany, New York State Psychiatric Institute/Columbia University-USA, and University of Toulouse, CNRS-France, collaborated on this study. The
COVID-19 Drugs
study encompassed 72,105 adult patients with laboratory-confirmed SARS-CoV-2 infection admitted to 36 AP-HP hospitals between May 2, 2020, and August 31, 2022.
Results
The study revealed a significant and substantial association between the use of FIASMA medications at hospital admission and reduced 28-day mortality among adult patients hospitalized with COVID-19. The analysis considered multiple potential confounders, such as age, sex, psychiatric and medical comorbidities, disease severity, and other medications. The findings demonstrated an adjusted hazard ratio (HR) of 0.80 with a 95% confidence interval (CI) of 0.72–0.88 and a p-value less than 0.001, suggesting a protective effect of FIASMA medications against mortality.
Discussion
The study's results are in line with prior preclinical, computational, observational, and clinical studies, reinforcing the hypothesis that the ASM/ceramide system may play a crucial role in SARS-CoV-2 infection. FIASMA medications, such as fluoxetine, escitalopram, and amlodipine, demonstrated the most significant effect sizes in the study, leading to potential repurposing as COVID-19 treatment options. The ASM inhibition by FIASMA medications may exert antiviral and anti-inflammatory effects, reducing viral entry, inflammation, and severity of the disease.
Potential Mechanisms of Action
>
The study postulates various mechanisms of action that could underlie the protective association of FIASMA medications against COVID-19 mortality. These mechanisms include the antiviral effects resulting from decreased ceramide-enriched membrane domains, reduced viral entry, and subsequent inflammation.
Additionally, certain FIASMA medications may exhibit anti-inflammatory properties by interacting with sigma-1 receptors (S1Rs) or modulating non-S1R-IRE1 pathways. Furthermore, FIASMA medications could interfere with endolysosomal viral trafficking, decrease platelet aggregation, and increase melatonin levels, potentially contributing to their protective effects.
Limitations and Future Directions
Despite the strength of this multicenter observational study, it has certain limitations that warrant consideration. Unmeasured confounding and confounding by indication are potential biases inherent to observational studies. Therefore, randomized clinical trials (RCTs) are necessary to establish causal relationships and confirm the study's findings. Additionally, information on medication discontinuation, patients' nutrition, vaccination status, and obesity was unavailable, potentially affecting the results.
Conclusion
This comprehensive study provides compelling evidence of the potential therapeutic role of FIASMA medications in reducing 28-day mortality among adult COVID-19 patients hospitalized in Greater Paris University Hospitals. The findings support the continuation of FIASMA medications during SARS-CoV-2 infection treatment and suggest prioritizing fluoxetine for RCTs. FIASMA medications' multifaceted mechanisms of action offer promise for combating COVID-19 and warrant further investigation. As the COVID-19 pandemic continues to evolve, future studies should explore the efficacy of FIASMA medications against emerging virus variants. Implementing these findings into clinical practice could significantly improve patient outcomes and enhance the global fight against COVID-19.
The study findings were published in the peer reviewed journal: Pharmaceuticals.
https://www.mdpi.com/1424-8247/16/8/1107
For the latest on
COVID-19 Drugs
, keep on logging to Thailand Medical News.