COVID-19 News: Chiang Mai University's Meta Study Shows That SARS-CoV-2 Infections Leads To Cardiorespiratory Fitness Issues In The Long Term
COVID-19 News
: The COVID-19 pandemic, caused by the SARS-CoV-2 virus, has left an indelible mark on global health. With approximately 780 million reported infections and over 7 million deaths, the world has witnessed the devastating consequences of this viral outbreak. COVID-19 has presented with a spectrum of symptoms, ranging from asymptomatic cases to severe respiratory distress.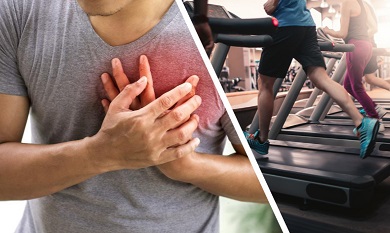 Beyond its acute manifestations, the long-term repercussions of the disease have emerged as an area of concern. Some individuals continue to experience symptoms for extended periods, a condition referred to as long COVID-19. This condition is marked by a constellation of symptoms, including difficulty breathing, chest pain, tachycardia, and muscle weakness. Importantly, studies have revealed that even individuals with mild or asymptomatic cases of COVID-19 may experience reduced lung function and diminished muscle strength. This
COVID-19 News
report delves into the findings of a meta-study conducted by Chiang Mai University in Thailand, which suggests that COVID-19 may lead to cardiorespiratory fitness issues in the long term.
Cardiorespiratory Fitness and Its Significance
Cardiorespiratory fitness (CRF) is a crucial measure of overall physical health, reflecting the integrated function of the respiratory, cardiovascular, and musculoskeletal systems. It plays a pivotal role in predicting all-cause mortality, particularly in relation to cardiovascular disease (CVD). In recognition of its importance, the American Heart Association has recommended the measurement of CRF in clinical practice. Not only does it serve as an independent predictor of CVD risk, but it also enhances the accuracy of traditional risk assessments.
Long COVID-19 and Its Implications
Individuals who have recovered from COVID-19 continue to experience persistent symptoms, lasting for at least three months following the onset of the illness. The underlying mechanisms behind these long-term symptoms are believed to involve immune-mediated responses, inflammation, and the persistence of the virus within the body. These physiological alterations lead to various symptoms, some of which have a direct impact on CRF. Reduced lung function has been observed in patients who have recovered from COVID-19, even among those with mild or asymptomatic cases. Additionally, a decline in muscle strength has been reported in long COVID-19 patients. It is estimated that around 36% of COVID-19 survivors endure persistent symptoms beyond 30 days post-infection, and some develop complications attributed to their prior infection. These persistent impairments are closely linked to a decrease in functional capacity and a lower quality of life.
The Impact of COVID-19 on Cardiorespiratory Fitness
As the evidence of long-term consequences of COVID-19 continues to accumulate, researchers have turned their attention to the potential impact of the virus on CRF. However, the findings have not been consistent, and conclusive evidence is still needed to determine whether COVID-19 affects CRF.
The Chiang Mai University Study
Chiang Mai University in Thailand conducted a systema tic review and meta-analysis to investigate the impact of SARS-CoV-2 infection on CRF in COVID-19 survivors. The researchers employed a comprehensive search strategy, including databases such as PubMed, CINAHL, Scopus, Embase, and the Cochrane Library, along with reference lists, from their inception to January 2023. They included observational studies that investigated outcomes related to CRF, particularly peak oxygen uptake.
The meta-analysis included seven eligible studies, consisting of four cross-sectional, two cohort, and one case-control study, involving a total of 4,773 participants. The pooled effect estimate from these studies indicated that COVID-19 survivors exhibited a significant reduction in peak oxygen uptake compared to individuals without a history of COVID-19. This suggests that COVID-19 may indeed have an adverse impact on CRF. However, it is essential to note that the certainty of evidence was deemed to be low, indicating that further research is required to strengthen this association.
Age and Symptom Severity
The meta-analysis also explored the influence of age and symptom severity on CRF in COVID-19 survivors. The findings indicated that the impact of COVID-19 on CRF was more pronounced in older individuals and those who experienced severe symptoms. This is a critical observation, as older adults and those with severe symptoms are already at a higher risk of adverse health outcomes. The decline in CRF, as suggested by the study, may further exacerbate their risk.
The Role of Age
Age is a well-established factor in determining health outcomes, and the study supported the notion that older individuals recovering from COVID-19 may experience a greater reduction in CRF. The decline in CRF observed in the middle-aged to older adult subgroup was more significant than in the young to middle-aged subgroup. It is worth noting that even a relatively small reduction in CRF can have a substantial impact on all-cause mortality and cardiovascular disease risk, particularly in older adults. Therefore, understanding the potential decline in CRF associated with COVID-19 in this age group is of utmost importance.
The Influence of Symptom Severity
The severity of COVID-19 symptoms also played a significant role in the impact on CRF. Patients who had moderate to severe symptoms demonstrated lower peak oxygen uptake compared to those with milder symptoms or non-COVID-19 individuals. This suggests that the degree of illness during the acute phase of COVID-19 may have long-lasting consequences on CRF. It is important to consider that severe symptoms are more prevalent in older adults, and this association may compound the negative effects of the virus on CRF.
Obesity and Physical Activity
The relationship between obesity and physical activity with symptom severity and CRF in COVID-19 survivors is a noteworthy aspect explored in the study. It was observed that COVID-19 survivors with advancing age and more severe symptoms were more likely to be obese. Obesity has been identified as a predictor of CRF, and excessive fat may contribute to a systemic activation of inflammatory processes. This suggests that the combination of older age, severe symptoms, and obesity may lead to a compounding effect on CRF. Additionally, the study found that younger participants with less severe symptoms were more likely to have a normal weight and engage in physical activity, which is associated with better CRF. Physical activity has been shown to have cardioprotective effects and can mitigate inflammation, making it an important factor in recovery for COVID-19 survivors.
Uncertainty and Limitations
Despite the findings of this meta-analysis, it is essential to acknowledge the limitations of the study. The certainty of evidence was classified as low, indicating that there is a degree of uncertainty regarding the impact of COVID-19 on CRF. This uncertainty is attributed to several factors, including considerable heterogeneity among the included studies, wide ranges of confidence intervals, and a serious risk of bias. One of the potential sources of bias is the distinction in body mass index (BMI) between the COVID-19 and non-COVID-19 groups. Unequal BMI may confound the true effect of COVID-19 on CRF, emphasizing the need for further research.
Conclusion and Implications
In conclusion, the meta-analysis conducted by Chiang Mai University suggests that COVID-19 survivors may experience poorer CRF compared to individuals without a history of COVID-19. This finding is particularly pronounced in older adults and those who had severe symptoms during their COVID-19 infection. However, it is crucial to emphasize that the certainty of evidence is low, which means that further research is necessary to strengthen the association between COVID-19 and CRF.
The implications of this study are significant. It underscores the importance of considering CRF in the clinical evaluation and management of COVID-19 survivors. Monitoring and improving CRF can have a positive impact on the quality of life and reduce the risk of all-cause mortality. However, given the current limitations in the evidence, it is not possible to definitively recommend or discourage CRF assessments for COVID-19 survivors. Further well-designed research with larger sample sizes and more data is needed to provide more conclusive insights into the long-term impact of COVID-19 on CRF. Nevertheless, this study represents a critical step in understanding the potential consequences of COVID-19 on cardiorespiratory fitness and highlights the need for continued investigation into this area of research.
The study findings were published in the peer reviewed journal: Frontiers in Public Health.
https://www.frontiersin.org/articles/10.3389/fpubh.2023.1215486/full
For the latest
COVID-19 News
, keep on logging to Thailand Medical News.