BREAKING Dengue News! Jamaica In The Last Few Hours Declares Dengue Outbreak With New Strain Of Serotype 2 Dengue Virus Last Seen In 2010!
Dengue News
: In a shocking turn of events, Jamaica has declared a dengue fever outbreak with a surge in confirmed and suspected cases, raising concerns about the health and well-being of its citizens. With at least 565 cases reported and investigations into six potential dengue-related deaths, the nation faces a significant public health crisis.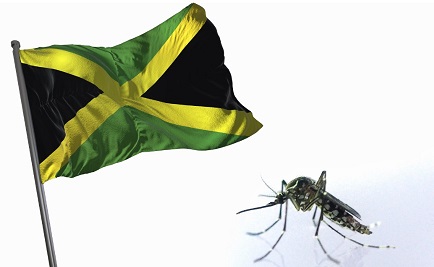 The outbreak declaration comes from Jamaica's Ministry of Health and Wellness in the last few hours, as its National Surveillance Unit warned that the country has surpassed the dengue epidemic threshold for July, August, and appears to be on the same trajectory for September. This staggering increase in cases has sounded alarm bells across the nation.
The Dominant Strain: Dengue Type 2 Returns With The Possibility Of A New Strain.
One of the most concerning aspects of this outbreak is the return of Dengue Type 2, a strain that had not been predominant in Jamaica since 2010. This particular strain is known for its severity and can be life-threatening. Health officials have confirmed at least 78 cases of Dengue Type 2, mainly concentrated in Kingston and St Andrew, St Catherine, and St Thomas. Investigations and research are ongoing as it is believed that mutated new versions of the are original Dengue serotype 2 strain are at play.
While there have been no confirmed dengue-related deaths at this time, six deaths are under investigation, raising anxiety levels among the Jamaican population. The resurgence of this strain has health authorities on high alert, as it can lead to severe dengue, characterized by shock, internal bleeding, and even death.
Response to the Crisis
In response to the dengue outbreak, Jamaica's Ministry of Health and Wellness has undertaken a series of measures to curb the spread of the virus and provide essential medical care to those affected. Approximately 500 temporary vector control workers have been deployed across high-risk communities, alongside 213 permanent workers. An additional 600 temporary workers are slated to join these efforts.
Minister of Health and Wellness, Dr Christopher Tufton, emphasized the government's dedication to addressing the outbreak, telling
Dengue News
reporters at TMN, "The Ministry and the Regional Health Authorities have made the necessary preparations for a possible outbreak."
Investments have been made in the vector control program, with over J$300 million allocated for the acquisition of vehicles, fogging machines, and expanding the staff dedicated to vector management.
Community Involvement and Expanded Healthcare Access
The Ministry is also mobilizing community-based strategies, involving all stakeholders at the local level. This initiative aims to provide resources for Dengue mitigation strategies, including the removal of bulky waste and drain-cleaning exercises throughout the country. Health Centers will extend their opening hours, ensuring that people can access treatment and referrals as needed.
Furthermore, effective immediately, children under the age of 18 visiting the University Hospital of the West I ndies will not be charged a fee for services. This measure aims to ease the financial burden on families during this challenging time.
National Emergency Operations
To ensure efficient monitoring and coordination of efforts, the National Emergency Operations Centre and emergency operations centers in all parishes will be activated. These centers will closely monitor and report on all aspects of the outbreak, with the primary goal of minimizing cases across the island.
Preventing Dengue: A Collective Responsibility
The Ministry of Health and Wellness emphasizes that preventing dengue is a collective responsibility. The Aedes aegypti mosquito, responsible for transmitting the virus, breeds in containers holding stagnant water, such as drums, tires, buckets, and animal feeding containers. To minimize cases and protect themselves, individuals are urged to take specific actions:
-Regularly monitor water storage containers for mosquito breeding.
-Keep surroundings free of debris that can collect water.
-Destroy or treat potential mosquito breeding sites.
-Wear protective clothing to reduce exposure.
-Use mosquito repellent containing DEET.
-Whenever possible, stay indoors at dusk, with windows and doors closed.
The Unseen Threat of Dengue
Dengue fever is a mosquito-borne disease that can affect anyone with about one in four people infected likely to get sick with only mild symptoms. Most will suffer from symptoms like fever, headache, muscle and joint pain, nausea, and rash. Most individuals recover within a week with rest and hydration.
The recommended treatment for the fever is acetaminophen/paracetamol and also all infected to be properly hydrated.
The Jamaican Health Ministry has urged members of the public not to use aspirin, diclofenac, ibuprofen, or any of the medications/pain relievers known as non-steroidal anti-inflammatory drugs (NSAIDs). These drugs, when used to treat the fever in Dengue, have been known to increase the severity of the disease.
Around 1 in 20 people infected will develop severe dengue, which the Jamaican CDC says can result in shock, internal bleeding and other life-threatening complications and often death.
Chief Medical Officer, Dr Jacquiline Bisasor McKenzie, warns, "Persons experiencing fever, vomiting, severe abdominal pain, bleeding under the skin (petechial rash), feeling very weak, or getting confused, are to seek immediate medical attention." Early detection and proper medical care are crucial in managing severe dengue cases.
A Looming Threat for the Younger Population
Minister Tufton expresses particular concern for the younger population, as the prolonged absence of Dengue Type 2 increases the probability of risk in this age group. With a daily average of 20 patients in the 5-14 age range, it becomes imperative to protect Jamaica's youth from the severe consequences of the disease.
In addition to the immediate response to the outbreak, the government has allocated J$200 million for the removal of bulky waste and drain cleaning. This vector control program aims to curb the possibility of a more extensive outbreak later in the year.
Conclusion
The resurgence of Dengue Type 2 in Jamaica has placed the nation in a state of emergency, with health officials, government agencies, and the public working tirelessly to combat the outbreak. The declaration of this dengue fever outbreak serves as a reminder of the importance of vigilance, preventive measures, and community cooperation in facing public health crises.
For the latest
Dengue News
, keep on logging to Thailand Medical News.