Omega (Omicron) Variant Updates: Variant Now Confirmed In 13 Countries Not Including Countries In the African Continent With Suspected Cases Now In Another 21 Countries
Omicron Updates
: As of 7pm, Monday Evening (Bangkok), The Omega (Omicron) or the B.1.1.529 variant has been detected in a total of 13 countries including Austria, Australia, Belgium, Canada, Czech Republic, Denmark, Germany, Hong Kong, Israel, Italy, Netherlands, Portugal and the United Kingdom.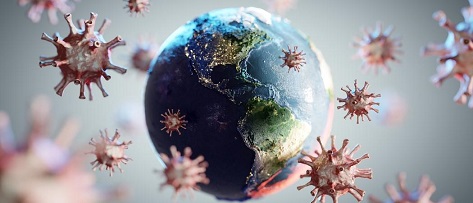 In the African continent, it has now been confirmed in Nigeria besides Botswana and South Africa, however it is suspected that a number of African countries already have the new variant spreading within its local population.
It is also strongly believed that India could be harboring a large number of cases of the new variant alongside certain other Middle-east countries.
Despite feeble attempts to control the spread of the new variant, it is expected that in another 5 to 7 weeks' time, the new Omega (Omicron) variant is likely to start displacing the Delta variant as the most predominant variant in circulation due to greatly enhanced transmissibility and also enhanced immune evasive properties.
Preliminary data is also emerging suggesting that the new Omega (Omicron) variant is a result of recombinant events involving two or three different lineages or even involving other coronaviruses or even other viral families. We will provide more
Omicron updates
on these studies.
The breakdown of number of cases involving the variant detected so far are as follows:
Australia: 2 cases
Austria: 1 case
Belgium: 1 case
Botswana: 19 cases
Canada: 2 cases
Czech Republic: 1 case
Denmark: 2 cases
Germany: 3 cases
Hong Kong: 3 cases
Israel: 1 case
Italy: 1 case
Netherlands: 13 cases
Nigeria: 7 cases
Portugal: 13 cases
South Africa: 78 cases
United Kingdom: 9 cases
There are also a number of suspected cases in at least 21 countries including France, Spain, Romania, India etc where genomic sequencings are still being waited for.
To date, PCR testing by the Thermo-Fischer testing platforms are the only reliable platforms to identify the variant besides genomic sequencing. Almost all the existing ATK test kits are not able to pick up the new variant.
Please help to sustain this site and also all our research and community initiatives by making a donation. Your help means a lot and helps saves lives directly and indirectly and we desperately also need financial help now.
https://www.thailandmedical.news/p/sponsorship
For more updates on the Omega (Omicron variant), keep on logging to Thailand Medical News.