COVID-19 News: Serbian Study Links GPX3 Variant Genotype To Severe COVID-19 Risk!
COVID-19 News
: The ongoing battle against the global COVID-19 pandemic has spurred extensive research efforts worldwide. In a significant stride, the University Clinical Centre of Serbia, University of Belgrade-Serbia, Institute of Medical Statistics and Informatics-Serbia, Institute of Medical and Clinical Biochemistry-Serbia, Centre for Excellence for Redox Medicine, Pasterova-Serbia, University Clinical Centre of Serbia, and the Serbian Academy of Sciences and Arts collaborated on a groundbreaking study. This
COVID-19 News
report delves into the study and the intricate relationship between genetic factors and the severity of COVID-19, with a particular focus on the GPX3 variant genotype.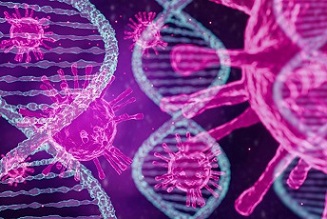 Understanding the Immune System's Role:
SARS-CoV-2, the virus responsible for COVID-19, triggers an immune response that can lead to harmful hyperinflammation and oxidative stress. The excessive activation of the immune system elevates levels of reactive oxygen species (ROS), contributing to the severity of the disease. Recognizing the significance of antioxidant genetic profiles, the researchers hypothesized that these profiles, in conjunction with laboratory markers, might modulate the severity of COVID-19.
Methodology and Patient Demographics:
The study included 265 COVID-19 patients, and the researchers employed PCR-based methods to determine the polymorphism of key genes associated with antioxidant functions, such as GSTM1, GSTT1, Nrf2 rs6721961, GSTM3 rs1332018, GPX3 rs8177412, GSTP1 rs1695, GSTO1 rs4925, GSTO2 rs156697, SOD2 rs4880, and GPX1 rs1050450. Additionally, inflammation and organ damage markers, along with a complete blood count and coagulation status, were measured.
Key Findings:
The research unveiled crucial associations between specific genetic variants and the risk of developing severe forms of COVID-19. Notably, patients with lymphocytes below 1.0 × 109/L exhibited a significant association with disease progression. Elevated levels of interleukin-6 (IL-6) and C-reactive protein (CRP) were also linked to a higher risk of disease progression. Furthermore, increased plasma AST and LDH were associated with an elevated risk of severe COVID-19.
The Genetic Connection:
Among the various gene polymorphisms examined, the study pinpointed a significant association between the GPX3 rs8177412 variant genotype and the risk of developing severe forms of COVID-19. Individuals with this genetic variant faced a 2.5-fold increased risk for severe outcomes. This finding underscores the potential utility of genetic information as a diagnostic tool for predicting the course of COVID-19.
Understanding the Clinical Landscape:
The clinical course of COVID-19 is diverse, ranging from asymptomatic cases to severe illness. Identifying individuals at an elevated risk of developing severe forms early on is a key challenge in managing the disease. While factors such as age, sex, and pre-existing conditions have been recognized as risk factors, a significant number of patients without these factors still develop severe forms of the disease.
Role of Oxidative Stress in COVID-19:
Previous studies have highlighted the crucial role of oxidative stress in severe acute respiratory failure caused by SARS-CoV-2 infection. Oxidative stress, induced by the virus, plays a multifaceted role in various aspects of COVID-19 pathogenesis, including viral interaction with host cells, replication, and heightened inflammatory responses. The imbalance between free radical production and antioxidant mechanisms further exacerbates clinical manifestations.
Antioxidant Systems and Genetic Variations:
The human body relies on enzymatic and non-enzymatic antioxidant systems to protect against oxidative damage. Genetic variations within genes encoding key antioxidant proteins impact their structure, function, and expression. In particular, variations in genes such as GPX3 were found to be associated with an increased risk of severe COVID-19.
Clinical Parameters and Laboratory Markers:
The study emphasized the correlation between inflammatory markers, including lymphocyte count, CRP, and IL-6, with the risk of disease progression. Laboratory markers of organ damage, such as AST and LDH, were also identified as prognostic indicators for severe forms of COVID-19. The importance of these markers in predicting disease severity aligns with previous research and meta-analyses.
Implications for Risk Assessment:
Recognizing the impact of oxidative stress and genetic variations on COVID-19 severity, the study suggests that a comprehensive approach, including genetic profiling and routine laboratory parameters, could enhance risk assessment. The GPX3 variant genotype, in particular, emerged as a potential marker for identifying individuals at higher risk of developing severe forms of the disease.
Conclusion:
In conclusion, the Serbian study sheds light on the intricate interplay between genetic factors and the severity of COVID-19. The identification of the GPX3 variant genotype as a significant risk factor opens avenues for more targeted risk assessments. Combining genetic information with routine laboratory parameters could offer a more comprehensive approach to predicting the disease course.
These findings pave the way for personalized strategies in the early identification, prevention, and treatment of severe or critical COVID-19 cases, ultimately contributing to a reduction in mortality rates.
The study findings were published in the peer reviewed International Journal of Molecular Sciences.
https://www.mdpi.com/1422-0067/24/22/16151
For the latest
COVID-19 News
, keep on logging to Thailand Medical News.