COVID-19 Drugs: Evaluation of Results of Four Phase III Clinical Trials Shows That the HIV Drug Azvudine Is Effective in Treating COVID-19
COVID-19 Drugs
: In the midst of the global COVID-19 pandemic, researchers and healthcare professionals worldwide have been tirelessly exploring potential treatment options to combat the devastating effects of the virus. One drug that has recently come under the spotlight for its potential efficacy is Azvudine (FNC), originally developed for the treatment of HIV. This synthetic nucleoside analog has shown promise in treating COVID-19, as evidenced by the results of four Phase III clinical trials conducted across different countries. These
COVID-19 Drugs
trials have shed light on Azvudine's effectiveness, mechanisms of action, safety profile, and potential implications for combating the ongoing pandemic.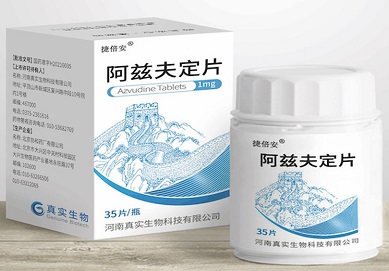 Background and Mechanism of Action
Azvudine, developed by Guangzhou Baiyunshan Pharmaceutical Holding Co., Ltd. in China, was initially designed to address the challenges posed by human immunodeficiency virus-1 (HIV-1) infection. The drug works by inhibiting RNA-dependent RNA polymerase (RdRp), a crucial enzyme involved in the replication and transcription of viral RNA. This action disrupts the synthesis of viral RNA chains, effectively impeding the virus's ability to replicate and spread.
Moreover, Azvudine stands out as the first oral drug to target both reverse transcriptase and viral infectivity factors simultaneously, making it a unique therapeutic agent in the treatment of HIV infection. Its effectiveness in this realm garnered attention, leading to its inclusion in the Chinese guidelines for the diagnosis and treatment of AIDS.
Incorporation into COVID-19 Treatment Guidelines
The emergence of the COVID-19 pandemic prompted researchers to explore potential repurposing of existing drugs to combat the novel coronavirus. In August 2022, Azvudine was officially incorporated into the Guidelines for the Diagnosis and Treatment of Coronavirus Disease 2019 (version ninth) by the National Health Commission and the National Administration of Traditional Chinese Medicine in China. This recognition marked the drug's potential as a therapeutic option against COVID-19.
Four Phase III Clinical Trials
To ascertain Azvudine's efficacy and safety in treating COVID-19, four Phase III clinical trials were conducted between 2020 and 2022 in various countries, including China, Russia, and Brazil. These trials aimed to evaluate Azvudine's impact on patients with moderate COVID-19, focusing on endpoints such as the time to viral load reduction, improvement in clinical conditions, and safety outcomes.
Chinese Phase III Clinical Trial
The Chinese Phase III clinical trial, registered in both the Chinese Clinical Trial Registry and the International Clinical Trials Registry Platform, involved 348 patients with COVID-19. The trial employed a randomized, double-blinded, parallel-controlled design, where patients were assigned to either the Azvudine group or the control group. The results showed that Azvudine reduced viral load more significantly than the placebo, particularly on day 5. Safety analysis revealed that Azvudine exhibited good safety and tolerance, with most adverse ev ents classified as grade 1 or 2.
https://www.chictr.org.cn/showproj.html?proj=53368
https://trialsearch.who.int/Trial2.aspx?TrialID=NCT04425772
Russian Phase III Clinical Trial
In Russia, a similar Phase III clinical trial was initiated, involving 314 patients with moderate COVID-19. The trial demonstrated that Azvudine improved clinical conditions and reduced the median time to improvement when compared to the placebo. Similar to the Chinese trial, safety analysis indicated that Azvudine was well-tolerated and had a favorable safety profile.
https://csi2022.sciconf.cn/cn/web/index/13482
https://baijiahao.baidu.com/s?id=1753640204148539705&wfr=spider&for=pc
Brazilian Phase III Clinical Trials
In Brazil, two Phase III clinical trials were conducted - one on patients with mild COVID-19 and the other on patients with moderate COVID-19. The trials demonstrated that Azvudine significantly reduced the time to negative conversion of the SARS-CoV-2 viral load and viral load itself in both patient groups, indicating its potential antiviral efficacy.
https://www.researchsquare.com/article/rs-2273657/v1
https://www.frontiersin.org/articles/10.3389/fmed.2023.1143485/full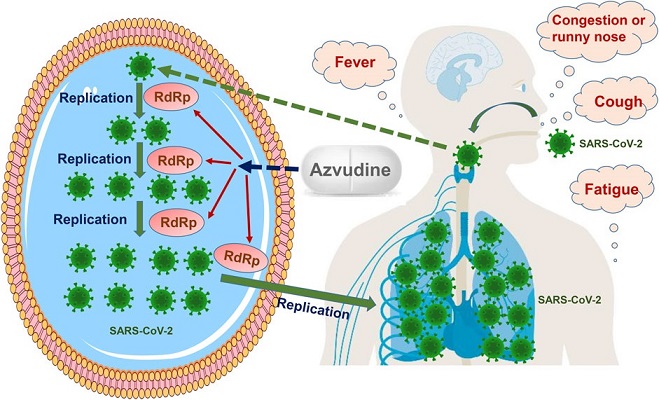 Therapeutic effect of Azvudine on COVID-19. Azvudine inhibits RNA-dependent RNA polymerase (RdRp), which is a vital
enzyme mediating SARS-CoV-2 replication and transcription. Azvudine plays an anti-SARS-CoV-2 role by blocking virus replication.
Implications and Limitations
The incorporation of Azvudine into treatment guidelines and the positive outcomes of these Phase III clinical trials provide valuable insights into its potential as a therapeutic option for COVID-19. However, it's important to acknowledge certain limitations. Some trials did not show significant differences between Azvudine and control groups in terms of certain clinical outcomes, such as alleviating respiratory symptoms or preventing disease progression. Additionally, the sample sizes in these trials were relatively small.
Future Directions
In conclusion, the results of the four Phase III clinical trials collectively indicate that Azvudine holds promise as an effective treatment for moderate COVID-19. Its ability to reduce viral load, shorten time to improvement, and exhibit a good safety profile are encouraging findings. However, further research is warranted to evaluate its efficacy in preventing disease progression and reducing mortality in COVID-19 patients. As the world continues to battle the ongoing pandemic, Azvudine emerges as a potential tool in our arsenal against the novel coronavirus, providing hope for improved patient outcomes and ultimately contributing to the global effort to control and manage COVID-19.
The study findings were published in the peer reviewed journal: Frontiers in Pharmacology.
https://www.frontiersin.org/articles/10.3389/fphar.2023.1228548/full
For the latest on
COVID-19 Drugs
, keep on logging to Thailand Medical News.