Study Confirms Previous Omicron BA.1 Infection Offers No Protection Against BA.2 Variant! Those Saying Omicron Is Like A Vaccine Are Spreading Fake News!
A new study by researchers from Statens Serum Institut-Denmark along with scientists from the University of Copenhagen-Denmark, University of Denmark and Deakin University-Australia have found that previous Omicron BA.1 infection offers no protection against BA.2 variant!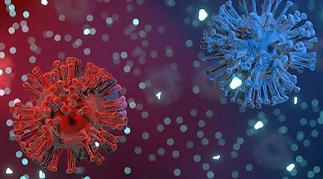 The new Omicron lineage carries numerous mutations in key regions and is associated with increased transmissibility and immune escape. The variant has recently been divided into four subvariants with substantial genomic differences, in particular between Omicron BA.1 and BA.2.
With the surge of Omicron subvariants BA.1 and BA.2, a large number of reinfections from earlier cases has been observed, raising the question of whether BA.2 specifically can escape the natural immunity acquired shortly after a BA.1 infection.
In order to investigate this, the study team selected a subset of samples from more than 1,8 million cases of infections in the period from November 22, 2021, until February 11, 2022. Here, individuals with two positive samples, more than 20 and less than 60 days apart, were selected.
From a total of 187 reinfection cases, the study team identified 47 instances of BA.2 reinfections shortly after a BA.1 infection, mostly in young unvaccinated individuals with mild disease not resulting in hospitalization or death.
The study findings were published on a preprint server and are currently being peer reviewed.
https://www.medrxiv.org/content/10.1101/2022.02.19.22271112v1
However, despite the study findings, many local Danish physicians and medical experts are claiming that the study findings were manipulated as there were many cases of those getting re-infected with the BA.2 variant either developing disease severity and also a number of cases of individuals dying upon BA.2 infection despite having previous BA.1 infection.
Furthermore, in the study, it was found that study team only focused on individuals who were younger and with no existing comorbidities.
It should also be noted that the Statens Serum Institut-Denmark has a reputation of manipulating and also concealing data and for dissemination misinformation to accommodate the vaccine narratives!
Despite the study findings showing that BA.2 still is able to infect those previously infected with the Omicron BA.1 strain and almost all were still symptomatic, more detailed studies are needed especially focusing on the more vulnerable sub-sets in the population.
However, the key findings show that previous Omicron BA.1 infections offers no protection against the BA.2 variant.
Already a French scientist had predicted about this January 2022.
https://www.thailandmedical.news/news/breaking-scientist-warns-that-new-omicron-sublineage-ba-2-will-cause-new-surge-and-reinfections-globally-as-previous-omicron-infection-may-offer-no-pr
For the latest research about the
BA.2 variant
, keep on logging to Thailand Medical News.