Omicron Found In Malaysia and Sri Lanka, 28 Countries Outside The African Continent and 10 Countries in Africa Now Have The Omicron Variant
Omicron Updates
:
Omicron Variant Found In Malaysia And Sri Lanka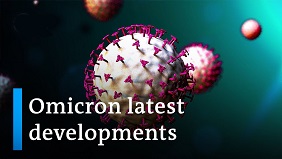 Both Malaysia and Sri Lanka announced detecting the Omicron variant in their respective countries today. This brings a total of 28 countries outside of the African continent that has the omicron variant including Austria, Australia, Belgium, Brazil, Canada, Czech Republic, Denmark, Finland, France, Germany, Greece, Hong Kong, Japan, India, Israel, Italy, Malaysia, Netherlands, Norway, Portugal, Spain, Saudi Arabia, Singapore, Sri Lanka, Sweden, UAE, United Kingdom and the United States.
In the African continent, a total of 10 countries have Omicron variant including South Africa, Botswana, Nigeria, Namibia, Zambia, Angola, Cameroon, Congo, Malawi and Zimbabwe was the latest. Another 22 out of the 54 countries in the African continent have suspected cases of infection by the Omicron variant and are pending confirmations via genomic sequencings.
The good news is that most of these countries that had detected the Omicron variant are also seeing more new cases in their respective countries and even community transmissions. Some of these countries include the United States, United Kingdom, Australia, Norway, Netherlands, France and Canada.
Omicron Updates

: Malaysia's First Omicron Case
Malaysia has detected its first case of the Omicron coronavirus variant, health minister Khairy Jamaluddin said Friday.
The Omicron case was identified on Thursday in a foreign student who arrived in Malaysia from South Africa on Nov. 19, before the African nation reported the emergence of Omicron to the World Health Organization, Khairy wrote on Twitter.
The infected student, who is studying at a private university in Perak state on Malaysia's west coast, is fully vaccinated and asymptomatic, Dimishtra Sittampalam, an adviser to the health minister, wrote on Twitter.
A senior health ministry official, Dr Mahesh Appannan said while it is possible that Omicron is "already in the country, the data surrounding this particular case suggests local transmission likely did not happen."
Omicron Updates: Omicron In Sri Lanka.
Sri Lanka's Deputy Director General of Health Services Hemantha Herath said a few hours ago that the country detected its first Omicron variant.
The Sri Lankan Health Ministry said the new COVID-19 variant was identified in a Sri Lankan national who had recently returned from South Africa.
Dr Herath told Thailand
Medical News
, "As a result of our vigilance we have been able to identify an Omicron patient following gene sequencing lab tests. There is no need for us to panic over this. We are dealing with the situation."
Omicron Updates: South Africa Sees COVID Cases "Up 300%" Since Om icron Found
South African Health Minister Joe Phaahla said today that COVID-19 new infections were up by 300% since the Omicron was first identified in the country
He urged South Africans to be fully vaccinated as country enters fourth wave of infections.
He also warned that in a matter of days, the country's hospitals would be under threat due to the ever-exponential rise in daily infections.
Phaahla told a media briefing on today that infections with the new variant were now present in seven out of the country's nine provinces, and hoped that the variant could be managed without causing too many deaths.
Please help to sustain this site and also all our research and community initiatives by making a donation. Your help means a lot and helps saves lives directly and indirectly and we desperately also need financial help now.
https://www.thailandmedical.news/p/sponsorship
For the latest
Omicron Updates
, keep on logging to Thailand Medical News.