COVID-19 News: SARS-CoV-2 Infections And Hospitalizations Rising In Various Parts Of Canada. 10% Of Healthcare Workers Inflicted With Long COVID!
COVID-19 News
: The battle against the COVID-19 pandemic continues to evolve, with Canada facing renewed challenges as SARS-CoV-2 infections surge in various regions across the country. In addition to the immediate threats posed by the virus, healthcare workers are grappling with the debilitating aftermath of long COVID.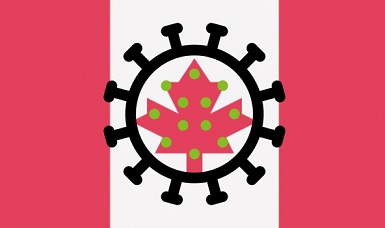 Ottawa's Persistent Struggle
Ottawa, the capital city of Canada, has remained a focal point in the ongoing battle against COVID-19. Recent updates from Ottawa Public Health (OPH) reveal that the city's pandemic numbers remain consistently high and stable, mirroring trends observed in previous weeks.
https://www.ottawapublichealth.ca/en/reports-research-and-statistics/covid19-dashboard.aspx
The stability in infection rates does not translate to a lessened threat; rather, it signifies an ongoing risk to the city's healthcare institutions, akin to the challenges faced during the winter months of December, January, and February.
Health experts have been advocating for preventive measures to curb the spread of the virus. Recommendations include mask-wearing, maintaining strict hand hygiene, opting for well-ventilated and less crowded spaces, refraining from public outings when unwell, and keeping up with COVID and flu vaccinations. Both COVID-19 and flu vaccines are anticipated to be available to the general public in Ottawa around the end of October, with priority given to individuals at higher risk of severe health complications.
Monitoring the Virus in Wastewater
One noteworthy tool in tracking the virus's prevalence is wastewater analysis. Data from research teams indicate that as of September 14, the average coronavirus wastewater level in Ottawa has remained stable for approximately ten days, following a gradual increase over nearly two months.
https://613covid.ca/wastewater/
OPH categorizes this stability as high, emphasizing the need for continued vigilance.
Hospitalizations and Testing
The average number of Ottawa residents hospitalized for COVID-19 in the past week has increased slightly, with 37 patients, though none are in intensive care. Additionally, there were 18 new COVID-19 patients admitted in the previous week, a relatively low figure as per OPH's assessment.
The weekly average test positivity rate in the city remains at around 19 percent, persisting within this high range for the past month. OPH views this as a concerning indicator. The region is currently grappling with 27 active COVID-19 outbreaks, with over half of them occurring in care homes. Over the past week, Ottawa reported 272 new COVID-19 cases and three additional COVID-19-related deaths, all individuals aged 70 and above. A comprehensive vaccination update is expected from OPH in the coming weeks.
Kingston's Rising Risk
The Kingston area, situated in Eastern Ontario, is experiencing its share of challenges in the ongoing pandemic. Health officials in this region report a moderate to very high rise in COVID-19 trends, put ting it at high risk for transmission.
https://www.kflaph.ca/en/health-topics/respiratory-illness-surveillance-in-kfl-a.aspx
The average coronavirus wastewater reading in Kingston is classified as very high and continues to rise. Comparatively, wastewater trends in other nearby areas like Cornwall and Hawkesbury are low, while Smiths Falls and Brockville remain stable.
Hospitalizations and Deaths in Kingston
Kingston's healthcare facilities are currently managing a significant burden, with 22 active COVID-19 patients in its hospitals. This figure includes individuals from other health units within the region. In contrast, other health units near Ottawa, such as Renfrew County, the Eastern Ontario Health Unit (EOHU), and Leeds, Grenville, and Lanark counties, report a combined total of only 10 residents hospitalized for COVID-19 treatment, with one patient in intensive care.
https://healthunit.org/health-information/covid-19/local-cases-and-statistics/dashboard/
https://eohu.ca/en/covid/covid-19-status-update-for-eohu-region
Hastings Prince Edward (HPE) Public Health, like Ottawa, reports a stable hospitalization rate, with seven patients in its most recent update, none in intensive care. In Western Quebec, 16 hospital patients are currently battling COVID-19.
According to latest
COVID-19 News
updates, in terms of fatalities, Quebec reported three additional COVID-19 deaths in the Outaouais region, bringing the total to 492, while HPE reported its 125th COVID-19-related death.
Alberta's COVID-19 Challenges
As Canada confronts a resurgence of COVID-19 infections, Alberta has been a particular focal point. Alberta's Health Minister, Adriana LaGrange, provided an update on the state of the province's healthcare system three weeks after the start of the school year. She emphasized the need for stringent hygiene protocols, including handwashing and staying home when sick, as the province witnesses a rise in airborne viruses.
LaGrange highlighted the imminent availability of influenza vaccines and the new Moderna vaccine designed to target the XBB.1.5 variant. Health Canada had approved the use of the Moderna vaccine on September 12, paving the way for an effective defense against emerging variants of the virus.
Regarding the COVID-19 situation in Alberta, LaGrange presented concerning statistics. From August 28 to September 8, Alberta saw 92 new hospitalizations and three ICU admissions, bringing the total number of patients in hospitals to 417, marking a 73 percent increase since the last update on July 24 when there were only 242 patients in hospital. Tragically, five Albertans succumbed to COVID-19 during this period.
https://www.alberta.ca/coronavirus-info-for-albertans
LaGrange acknowledged the need for a comprehensive data dashboard that would include information on respiratory syncytial virus (RSV), influenza, and COVID-19. This dashboard was expected to be completed by August 30 but was still in progress. The data gap between July 24 and August 27 will be addressed once the updated dashboard goes online.
Long-Term Care Facilities in British Columbia
The challenges posed by COVID-19 are not unique to Alberta and Ontario. British Columbia's Interior Health Authority declared COVID-19 outbreaks in five long-term care homes. These outbreaks impacted facilities in Kelowna, Oliver, Revelstoke, Fernie, and Salmon Arm. The severity and extent of the outbreaks varied among these locations, with some facilities experiencing higher infection rates than others.
Moreover, the province is grappling with influenza outbreaks. According to the Vancouver Coastal Health website, there is one influenza outbreak at Broadway Pentecostal Lodge in Vancouver. On Vancouver Island, Island Health reported an influenza outbreak at Veterans Memorial Lodge at Broadmead. These outbreaks serve as a stark reminder that respiratory viruses, including COVID-19 and influenza, remain a significant public health concern.
Dr Brian Conway, medical director of the Vancouver Infectious Diseases Centre, highlighted the impending challenges posed by the fall and winter seasons. He cited the resurgence of respiratory viruses in Australia during its winter, signaling the likelihood of a similar pattern in the Western Hemisphere.
Dr Conway emphasized the need for simultaneous COVID and flu vaccinations and encouraged the elderly and those with comorbidities to get vaccinated. Staying home when sick remains a crucial preventive measure in curtailing the spread of these respiratory viruses.
The Toll of Long COVID on Healthcare Workers in Quebec
While healthcare workers have been at the forefront of the battle against COVID-19, they are not immune to the virus's long-term effects. Preliminary data from Quebec revealed a startling revelation – between six and ten percent of healthcare workers in the province have experienced long COVID since the pandemic's onset.
The Quebec Institute of Public Health (INSPQ) conducted a comprehensive survey involving approximately 23,500 healthcare workers between May and July 2023.
An additional 4,000 respondents participated via telephone interviews. The results unveiled a sobering reality – a third of these healthcare workers experienced severe long COVID symptoms, with over half enduring these symptoms for more than a year.
Long COVID's Impact on Healthcare Workers
The study's author, Dr Sara Carazo, stressed the profound impact of long COVID on both health and work. Long COVID, characterized by a range of persistent symptoms, significantly affects individuals' quality of life and their ability to perform their duties effectively.
Symptoms most frequently reported by healthcare workers affected by long COVID included fatigue, shortness of breath, concentration problems, memory loss, and mental confusion. These symptoms align with findings from numerous surveys on the long-term effects of COVID-19.
Tragically, 71 percent of healthcare workers impacted by long COVID reported that their health condition now interferes with their ability to work, with 16 percent stating that they often cannot work at all. Alarmingly, one-fifth of these workers missed at least four weeks of work in the past year, double the rate among those without long COVID. A similar proportion reported a poor ability to fulfill the physical or intellectual demands of their job.
Despite these challenges, the majority of healthcare workers affected by long COVID struggled to access the necessary healthcare support. Only a little over half of them established a clear link between their health condition and COVID-19 infection. One-third of these workers sought services to enhance their memory and concentration, but a mere two percent were able to access these services. Likewise, one-fifth of affected workers sought rehabilitation and psychological support, but their requests were granted in only six and 12 percent of cases, respectively.
Conclusion
Canada's ongoing battle against COVID-19 continues to be fraught with challenges. Ottawa and Kingston remain hotspots, with high infection rates and concerns about the resilience of healthcare infrastructure. Alberta faces a significant surge in hospitalizations, emphasizing the importance of vaccination and hygiene measures.
British Columbia grapples with outbreaks in long-term care homes and influenza, highlighting the seasonal threats posed by respiratory viruses. The resurgence of respiratory viruses in the Western Hemisphere, as seen in Australia, is a cause for concern.
Equally concerning is the toll of long COVID on healthcare workers, with preliminary data from Quebec revealing that up to ten percent of healthcare workers have been affected by this condition. The persistence of debilitating symptoms, the impact on work, and the challenges in accessing healthcare services underscore the urgent need for comprehensive support for healthcare professionals.
As the world navigates the evolving landscape of the COVID-19 pandemic, it is essential to remain vigilant, prioritize vaccination, and provide the necessary resources to support those affected by the virus's long-term effects. Only through collective effort and a commitment to public health can Canada overcome these challenges and move towards a healthier, more resilient future.
For the latest
COVID-19 News
updates, keep on logging to Thailand Medical News.