COVID-19 News: Highly Vaccinated Singapore Witnessing COVID-19 Surge Driven By EG.5 And HK.3 Variants With Daily Infections Averaging About 2,000!
COVID-19 News
: Singapore, a shining example of effective COVID-19 management, is currently grappling with a resurgence of the virus. Despite being one of the most highly vaccinated nations globally, Singapore has experienced a surge in daily infections, averaging around 2,000 cases. The catalysts behind this resurgence are two variants - EG.5 and HK.3 - both descendants of the XBB Omicron variant.
https://www.moh.gov.sg/covid-19/statistics
This
COVID-19 News
report takes a deep dive into Singapore's recent challenges, the characteristics of these variants, government responses, vaccine efficacy, and the importance of remaining vigilant amid the evolving pandemic landscape.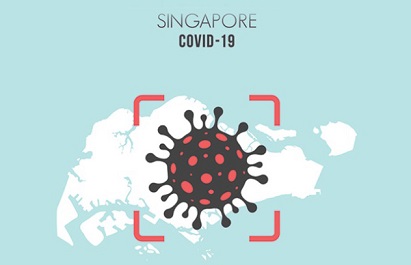 Singapore's Current COVID-19 Landscape
In a twist of fate, Singapore, which had managed to keep the COVID-19 pandemic under control for the most part, is now facing yet another wave of infections. The daily case count has surged to approximately 2,000 cases, marking a worrying escalation compared to just three weeks ago when daily cases hovered around 1,000. While this surge pales in comparison to the peak of the pandemic when Singapore recorded up to 4,000 daily cases, it is a stark reminder that the virus remains a formidable adversary.
Government's Response and Shift in Strategy
Unlike previous waves, the Singaporean government has adopted a different approach to tackle the current surge in infections. Health Minister Ong Ye Kung has indicated that Singapore will treat COVID-19 as an "endemic disease." This shift in strategy means that there are no plans to reimpose strict restrictions such as mask mandates and movement limitations.
Minister Ong Ye Kung emphasized that, based on current evidence, the new variants do not appear to be more likely to lead to severe illnesses compared to previous variants. He also pointed out that existing vaccines continue to be effective in protecting against severe illness even when confronted with these new variants.
The Variants Behind the Surge
The primary drivers of the recent surge in cases in Singapore are two variants: EG.5 and HK.3. Both of these variants are descendants of the XBB Omicron variant, which itself was a highly transmissible version of the original Omicron strain.
Collectively, EG.5 and HK.3 now account for over 75% of Singapore's daily COVID-19 cases. This stark statistic underscores the adaptability of the virus and its capacity to evolve, posing fresh challenges to public health efforts in controlling its spread.
Vaccine Efficacy in the Face of Variants
Despite the surge in cases, Minister Ong Ye Kung remains resolute in his confidence in the effectiveness of vaccines against the new variants. Data from a Ministry of Health (MOH) study shows that individuals who have received a minimum of three mRNA vaccine shots and experienced a natural infection within the last 12 months have a significantly lower incidence rate of severe illnes s. The severe illness incidence rate is about 10 per 100,000 people.
In contrast, those who are least protected, with no vaccination or previous infection, face a much higher risk, with an incidence rate exceeding 50 cases per 100,000 people - a fivefold increase compared to their well-protected counterparts.
The crucial takeaway from this data is that individuals who were well protected with three mRNA shots and a prior infection, but whose protection was acquired more than 12 months ago, face a similar risk of severe illness as those who are neither vaccinated nor have a history of infection. This finding underscores the importance of regular booster shots to maintain immunity in the face of waning protection.
The Need for Regular Vaccination
Minister Ong Ye Kung's advisory highlights the necessity of keeping vaccinations up-to-date, especially for seniors and medically vulnerable individuals. Those aged 60 and above or individuals with underlying health conditions are encouraged to take additional precautions, such as wearing masks in crowded areas.
Minister Ong aptly noted that the virus responsible for COVID-19 has not become milder since the onset of the pandemic; rather, it is the population that has grown stronger and more resilient. This transformation is primarily due to the widespread availability of vaccines and the increased immunity of those who have previously recovered from infections.
Vigilance Amid the Ongoing Battle
The resurgence of COVID-19 in Singapore serves as a stark reminder that the pandemic is far from over, even in highly vaccinated populations. Despite the remarkable success of Singapore's vaccination campaign, the virus's ability to adapt and the emergence of new variants present ongoing challenges. Minister Ong Ye Kung has urged the population not to lower their guard, emphasizing that it is the collective strength of vaccinations and safe recovery from infections that has made Singapore more resilient in the face of the virus.
Approval of Paxlovid
In a significant development to combat the ongoing pandemic, the Health Sciences Authority has granted full approval to Paxlovid, an oral antiviral drug designed to treat COVID-19. Paxlovid is intended for use in adult patients with mild to moderate COVID-19 symptoms who are at high risk of progressing to severe disease. The drug's primary objective is to reduce the risk of hospitalization and death among this vulnerable group.
Paxlovid initially received approval for emergency use in Singapore in January 2022, under the Pandemic Special Access Route Interim Authorization. Its full approval signifies an important addition to Singapore's arsenal of treatments for COVID-19, offering a therapeutic option for patients who may not require hospitalization but still face significant health risks.
Conclusion
Singapore's encounter with the resurgence of COVID-19, driven by the EG.5 and HK.3 variants, underscores the ever-evolving nature of the pandemic. While the nation's robust vaccination efforts have undoubtedly mitigated the severity of illness, ongoing vigilance, regular vaccinations, and the availability of therapeutics like Paxlovid remain paramount in navigating the virus's complex and dynamic landscape. Singapore's experience serves as a potent reminder that, even in the face of impressive progress, the battle against COVID-19 is far from over, and adaptability and resilience are the keys to eventual victory.
For the latest
COVID-19 News
, keep on logging to Thailand Medical News.