BREAKING NEWS! H5N1 Avian Flu News: Thailand's Department Of Disease Control (DDC) Issues Bird Flu Alert!
H5N1 Avian Flu News
: Thailand's Department of Disease Control has issueed an alert about the H5N1 Avian Flu Disease in the last few hours following the death of an 11-year-old girl in neighboring Cambodia a few days ago from the bird flu virus.
https://www.thailandmedical.news/news/breaking-h5n1-avian-flu-news-11-year-old-girl-dies-from-h5n1-avian-flu-virus-in-cambodia-s-prey-veng-province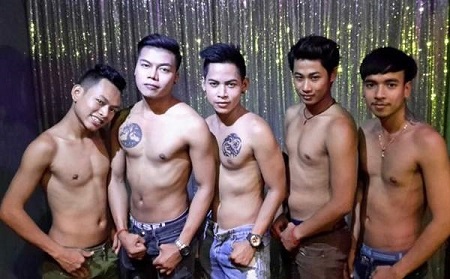 Illegal Cambodian Boys Who Cross Over Thailand's Porous Borders,
Working In A Gay Bar In Thailand (Pic archives)
The unfolding H5N1 Avian Flu crisis in Cambodia is also worrying many other neighboring countries and also other Asean members. To date the father of the girl has also been confirmed to be infected with the H5N1 Avian Flu virus while another 12 suspected cases are being investigated and many more placed under quarantine in Cambodia.
https://www.thailandmedical.news/news/breaking-h5n1-avian-flu-news-12-more-individuals-infected-with-h5n1-bird-flu-in-cambodia-human-to-human-transmissions-now-possible
It is also believed that after reports emerged that not only birds and poultry are dying in parts of Vietnam and also Myanmar but also various other wild animals and mammals along with reports of people contracting a strange but more severe respiratory disease, that the possibility of H5N1 Avian Flu infection sin humans in the region could be more widespread than thought.
The deputy chief of Thailand's Department of Disease Control (DDC), Dr Sopon Iamsirithaworn assured media that the department has been monitoring the situation in Cambodia for a while now and was concerned about the outbreak of the H5N! Avian Flu disease and developments in Cambodia's Prey Veng province that also shares a border with Vietnam.
He stressed that Thailand has never seen a bird flu outbreak in the last 16 years and that the country has numerous strategies in deployment to monitor any possible outbreaks and also lots of preventive measures in place.
For instance, any suspicious deaths of birds or poultry in the country has to be reported for further investigations and for necessary containment procedures to be put into place immediately.
The department is also working with other agencies and authorities to ensure than no smuggled fowl is allowed in the country.
Dr Iamsirithaworn also said that all measures that were introduced in 2006 when Thailand was faced with a potential Bird Flu outbreak would also be once again reintroduced with immediate effect.
The department of National Parks, Wildlife and Plant Conservation will also be beefing up surveillance and also introducing various other preventive measures.
H5N1 Avian Flu New s
coverages in the last few weeks have been filled with stories about millions of farmed chickens across the world being culled as a result of contracting the H5N1 Avian Flu Virus and more worryingly, mammals in many geolocations are now being infected with the virus and are dying in exponential numbers.
https://www.thailandmedical.news/news/h5n1-avian-flu-news-preparing-for-an-imminent-outbreak-what-prophylactics,-drugs-and-supplements-work-part-1
The WHO or World Health Organization said on Friday that increasing reports of bird flu in humans are "worrying".
The WHO's epidemic and pandemic preparedness and prevention director, Dr Sylvie Briand said that the UN agency was in close contact with the Cambodian authorities for updates on the case and on tests of other people who had been in contact with the girl.
Dr Briand told a virtual press conference hosted in Geneva, "So far, it is too early to know if it's human-to-human transmission or exposure to the same environmental conditions. The global H5N1 situation is worrying given the wide spread of the virus in birds around the world and the increasing reports of cases in mammals including humans."
She further added, "WHO takes the risk from this virus seriously and urges heightened vigilance from all countries."
Interestingly, only earlier this month, the WHO assessed the risk to humans from H5N1 bird flu as low, although its director-general, Dr Tedros Adhanom Ghebreyesus, said the recent spillover to mammals needs to be monitored closely.
The Mekong region also with Myanmar and parts of lower Southern China are expected to be the geolocations that will the centers of the global outbreak of the H5N1 Avian Flu Disease.
Experts are calling for more surveillance in these locations.
For the latest
H5N1 Avian Flu Virus

News
, keep on logging to Thailand Medical News.