COVID-19 Resurgence in Canada: British Columbia See Spikes In COVID-19 Infections While Quebec Sees COVID-19 Hospitalizations Tripling!
COVID-19 News
: As the world continues to grapple with the ongoing COVID-19 pandemic, Canada, like many other nations, is once again facing a resurgence of the virus. Two provinces, British Columbia (B.C.) and Quebec, have recently witnessed concerning spikes in COVID-19 infections and hospitalizations.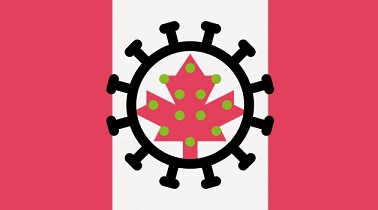 British Columbia's COVID-19 Surge
In British Columbia, the alarm bells have been ringing as the province experiences a notable increase in COVID-19 cases. Data from the BC Centre for Disease Control revealed that in the week ending September 2, 447 individuals tested positive for the virus, marking a significant surge compared to the 133 cases recorded just a few weeks earlier in mid-August. Positivity rates also doubled during this period, reaching approximately 18 percent.
This surge in COVID-19 numbers followed the discovery of Canada's first case of the BA.2.86 variant in B.C. The new variant raised concerns about its potential impact on transmission and vaccine effectiveness, although it remains the only known case of this strain in the province. Some
COVID-19 News
outlets and also experts are however warning that the BA.2.86 variant and its newer spawns could be more widespread in Canada but are not being detected by current PCR test possibly due to primer issues!
Hospitalizations and deaths have also seen an uptick. On September 7, 241 COVID-19 patients were hospitalized in B.C., with weekly admissions increasing from 95 in mid-August to 136 just two weeks later. The number of deaths has fluctuated but has overall risen during this period.
Preparing for the Fall
Dr Bonnie Henry, B.C.'s provincial health officer, expressed concern about the impending fall season, which traditionally sees an increase in respiratory illnesses like COVID-19, influenza, and respiratory syncytial virus (RSV). She emphasized the importance of vaccination and preparedness, noting that while some factors are beyond control, being proactive in managing the spread of these viruses is crucial.
To address the evolving situation, B.C. plans to roll out a monovalent vaccine campaign targeting the XBB 1.5 subvariant, pending approval from Health Canada. The National Advisory Council on Immunization has also recommended a fall booster shot, particularly for vulnerable populations, including those over 65, residents of long-term care facilities, pregnant individuals, and those with underlying medical conditions.
Infectious diseases expert Dr Brian Conway expressed cautious optimism, highlighting vaccination and preventive measures as essential tools to manage the upcoming challenges. Encouraging parents to vaccinate their children once new COVID vaccines and flu shots are available, and keeping sick children at home were among the measures he recommended.
Quebec's COVID-19 Hospitalizations Triple
Meanwhile, Quebec has been grappling with a rapid increase in COVID-19 hospitalizations over the past month. Health Minister Christian Dubé reported that the number of patients admitted to Quebec hospitals with coronavirus had tripled within a three -week period, soaring from around 300 to 881 as of September 6.
While Dubé refrained from predicting a potential resurgence in the fall, he emphasized the importance of readiness within the healthcare system. He estimated that there could be between 2,000 and 3,000 COVID-19 patients in hospitals during the autumn but assured that this surge would not necessarily lead to an increase in intensive care admissions, thanks to the effectiveness of vaccination.
Of the 881 hospitalizations, only 19 individuals required intensive care treatment. The key message from Quebec's health authorities remained consistent: vaccination remains the most effective tool to combat the virus.
Ontario Hospitals Reinstate Mask Mandates Ahead of Respiratory Virus Season
As the onset of the respiratory virus season looms, several hospitals in Ontario, particularly in eastern and southeastern regions, are re-imposing mandatory mask requirements in patient-care areas. This move comes in response to a rising prevalence of COVID-19 in these areas and the anticipated resurgence of respiratory illnesses in the fall.
Masking Requirements in Ontario Hospitals
Kingston Health Sciences Centre
:
Kingston Health Sciences Centre has announced the reinstatement of mandatory masking in specific areas of its facility.
Masks are now compulsory in the emergency department, children's outpatient clinic, and the urgent care centre.
Additionally, the hospital strongly advises the use of masks in clinical areas with a high-risk patient population, such as oncology, neonatal intensive care, and dialysis units.
The hospital cites the growing prevalence of COVID-19 in southeastern Ontario as the driving force behind this decision.
The Ottawa Hospital:
The Ottawa Hospital, a prominent healthcare institution, has decided to reintroduce masking requirements.
Starting Monday, the hospital will require individuals to wear masks in all clinical areas and waiting rooms, ensuring comprehensive coverage within the facility.
Queensway Carleton Hospital (Ottawa):
The Queensway Carleton Hospital, also situated in Ottawa, is joining the ranks of hospitals enforcing mask mandates.
Effective immediately, the hospital is mandating mask usage in designated areas, aligning with the broader initiative to enhance safety within healthcare settings.
Toronto Area Hospitals
:
Several hospitals in the Toronto area have chosen to maintain mask requirements in patient-care areas.
These hospitals have opted to continue mask mandates while some other healthcare facilities in the province have ceased such requirements, reflecting the variable approaches taken to address the evolving pandemic situation.
Anticipating the Fall Respiratory Virus Season
In addition to the concerns surrounding COVID-19, healthcare officials are bracing for an anticipated rise in cases of the flu and respiratory syncytial virus (RSV) as the fall season approaches. These respiratory illnesses pose a considerable threat to vulnerable populations, particularly those with underlying health conditions.
Challenges Ahead
As COVID-19 resurges in Canada, provinces like British Columbia and Quebec are facing significant challenges in managing the virus's spread. The rise in infections and hospitalizations serves as a stark reminder that the pandemic is far from over.
In response, both provinces are intensifying vaccination efforts and preparing for the fall, which is expected to bring increased cases of not only COVID-19 but also respiratory illnesses like influenza and RSV. Booster shots, especially for vulnerable populations, are being recommended as a strategy to enhance immunity and reduce the burden on healthcare systems.
While healthcare professionals remain cautiously optimistic about managing the situation, the unpredictability of the virus calls for continued vigilance and adaptability in public health measures. As Canadians brace themselves for the upcoming season, the importance of vaccination, preventive measures, and a well-prepared healthcare system cannot be overstated. Only time will reveal the extent to which these strategies can mitigate the impact of the COVID-19 resurgence in Canada.
For the latest
COVID-19 News
, keep on logging to Thailand Medical News.