U.S Study Shows How Deploying Ultraviolet Air Purification Systems In Nursing Homes Reduces Risk Of COVID-19 Infections
Similar Air Purifications Systems Should be Deployed In Hospitals, Schools, Offices, Shopping Malls And Even Homes To Reduce Infections By SARS-CoV-2 And Other Pathogens
COVID-19 News
: In the battle against the COVID-19 pandemic, nursing homes have emerged as a critical battleground. These facilities have been severely impacted, with both residents and staff experiencing disproportionate levels of infection and mortality. To address this pressing issue, researchers at Brown University School of Public Health and the Providence VA Medical Center in Rhode Island, USA, embarked on a groundbreaking pilot study. Their aim was to explore the potential benefits of implementing air purification systems in nursing homes as a means of combating the spread of the SARS-CoV-2 virus.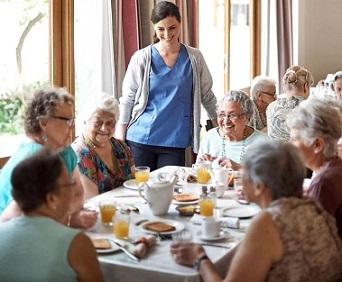 Clearing the Air for Improved Health
With the understanding that indoor air quality plays a crucial role in reducing viral transmission, the researchers focused on the implementation of ultraviolet air purification technology. This innovative approach seeks to mitigate the burden of COVID-19 by targeting the very air that residents and staff breathe within these facilities.
Past
COVID-19 News
reports have already showed that ultra-violet light can be used in various modes to disinfect large areas against the SARS-CoV-2 virus and other respiratory pathogens.
https://www.thailandmedical.news/news/u-s-study-shows-that-upper-room-germicidal-ultraviolet-c-irradiation-ur-guv-devices-effective-in-eradicating-aerosolized-sars-cov-2-in-enclosed-areas
https://www.thailandmedical.news/news/far-uvc-columbia-university-researchers-show-that-far-uvc-light-kills-99-9-percent-of-airborne-coronaviruses-while-being-safe-for-humans
https://www.thailandmedical.news/news/uv-light-eradicating-sars-cov-2-coronavirus-that-causes-covid-19-with-handheld-uv-light-devices
Methodology and Findings
The study encompassed 81 nursing homes across Florida, Georgia, North Carolina, and South Carolina, which installed ultraviolet air purification systems in their existing heating, ventilation, and air conditioning (HVAC) systems between July 27, 2020, and September 10, 2020.
By analyzing data on COVID-19 cases and deaths reported by the nursing homes, along with county-level infection rates and outside air temperature, the researchers conducted an interrupted time series analysis to compare outcomes before and after installation.
Promising Results
Following the implementation of ultraviolet air purification systems, the researchers observed a decline in weekly COVID-19 cases per 1,000 residents, indicating a potential reduction in viral transmission. Additionally, the probability of reporting any COVID-19 case also decreased during the post-installation period. Although the impact on COVID-19-related mortality was not statistically significant, the decline in pre-intervention cases suggests a potential benefit.
Implications and Recommendations
These findings have far-reaching implications for nursing home policymakers and decision-makers. The study underscores the importance of indoor air quality interventions as a vital component of comprehensive COVID-19 mitigation strategies. Unlike behavioral modifications, improving air quality through structural modifications, such as air purification systems, places minimal burden on individuals.
However, further research is needed to establish a causal relationship between air purification and COVID-19 outcomes in nursing homes. The pilot study's limited sample size calls for larger-scale investigations to evaluate the comparative effectiveness of various indoor air management strategies. Additionally, exploring the impact of improved air quality on other respiratory illnesses and health outcomes will provide a more comprehensive understanding of the benefits.
Beyond COVID-19: A Breath of Fresh Air for Residents' Health
The advantages of investing in indoor air quality improvements extend beyond the current pandemic. Nursing home residents spend a significant amount of time indoors, making them particularly susceptible to the health effects of suboptimal air quality. By implementing air purification systems, these facilities can potentially reduce the transmission not only of SARS-CoV-2 but also of other respiratory pathogens like influenza.
Conclusion
As the battle against COVID-19 continues, it is crucial to explore every avenue in our quest for effective mitigation strategies. This study findings provide valuable insights into the benefits of air purification systems in nursing homes. The findings highlight the potential of ultraviolet air purification technology to reduce COVID-19 cases and improve outcomes in these high-risk environments.
By harnessing the power of improved indoor air quality, nursing homes can create safer, healthier spaces for their vulnerable residents. With ongoing research and larger-scale studies, the integration of air purification systems may become a fundamental component of comprehensive strategies to combat not only COVID-19 but also other respiratory illnesses. As we strive for a post-pandemic world, clear and clean air is undoubtedly a breath of fresh hope.
The study findings were published in the peer reviewed Journal of American Medical Directors Association. (Science Direct)
https://www.sciencedirect.com/science/article/pii/S1525861023005327
For the latest
COVID-19 News
, keep on logging to Thailand Medical News.
Read Also:
https://www.thailandmedical.news/articles/covid-19-disinfectants