Growing Number Of Published Studies Show That Hyperbaric Oxygen Therapy (HBOT) Might Be Useful For Long COVID.
Long COVID
: A growing number of peer reviewed studies are showing that Hyperbaric Oxygen Therapy (HBOT) might be useful in Long COVID. Certain cases studies and clinical trials have showed its effectiveness in helping with manifestations of fatigue, various cognitive and neurological issues in Long COVID.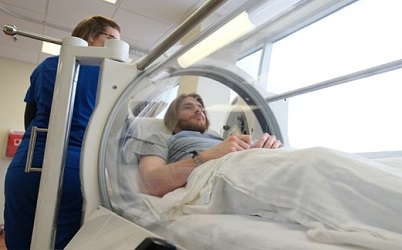 Hyperbaric oxygen therapy or HBOT involves breathing pure oxygen in a pressurized environment. Hyperbaric oxygen therapy is a well-established treatment for decompression sickness, a potential risk of scuba diving. Other conditions treated with hyperbaric oxygen therapy including serious infections, bubbles of air in blood vessels and wounds that may not heal because of diabetes or radiation injury.
Typically, in a hyperbaric oxygen therapy chamber, the air pressure is increased 2 to 3 times higher than normal air pressure. Under these conditions, the lungs can gather much more oxygen than would be possible breathing pure oxygen at normal air pressure.
Interestingly, this extra oxygen helps fight bacteria. It also triggers the release of substances called growth factors and stem cells, which promote healing.
A Swedish study randomized clinical trial showed that despite minor mild adverse events in
Long COVID
patients, the treatment protocol is relatively safe.
https://bmcinfectdis.biomedcentral.com/articles/10.1186/s12879-023-08002-8
In an Israeli randomized, sham-control, double blind trial to evaluate the effect of hyperbaric oxygen therapy (HBOT) on
Long COVID
patients with ongoing symptoms for at least 3 months after confirmed infection, seventy-three patients were randomized to receive daily 40 session of HBOT (n = 37) or sham (n = 36). Follow-up assessments were performed at baseline and 1–3 weeks after the last treatment session. Following HBOT, there was a significant group-by-time interaction in global cognitive function, attention and executive function (d = 0.495, p = 0.038; d = 0.477, p = 0.04 and d = 0.463, p = 0.05 respectively). Significant improvement was also demonstrated in the energy domain (d = 0.522, p = 0.029), sleep (d = − 0.48, p = 0.042), psychiatric symptoms (d = 0.636, p = 0.008), and pain interference (d = 0.737, p = 0.001). Clinical outcomes were associated with significant improvement in brain MRI perfusion and microstructural changes in the supramarginal gyrus, left supplementary motor area, right insula, left frontal precentral gyrus, right middle frontal gyrus, and superior corona radiate.
The study findings from that clinical trial indicated that hyperbaric oxygen therapy or HBOT can induce neuroplasticity and improve cognitive, psychiatric, fatigue, sleep and pain symptoms of patients suffering from Long COVID conditions. HBOT's benefi cial effect may be attributed to increased brain perfusion and neuroplasticity in regions associated with cognitive and emotional roles.
https://www.nature.com/articles/s41598-022-15565-0
A small observational clinical trial conducted by UK researchers involving 10 Long COVID-19 patients showed that after 10 sessions of HBOT, there was improvement in health conditions of these patients in terms of fatigue and cognitive issues.
https://www.rcpjournals.org/content/clinmedicine/21/6/e629
In one case study conducted in UAE, involving a 55 year-old Caucasian male presented 3 months after severe coronavirus disease 2019 infection with Long COVID syndrome with symptoms showing a decline in memory, multitasking abilities, energy, breathing, and physical fitness…..upon evaluation that included brain perfusion magnetic resonance imaging, diffusion tensor imaging, computerized cognitive tests, and cardiopulmonary test, he was treated with hyperbaric oxygen therapy.
Each session included exposure to 90 minutes of 100% oxygen at 2 atmosphere absolute pressure with 5-minute air breaks every 20 minutes for 60 sessions, 5 days per week.
Interestingly, evaluation after completing the treatment showed significant improvements in brain perfusion and microstructure by magnetic resonance imaging and significant improvement in memory with the most dominant effect being on nonverbal memory, executive functions, attention, information procession speed, cognitive flexibility, and multitasking. The improved cognitive functions correlated with the increased cerebral blood flow in brain regions as measured by perfusion magnetic resonance imaging. With regard to physical capacity, there was a 34% increase in the maximum rate of oxygen consumed during exercise and a 44% improvement in forced vital capacity. The improved physical measurements correlated with the regain of his pre-COVID physical capacity. The study showed a case of successfully treated Long COVID symptoms with hyperbaric oxygen therapy with improvements in cognition and cardiopulmonary function.
https://jmedicalcasereports.biomedcentral.com/articles/10.1186/s13256-022-03287-w
A recent Polish study published in December 2022 involving thirty-one patients with Long COVID showed that after a total of 15 hyperbaric oxygen therapy or HBOT sessions, significant improvements in areas such as quality of life, endurance and strength, some spirometric parameters, the anion gap and lactate levels, working memory, and attention in the group of treated patients were observed. In contrast, there were no changes in pH, pO2, pCO2, glucose, and excess alkaline values. A follow-up interview confirmed that the beneficial effects were maintained over time.
https://www.mdpi.com/2077-0383/12/1/308
While numerous reposts, studies and case studies show that hyperbaric oxygen therapy (HBOT) showed marked improvements between the start and the end of the therapy for Long COVID-19 patients and the results are encouraging, it should be noted that the research is still in the early stages.
Furthermore, at this stage, at this time, hyperbaric oxygen therapy (HBOT) is not approved by the U.S. Food and Drug Administration yet for treatment of Long COVID. It's also important to note it's not suitable for everyone. Someone with a cold, fever and certain lung, ear and eye conditions should not have HBOT.
For the latest on
Long COVID
, keep on logging to Thailand Medical News.