Russian Study Identifies Genes FYCO1, LZTFL1, XCR1, CCR9, TMLHE-AS1 And SCYL2 At 3p21.31 As Being Associated With COVID-19 Severity
The study found the six genes at locus 3p21.31 significantly associated with severe COVID-19
COVID-19-Genetics
: Severe COVID-19, caused by SARS-CoV-2, presents a diverse clinical profile with underlying genetic factors playing a crucial role in disease severity. In this captivating study, researchers from the Federal Medical Biological Agency in Moscow, Russia, explore the genetic predisposition to severe COVID-19 in a large, representative sample of the Russian population. By identifying six significant genes at locus 3p21.31, namely FYCO1, LZTFL1, XCR1, CCR9, TMLHE-AS1, and SCYL2, associated with severe COVID-19, the study sheds light on the polygenic nature of the disease phenotype.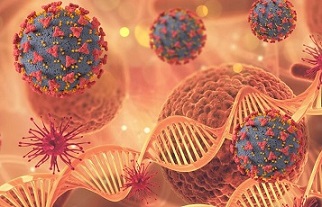 Understanding the host's genetic susceptibility to severe COVID-19 is vital for effective risk assessment, stratification, and preventive measures. Genome-wide association studies (GWAS) have revealed the significance of locus 3p21.31 in severe COVID-19, but studies on the biological implications of the reported variants remain scarce. This study aims to fill this knowledge gap by unraveling the genetic underpinnings of severe COVID-19, focusing on the six identified genes.
The study team conducted a comprehensive GWAS on a large cohort of Russian adults, offering population-specific insights into severe COVID-19. They developed a simplified polygenic risk score (PRS) model using multidimensional training and principal component analysis, enhancing its clinical applicability. Additionally, the study used advanced bioinformatics tools, including AlphaFold v2.0, to explore the tertiary structure of FYCO1, the only gene with mutations in its coding region.
Key Findings
The
COVID-19 Genetics
study reveals the following intriguing associations between genes and severe COVID-19:
FYCO1
: The FYCO1 gene showed mutations in its coding region, influencing the protein's spatial architecture and potentially contributing to an increased risk of severe COVID-19. FYCO1's role in autophagy and viral replication makes it a key player in the disease's pathogenesis.
LZTFL1
: LZTFL1 is associated with T-cell activation and immune response modulation, indicating its potential impact on disease severity.
XCR1
: XCR1 variants were linked to impaired antigen presentation and reduced cytotoxic response, potentially affecting viral clearance.
CCR9
: CCR9 variants were detected, and their function in lung tissue remains to be fully elucidated, hinting at possible associations with lung inflammation.
TMLHE-AS1
: The exact function of TMLHE-AS1 in COVID-19 remains an enigma, requiring further investigation.
SCYL2
: The strongest association with severe COVID-19 was found for SCYL2, a gene involved in vesicular transportation and Fzd5 receptor degradation. Its role in t he viral life cycle and immune response warrants deeper exploration.
Implications and Future Directions
This study reinforces the notion of the polygenic nature of severe COVID-19 and unveils the importance of the host-virus interaction in determining disease severity. Understanding the functional implications of the identified genetic variants can pave the way for targeted therapies and preventive strategies. The study's findings call for genetic screening of the detected variants and exploring novel therapeutic avenues, including autophagy inhibition and targeting the PI3KCA/AKT/mTOR pathway.
In conclusion, this intriguing study provides valuable insights into the genetic basis of severe COVID-19, offering potential avenues for personalized medicine and interventions in combating the global pandemic. The discovery of the six significant genes at locus 3p21.31 opens new avenues for understanding the complex interplay between genetics and disease severity, providing hope for better management and prevention strategies.
The study findings were published in the peer reviewed journal: Frontiers in Medicine.
https://www.frontiersin.org/articles/10.3389/fmed.2023.1178939/full
For the latest on
COVID-19 Genetics
, keep on logging to Thailand Medical News.