GREAT NEWS! UK Study Shows That Only 17 Percent Of Post COVID Individuals Who Had Cognitive Issues Recovered After 38 Weeks!
With billions already exposed to SARS-CoV-2 and millions more getting reinfected often, the global scenario is simply frightening!
COVID-19 News
: As the world grapples with the ongoing COVID-19 pandemic, new research from King's College London has shed light on a concerning aspect of the virus's impact on individuals' cognitive abilities. The study, conducted between July 2021 and June 2022, examined cognitive performance in a community-based cohort of participants from the United Kingdom COVID Symptom Study Biobank. The findings paint a sobering picture of the lasting effects of the virus on the human brain with only 17 Percent of Post COVID individuals who had cognitive issues recovering after 38 weeks!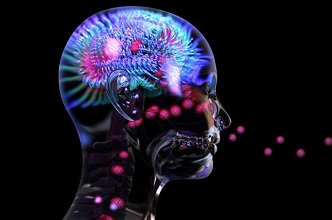 Pic Credit: Shutterstock
Cognitive Impairment After COVID-19
Cognitive impairment is not an uncommon occurrence after various infections, including those caused by SARS-CoV-2. However, the extent to which deficits persist over time has remained uncertain.
Previous studies mainly focused on hospitalized individuals with relatively short follow-up periods. The King's College London study aimed to address this gap by examining community-based cases with varying symptom durations.
The study's methods involved assessing cognitive performance in participants with and without previous SARS-CoV-2 infections, considering symptom duration and ongoing symptoms. Cognitive accuracy, working memory, attention, reasoning, and motor control were evaluated through rigorous assessments. The researchers employed multivariable ordinary least squares linear regression models to estimate the effects of COVID-19 exposure on cognitive scores while adjusting for potential confounding factors.
Startling Findings
The results were nothing short of eye-opening. At the initial testing round, individuals who had tested positive for SARS-CoV-2 showed lower cognitive accuracy compared to negative controls. The deficits were most pronounced in individuals with symptom durations of 12 weeks or longer. These cognitive deficits were comparable in magnitude to those observed in hospitalized COVID-19 patients and even equated to the effects of aging 10 years.
Stratifying the results based on self-perceived recovery from COVID-19 yielded intriguing insights. Deficits were only detectable in SARS-CoV-2 positive individuals who did not feel fully recovered from the virus. In contrast, those who reported full recovery showed no signs of cognitive impairment.
Persistence of Cognitive Deficits
The most concerning finding was that the cognitive deficits persisted for almost two years since the initial infection. Even individuals who reported not feeling recovered during the study's follow-up period showed no evidence of cognitive improvement.
Implications and the Road Ahead
These findings are critical in understanding the long-term impacts of COVID-19 on the brain. With billion already exposed to the SARS-CoV-2 virus and millions more e xperiencing reinfections and ongoing symptoms as covered in various
COVID-19 News
reports, the global implications are alarming. The study underscores the need to monitor and develop a comprehensive understanding of recovery mechanisms for those suffering from ongoing symptoms.
The study's lead researcher emphasized the need for renewed efforts in identifying and supporting individuals experiencing long-lasting cognitive effects after SARS-CoV-2 infection. Beyond individual quality-of-life impacts, these cognitive deficits may also have broader socio-economic consequences, affecting work capacity and requiring additional support.
While this study provided essential insights, there are still some limitations that warrant further investigation. Future research should explore the trajectories and mechanisms of recovery from ongoing symptoms following COVID-19, as well as the long-term implications of cognitive deficits observed in the study.
In conclusion, this study is a wake-up call for global health efforts. As we continue to combat the COVID-19 pandemic, it is crucial to not only focus on preventing infections but also to provide comprehensive support and care for those experiencing long-term effects on cognitive function. Understanding the full extent of the virus's impact on the brain is key to building a healthier and more resilient world in the post-pandemic era.
The study findings were published in the peer reviewed journal: eClinical medicine (Lancet).
https://www.thelancet.com/journals/eclinm/article/PIIS2589-5370(23)00263-8/fulltext
For the latest
COVID-19 News
, keep on logging to Thailand Medical News.