U.S. Medical News: Weekly COVID Hospitalizations Rise by 14% in America; COVID-19 Deaths Starting To Rise Slightly
U.S. Medical News
: In a concerning development, weekly COVID-19 hospitalizations have surged by 14.3% in the United States, marking a worrying trend in the ongoing battle against the pandemic. The latest data released by the U.S. Centers for Disease Control and Prevention (CDC) reveals that hospitalizations have climbed from 9,026 to 10,320 over the course of the week ending on August 5th.
https://covid.cdc.gov/covid-data-tracker/#maps_new-admissions-rate-county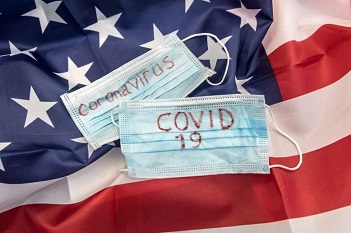 While this percentage increase may raise alarm bells, experts caution that the absolute numbers are still significantly lower than the peak of the omicron wave, which saw weekly hospitalizations reaching a staggering 150,674 in January 2022.
Dr John Brownstein, a prominent epidemiologist and the chief innovation officer at Boston Children's Hospital, emphasized the importance of keeping the current situation in perspective.
He told
U.S. Medical News
outlets, "We have to remember that we're still dealing with numbers that are far less than what we've seen for the pandemic."
Dr Brownstein explained, "We have to zoom out to look at our experience for the entire pandemic, to understand that what we're dealing with now is far from any crisis that we've experienced with previous waves."
Dr Brownstein further highlighted that although the percentage increase in hospitalizations might be concerning, the actual numbers are relatively small when compared to previous waves of the virus. In addition, the rate of increase in hospitalizations week-over-week has been less steep than during previous waves, providing a glimmer of hope amid the worrisome statistics.
This increase in hospitalizations is also accompanied by a slight rise in COVID-19 deaths, which totaled 473 during the week of July 15th, according to the latest available data.
https://covid.cdc.gov/covid-data-tracker/#maps_percent-covid-deaths
Experts emphasize that this uptick in fatalities is a natural consequence of the surge in hospitalizations, and potential reporting delays could lead to shifts in the death toll in the coming weeks.
Dr Brownstein acknowledged the proportional relationship between increased transmission and higher hospitalizations and deaths. However, he noted a decoupling effect, wherein a rise in cases doesn't necessarily translate to a proportional increase in hospitalizations and fatalities. Factors contributing to this trend include waning immunity, reduced mitigation measures, and an increase in indoor gatherings.
He added, "It doesn't mean that we shouldn't be vigilant about COVID. It also doesn't mean that we shouldn't look for opportunities to reduce our personal risk, and to make sure that we're up to date on immunizations. But this is more likely going to be what we'll experience going for ward with COVID."
One notable development is the emergence of a new omicron subvariant, known as EG.5, which accounts for an estimated 17% of new COVID-19 cases in the U.S. While this variant has gained attention, there is currently no evidence suggesting that EG.5 causes more severe disease or is significantly more infectious than previous variants.
The rise in hospitalizations also coincides with the emergence of the EG.5 variant, which has garnered attention as the top variant spreading in the U.S. The World Health Organization (WHO) recently classified EG.5 as a "variant of interest" due to its increasing global presence.
While the public health risk assessment for EG.5 remains low at the global level, the WHO warned that its potential for increased transmissibility and its ability to evade immunity from vaccines and previous infections could lead to a rise in cases, potentially making it dominant in some regions.
Dr Brownstein suggested that the heightened concern surrounding EG.5 may be rooted in past experiences with variants like the delta variant in the summer of 2021. However, he claimed that each subsequent variant has had a progressively diminishing impact on the population, indicating a "dampening of effect" over time.
It's important to note that although the increase in hospitalizations is a cause for concern, the majority of U.S. counties are currently experiencing a "low" level of new COVID-19 hospital admissions. Less than 2% of counties are reporting either a "medium" or "high" level of hospitalizations, according to data from the CDC.
Despite these developments, many other experts remain cautiously optimistic. Dr David Dowdy, an infectious disease expert at Johns Hopkins Bloomberg School of Public Health, emphasized that the current increase, although notable, should not cause undue alarm. He pointed out that natural genetic changes in the virus do not necessarily equate to heightened danger.
Looking ahead, the anticipation of updated COVID-19 vaccines offers a glimmer of hope for many from the Western world. (And fun for us at Thailand
Medical News
.) Expected to contain the Omicron variant XBB.1.5, these new vaccines are claimed to provide improved protection against the evolving virus. While the timeline for the release and distribution of these vaccines remains uncertain, health officials are preparing for a fall and winter season that will be navigated with a more robust arsenal of tools than ever before.
Dr Mandy Cohen, the new CDC director, expressed optimism about the upcoming vaccine rollout, suggesting that people will likely receive their COVID-19 vaccines alongside their regular flu shots. This shift represents a transition from the emergency-focused vaccination efforts that were established early in the pandemic.
As the United States continues to grapple with the evolving COVID-19 landscape, experts emphasize the importance of remaining vigilant, adhering to mitigation measures, and staying informed about the latest developments in the fight against the virus. While challenges persist, the collective efforts of the medical community and the public offer a promising path forward in the ongoing battle against COVID-19.
For the latest
U.S. Medical News
, keep on logging to Thailand Medical News.