Studies Reveal That All Coronaviruses Deploy Papain-Like Proteases With Deubiquitinating And DeISGylating Activity To Evade Immune Responses!
COVID-19 News
: In a groundbreaking discovery, scientists have unraveled the secret behind how coronaviruses, including the notorious SARS-CoV-2 responsible for the COVID-19 pandemic, are able to evade the human immune response.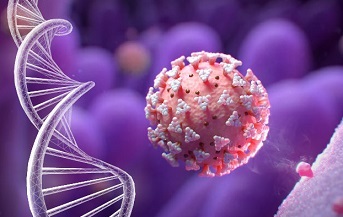 These new study findings shed light on the stealthy tactics employed by coronaviruses to destabilize human cells and render them defenseless against viral attacks. The research not only provides insights into the evasion capabilities of different coronaviruses but also opens up possibilities for the development of improved antiviral therapies.
Coronaviruses have long been known for their ability to cause a wide range of illnesses in humans, from mild common colds to severe respiratory infections such as SARS and COVID-19 as covered in previous studies and
COVID-19 News
reports.
The key to their success lies in their deployment of papain-like proteases (PLPs), specialized enzymes that play a crucial role in manipulating human cells and suppressing the immune response.
In a series of studies conducted by a team of scientists in China, it was revealed that even the milder coronaviruses responsible for common colds possess PLPs with deubiquitinating and deISGylating activities. These enzymes target and damage critical signaling proteins in human cells, leading to the destabilization of the cells and the impairment of the innate immune response i.e. the body's initial defense against viral infections.
The researchers identified seven coronaviruses that infect humans, with four causing common colds and three causing more severe respiratory symptoms. The highly pathogenic coronaviruses, including SARS-CoV-2, SARS-CoV, and MERS-CoV, encode PLPs that exhibit stronger innate immune suppression compared to the PLPs of milder coronaviruses. By cleaving ubiquitin and ISG15, two proteins involved in regulating cell function and immune responses, the PLPs allow the viruses to evade detection and replicate unchecked.
Further investigations into SARS-CoV-2's PLP, known as Plpro, revealed its ability to interfere with the type-1 interferon antiviral response, a crucial aspect of the innate immune system. Plpro was found to remove ubiquitin proteins from a complex called STING, responsible for propagating antiviral responses. This discovery highlighted how SARS-CoV-2 effectively neutralizes the STING complex, preventing the activation of vital antiviral defense mechanisms.
The implications of these findings are far-reaching. By understanding the enzymatic properties and substrate selectivity of PLPs across different coronaviruses, researchers can gain insights into the variations in their immune evasion capabilities and pathogenicity. This knowledge can pave the way for the development of targeted antiviral therapies that counteract the mechanisms employed by coronaviruses to evade the immune response.
Conclusions:
The Chinese scientists have made a groundbreaking discovery regarding the evasion strategies employed by coronaviruses, shedding light on the intricate mechanisms that enable these viruses to outsmart the human immune system. By leveraging specialized enzymes called papain-like proteases (PL Ps), coronaviruses can disrupt critical signaling proteins and impair the innate immune response.
These new studies not only deepen our understanding of the differences between mild and severe coronaviruses but also opens up possibilities for the development of more effective antiviral therapies. Armed with this newfound knowledge, scientists are now better equipped to combat existing coronaviruses and tackle future threats from this viral family.
The studies were published in the peer reviewed journal: Science Signaling
https://www.science.org/doi/10.1126/scisignal.ade1985
https://www.science.org/doi/10.1126/scisignal.add0082
For the latest
COVID-19 News
, keep on logging to Thailand Medical News.