First Official Omicron Death In United States Reported In Texas. More To Come As CDC Says About 73 Percent Of COVID-19 Cases Are Now Due To Omicron!
U.S. Medical News
: The United States in the last 14 hours recorded its first COVID-19 death that was due to the Omicron variant in Harris County that is located in the state of Texas. The dead patient was identified as a male whose vaccination status was not yet determined at the time of death according to the county health department.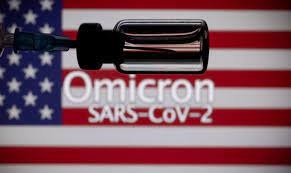 This is believed to be the first known recorded Omicron death in the United States.
It was reported that the US Centers for Disease Control and Prevention (CDC) did not immediately respond to a request for comment on the issue.
The deceased was aged between 50-60 years old, was at higher risk of severe complications from COVID-19, the health department said in a statement.
Harris county judge Lina Hidalgo tweeted that the man was the first local fatality from the variant.
https://twitter.com/LinaHidalgoTX/status/1473074869340409856
On late Monday, the U.S. CDC also said that the Omicron variant now accounted for about 73% of all U.S. coronavirus infections now based on sequencing data for the week ending Dec. 18, the CDC.
A few hours earlier, the United Kingdom had reported publicly that twelve people in Britain have now died with the variant, and 104 are currently in hospital with it, according to the British Deputy Prime Minister Dominic Raab.
https://www.thailandmedical.news/news/uk-reporting-increasing-deaths-and-hospitalizations-from-omicron-the-primates-who-said-omicron-is-mild-and-made-people-lax-should-be-punished
New York City -Omicron's Epicenter In The U.S.
Reports are emerging that New York City is becoming the epicenter of the Omicron spread via local transmissions to the rest of the country as many cases detected elsewhere in the country has been linked to individuals arriving from New York City. The city itself is witnessing an exponential surge in COVID-19 cases due to the Omicron variant, mostly breakthrough infections in those that were fully vaccinated and also among those that had also received booster shots. Hospitalization rates and admissions to ICU wards are filing showing that disease severity is occurring among those infected with the Omicron variants, contradicting the fallacies and fake news that was disseminated by certain ignorant primates that the Omicron variant was mild!
Only a couple of weeks ago, New York City seemed like a relative bright spot in the American coronavirus struggle. Now it's a hot spot, confronting a dizzying spike in cases, scramble for testing, quandary over a major event and exhausting sense of déjà vu.
The omicron-variant-fueled wave of cases is washing over the nation's most populous city, which served as a nightmarish test case for the country early in the pandemic. While health officials say there are important reasons why it's not spring 2020 all over again, some Broadway shows have abruptly canceled performances, an indoor face mask mandate is back and testing is hard to come by.
&n bsp;
A woman in her fourth hour of waiting for a test at a city-run health clinic near downtown Brooklyn, who requested to remain anonymous told
U.S. Medical News
, "It's disappointing that we haven't developed a better system for this and that we weren't better prepared for there to be another wave."
As temperatures hovering near freezing, many joined the line and another woman who said that she was joining the line for the third time since her symptoms started last few days, once again ended up walking away.
She said, "I stood there in the cold. I can't do this. Everywhere you go, there's a line."
As local officials and health experts urged people to get not only tests but vaccine booster shots, an hourlong line for either one formed at a privately-run pharmacy in lower Manhattan.
Another local as he waited for a booster said, said, "I'm just trying to remain optimistic. I am not even sure anymore if this booster is going to work!"
Ironically after shuttering some testing centers last month for lack of demand and in favor of pop-up testing vans, the city is racing to expand capacity again.
The 130,000 daily tests at city-sponsored sites is already double what the number was just three weeks ago, and Mayor Bill de Blasio said Monday that the city would add 20 fixed locations and three vans this week. It also plans to distribute 500,000 at-home test kits.
Dr Mitchell Katz, who runs the city public hospital system, said officials didn't anticipate "so much news about omicron" or supplies of home test kits running low. Meanwhile, smaller testing sites ran into staffing problems this weekend as workers themselves contracted the virus, he said.
He said the city would now ensure it had people ready to fill in and take other steps to ease the testing crunch.
America is contending with both the rise of omicron and a month's long surge fueled by various Delta subvariants, and many other parts of the country have considerably higher infection rates than New York City did over the last week.
However, the speed of the onslaught here is rattling health experts, even after nearly two years of viral surprises.
To date, nearly 42,600 people citywide tested positive from Wednesday through Saturday compared to fewer than 35,800 in the entire month of November.
More than 15,000 additional positive tests came back Sunday.
New York City has never had so many people test positive in such a short period of time since testing became widely available; there's no clear picture of how many people got the virus during New York City's first surge in spring 2020.
It was reported that ss recently as Dec. 1, New York City's number of new cases per person was running just over half the state average, by state figures. Now, the city is above the statewide average.
It was also noted that hospitalizations also have been increasing, though much more slowly. New admissions citywide were averaging around 110 per day through the middle of last week, roughly double the number a month earlier. But the average at this time last year was around 230, and it topped 1,600 in early April 2020.
Shockingly, the average number of deaths per day neared 800 then and 100 in late January of this year. It's fairly steady, at around a dozen, as of mid-last-week.
Many New York hospitals say they have seen modest, but manageable, increases.
However, many hospitals are bracing for staffing crunches as infections or exposures force staffers to stay home. Dr Katz said the public system's clinics are shifting to almost all virtual visits so that some nurses and assistants can be shifted to hospitals and testing sites.
Sadly, in some ways, there's no comparison to the virus' terrifying first strike, when no one was vaccinated, mask-wearing was almost unheard of in New York and clinicians were just beginning to learn how to treat COVID-19.
Also, some public health experts say officials here and elsewhere still haven't learned from experience.
Dr Stanley Weiss, a Rutgers University epidemiology professor said, "We're seeing an underreaction, continually," He thinks officials should immediately redefine 'fully vaccinated' to include boosters; limit indoor public spaces to the vaccinated, boosted and constantly masked; and improve indoor ventilation, among other steps.
Hospitalization Rates Also Increasing Nationwide In America
Nationwide, hospitalizations increased by about 3 percent and deaths rose by about 7 percent over the past week. But some regions are seeing a much steeper rise.
It was reported that eighteen states and the District of Columbia have reported increases of more than 5 percent in new covid-19 admissions at hospitals in the past week. D.C. leads the nation with a 39 percent increase in hospitalizations. Connecticut's covid-19 admissions have risen by 24 percent in the past week. New Jersey, Illinois, South Carolina, Alabama and Georgia each reported an increase of 11 percent or more.
As of Monday, 48 US states have reported cases of Omicron, according to public statements from hospital systems and state officials, as well as Puerto Rico and Washington, DC. The only states that have not reported cases of Omicron are Oklahoma and South Dakota.
It was also reported that all three Omicron sub-lineages ie BA.1. BA.2 and BA.3 have now been identified in the United States. Unknown to many, there are actually 3 main Omicron sub-lineages and more soon are expected to be named as at least another 5 more distinct Omicron sub-lineages have been found now.
https://www.thailandmedical.news/news/breaking-the-omicron-sub-lineage-temporarily-called-england-milk-2d24ac9-2021-that-is-spreading-in-uk-is-vastly-different-from-the-south-african-omicr
Dear readers, we are appealing for your kind help and support this Christmas and the coming new year. We are desperately needing funds to sustain this website and all our research and community initiatives and need your help.
https://www.thailandmedical.news/p/sponsorship
For the latest
U.S. Medical News
, keep on logging to Thailand Medical News.
Note that on Sunday, 26
th
December, Thailand Medical News will be publishing a new updated prophylactic and therapeutic protocol involving supplements, herbs and repurposed drugs to protect against the emerging SARS-CoV-2 variants and also to deal with Long COVID-19 issues. This list will be published in our Premium Content Section and will only be accessed via per article payments of US$200 and cannot be shared nor rewritten or even mentioned via any social media platforms etc. Many of the items used are from new unpublished studies that we along with many other researchers are refusing to make public anymore. A few of these will also be put on certain journals but again with paid access that is much more than even from our site.
Donors who helped us with our ongoing fundraising drive from November 2021 till then but did not reach the full specified article costs will still have access to the article after an article embargo period of 3 weeks from the date of donation. We will no longer make critical medical information for free to the public anymore considering the selfish attitudes of many and also neither will be let certain despicable Western, Asian and even Thai organizations and groups use critical information about prophyalctics, therapeutics and even formulations from our site fro their own commercial or personal benefits.