Medical News: Californian Study Shows That Majority Of SARS-CoV-2 Induced Post-MIS-C Children Have Long Term Heart Issues!
Medical News
: The emergence of the severe acute respiratory syndrome coronavirus 2 (SARS-CoV-2) has brought about various challenges, including the identification and management of novel conditions associated with the virus. One such condition that has gained attention is Multisystem Inflammatory Syndrome in Children (MIS-C), a hyperinflammatory response observed in children, weeks after infection. A recent Californian study by researchers from Division of Pediatric Cardiology, Children's Hospital Los Angeles, covered in this
Medical News
report, delves into the lasting cardiovascular consequences experienced by children who have battled MIS-C, shedding light on the need for ongoing cardiac monitoring and management.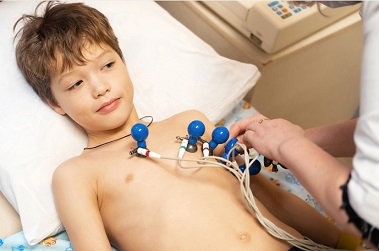 Background
MIS-C is characterized by fever, elevated inflammatory markers, cytokine storm, and involvement of multiple organs, with a significant impact on the cardiovascular system. While complete recovery from MIS-C is possible, the prevalence and severity of long-term cardiovascular issues in affected children remain insufficiently explored. The study aimed to bridge this knowledge gap by assessing residual cardiac pathology in children approximately six months post-hospitalization for MIS-C.
Study Design and Methodology
The research included 69 patients with a median age of 10 years, with 54% exhibiting evidence of myocardial injury during acute illness. To comprehensively assess the cardiovascular health of these children, various tests were employed, including cardiac magnetic resonance (CMR) imaging, cardiopulmonary exercise testing (CPET), and ambulatory rhythm monitoring. The data obtained were analyzed using a range of statistical methods to draw meaningful conclusions.
Results and Discussion
The study's findings revealed a significant prevalence of residual cardiovascular pathology in children post-MIS-C, irrespective of the presence of myocardial injury during acute illness. CMR findings indicated cardiac abnormalities in a majority of patients, with elevated extracellular volume (ECV), native T1, and late gadolinium enhancement (LGE) being the most common abnormalities. Ambulatory rhythm monitoring demonstrated abnormal results in a notable percentage of patients, particularly in those with myocardial injury. Additionally, CPET results indicated reduced functional capacity in a substantial portion of the patient cohort, with no statistically significant difference between those with and without myocardial injury.
Alarmingly, out of the 69 patients studied, 54% showed evidence of myocardial injury during acute illness.
From the CMR findings, at least one cardiac abnormality was observed in 12 of 26 patients with myocardial injury and in 11 of 21 patients without myocardial injury. The most common abnormalities in CMR were an elevated extracellular volume (ECV, 38%), elevated native T1 (19%), and late gadolinium enhancement (LGE, 13%).
Interestingly, in the ambulatory rhythm monitoring tests, 14% of patients showed intermediate results, a majority of which were in the group with myocardial injury. Four patients out of 33 with myocardial injury showed abnormal findings in the test.
Furthermore, a decreased functional capacity was observed in the CPET results of 82% of patients with myocardial injury and 73% without myocardial injury. The difference in the prevalence of reduced functional capacity, ectopy, or abnormal stress echocardiogram was not found to be statistically significant between the two groups.
It was found that among the 52 patients who underwent at least two tests, 11 showed abnormal findings in both the tests, and one patient showed abnormalities in all the three tests.
Taken together, the results of the study demonstrate the presence of residual cardiovascular pathology in a majority of patients post-MIS-C, warranting a cardiac follow-up in all of them. No significant difference was found in prevalence between patients with myocardial injury during hospitalization and those without
Understanding Residual Cardiovascular Pathology
MIS-C, a postinfectious hyperinflammatory response to SARS-CoV-2 infection in children, presents unique challenges in understanding its long-term implications. While most patients achieve full clinical recovery, the study emphasizes the need for ongoing monitoring to uncover potential residual cardiovascular issues. The high prevalence of abnormal CMR findings, including elevated ECV and LGE, raises questions about the nature of these abnormalities and their clinical significance. The study highlights the importance of future research to elucidate the persistence and implications of these findings, paving the way for better-informed clinical management.
Ambulatory Rhythm Monitoring and Exercise Capacity
The study's insights into ambulatory rhythm monitoring and exercise capacity post-MIS-C contribute to a deeper understanding of the multifaceted cardiovascular impact of the condition. While previous studies have provided limited data in these areas, the California study brings attention to documented arrhythmias and reduced functional capacity in a notable percentage of patients. The implications of these findings on the long-term health and well-being of children recovering from MIS-C underscore the need for continued research and a holistic approach to patient care.
Implications for Clinical Practice
The study's comprehensive evaluation of residual cardiovascular pathology in children post-MIS-C has significant implications for clinical practice. The results emphasize the need for continued cardiology follow-up, especially in patients with risk factors such as obesity and ethnic minority backgrounds. The study advocates for a low threshold for referring patients reporting cardiovascular symptoms for further evaluation and workup. By recognizing the high prevalence of abnormal findings on midterm follow-up cardiac studies, clinicians can tailor their approach to monitor, counsel, and manage cardiovascular issues in these patients effectively.
Limitations and Generalizability
Acknowledging the study's retrospective and single-center design, it is crucial to consider the potential limitations in generalizability. While the demographic similarities between the study population and other published studies on MIS-C follow-up suggest reasonable generalizability, the authors stress the need for future research to explore the applicability of these findings to other populations. Understanding the potential variations in the virus and host factors contributing to the observed abnormalities will be crucial in enhancing the broader understanding of MIS-C's cardiovascular impact.
Conclusion and Future Directions
In conclusion, the California study provides critical insights into the prevalence of residual cardiovascular pathology in children post-MIS-C, underscoring the necessity of ongoing cardiology follow-up. The findings call for a comprehensive approach to monitoring, counseling, and managing cardiovascular issues in these patients. As the clinical significance and persistence of these findings remain unknown, the study serves as a catalyst for longer-term follow-up studies to inform clinical practice and improve outcomes for children recovering from MIS-C.
Moving forward, future research should delve into the persistence and clinical implications of the observed abnormalities, addressing the gaps in our current understanding of MIS-C's long-term impact on cardiovascular health. Additionally, collaborative efforts across multiple centers and diverse populations will contribute to a more comprehensive understanding of the condition's nuances.
This collective knowledge will not only guide clinicians in providing optimal care for children recovering from MIS-C but also aid in the development of targeted interventions and preventive measures to mitigate long-term cardiovascular risks. The California study serves as a crucial step toward unraveling the complexities of MIS-C and lays the foundation for a more informed and effective approach to managing the aftermath of this unique inflammatory syndrome in children.
The study findings were published in the peer reviewed journal: Pediatrics.
https://publications.aap.org/pediatrics/article/doi/10.1542/peds.2023-063002/195462/Cardiovascular-Follow-up-of-Patients-Treated-for
For the latest
Medical News
, keep on logging to Thailand Medical News.