Monkeypox Infections Rise In China Among Gay Male Population, Forcing Authorities To Step Up Prevention And Control Via New Legislation
Monkeypox News
: In a significant development in China's battle against the rising number of monkeypox infections, the country's National Health Commission (NHC) has announced a pivotal move. Effective from September 20th, monkeypox will be reclassified as a Class B infectious disease. This reclassification brings with it a set of corresponding prevention and control measures, aiming to execute these measures in a scientific and standardized manner along with more controls for authorities to clamp down on gay sex orgies, spas and clubs promoting unprotected group sex etc.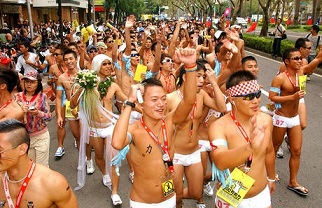 Do not ask me why is it that it is usually the ugly gay
guys that like to walk in their undies in public during gay pride!
Under this new disease category, Chinese authorities can take emergency measures such as restricting gatherings, suspending work and school or sealing off areas when there is an outbreak of a disease.
Monkeypox, a zoonotic disease, was previously mainly confined to Central and West Africa but has since spread globally, with outbreaks detected in over 100 countries and regions, underlining its transmissibility from person to person. It is now basically a sexually transmitted disease predominant among a sub-group in the gay community...i.e. sexually promiscuous and irresponsible individuals who so not practice safe sex.
The Rationale Behind the Reclassification
The decision to classify monkeypox as a Class B infectious disease comes after China reported its first imported case of monkeypox in September 2022, followed by local outbreaks in June 2023. According to local
Monkeypox News
reports, more than 20 provincial-level regions have now reported monkeypox cases, leading to the emergence of new local outbreaks and hidden transmission. To date there are over 1280 cases of Monkeypox reported in China. The NHC's rationale behind this reclassification is to ensure the prevention and control of monkeypox are carried out effectively and efficiently. Experts overwhelmingly support this move as a significant step toward combating the disease.
Monkeypox is caused by the monkeypox virus and has been a predominantly African disease until recently. In 2022, the disease spread via the gay community in Europe to the rest of the world. While authorities and media were trying to be politically correct and not cause any stigma, the disease was found to be predominantly spreading via the gay community through irresponsible individuals indulging in unprotected sex with strangers
Monkeypox has a fatality rate of approximately 0.1 percent but in many cases around the world, gay men who had contracted monkeypox were found also to be having HIV, making conditions more severe and complicated.
By reclassifying monkeypox as a Class B infectious disease, Chinese authorities can establish a clear legal basis for its management. This legal framework empowers prevention and control departments, allowing them to operate with more authority and ensuring compliance with the law.
The local health authorities at or above the county level are now responsible for the pre vention, control, and supervision of monkeypox within their respective regions. Medical institutions with the capabilities to provide treatment can be designated, and all levels of disease control departments and medical institutions must fulfill their responsibilities in reporting infectious diseases. Those who conceal, falsely report, or delay reporting can face administrative penalties.
Challenges in the Fight Against Monkeypox Among Gay Male Populations
While the reclassification of monkeypox as a Class B infectious disease is a crucial step, a new challenge has emerged. Recent data reveals a disturbing trend: the majority of new monkeypox cases in China are among gay male populations. From August 1 to 31, 2023 alone, there were 501 newly reported cases of monkeypox in the Chinese mainland, with over 98 percent of these cases occurring in males who have sexual activities with other men. This data suggests a significant correlation between monkeypox transmission and sexual behavior among gay men.
Public health experts attribute this trend to the high transmission rate of monkeypox within this specific sub-group in the gay community ie sexually promiscuous males indulging in unprotected sex with strangers. While the risk of transmission through other contact methods remains relatively low, close contact among individuals with sexual activities can facilitate the spread of the virus.
Fortunately, most of these cases exhibit clinical manifestations such as fever, rash, and lymphadenopathy, with no severe or fatal cases reported thus far.
A Comprehensive Approach to Prevention and Control
The Chinese government's decision to classify monkeypox as a Class B infectious disease underscores its commitment to comprehensive prevention and control measures. These measures mirror the approach taken with other Class B diseases, including COVID-19, HIV, and syphilis. Health authorities issued a plan for the prevention and control of monkeypox in July, emphasizing the need for effective monitoring of medical institutes, key groups, and international arrivals.
The role of local governments is crucial in developing specific regulations tailored to their regions. After September 20th, these regulations will be implemented to further bolster prevention and control efforts. Health experts suggest that for ordinary residents, the risk of contracting monkeypox remains relatively low, emphasizing the importance of maintaining awareness and avoiding contact with individuals displaying symptoms similar to monkeypox.
Gay Tourism A Major Contributing Factor
.
There were also initial reports that many Chines gay men initially contracted the disease as a result of gay tourism and visiting a certain South-east Asian that is famous for its female and male prostitutes! That country is both a gay hub and sex hub of Asia!
https://www.thailandmedical.news/news/mysterious-mpox-outbreak-in-china-raises-concerns-gay-tourism-involving-a-south-east-asian-country-famous-for-gay-prostitutes-blamed
Conclusion
In response to the increasing monkeypox cases, particularly among gay male populations, China has taken a significant step by reclassifying the disease as a Class B infectious disease. This reclassification allows for more robust prevention and control measures, including legal consequences for non-compliance.
However, the emerging trend of monkeypox transmission among gay men highlights the importance of targeted interventions and education within specific communities. As the nation continues its battle against this infectious disease, collaboration between public health authorities, medical institutions, and affected communities will be essential to contain and eventually eliminate monkeypox in China.
For the latest
Monkeypox News
, keep on logging to Thailand Medical News.
Read Also:
https://www.thailandmedical.news/news/monkeypox-news-concerns-rise-as-infections-spike-among-gay-men-and-teenagers-in-thailand-145-new-cases-in-august-including-a-16-year-old-boy
https://www.thailandmedical.news/news/medical-authorities-report-that-monkeypox-or-mpox-infections-gradually-rising-in-thailand-189-infections-identified-so-far-and-one-death