Dengue News: Dengue Wreaking Havoc Even In The Cooler Himalayas With Kathmandu, Koshi And Baglung Reporting Alarming Rise In Infections!
Dengue News
: In recent years, Nepal has been grappling with a growing public health crisis - the resurgence of dengue fever, a mosquito-borne viral disease. This alarming trend has taken hold not only in the traditionally warmer and more tropical regions but has also extended its reach to cooler areas like the Himalayan foothills, leaving health authorities concerned. In this comprehensive article, we will delve deeper into the escalating dengue outbreak in Nepal, specifically focusing on the increasing number of cases in the Kathmandu Valley, Koshi Province, and the unexpected surge in Baglung District. Local
Dengue News
coverages show that these regions are currently at the forefront of the fight against dengue, and the situation calls for immediate and concerted efforts.
https://kathmandupost.com/health/2023/10/06/kathmandu-records-80-new-dengue-infections-daily
https://english.onlinekhabar.com/dengue-outbreak-koshi-province.html
https://thehimalayantimes.com/health/baglung-sees-surge-in-dengue-infection-cases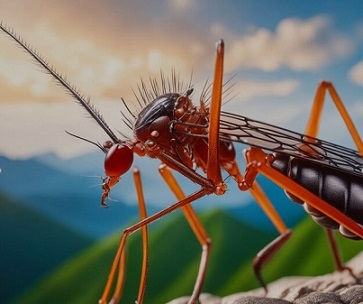 Kathmandu Valley: A Festive Threat
Kathmandu Valley, the bustling and culturally vibrant heart of Nepal, has been facing an ominous threat in recent months - a rapid surge in dengue infections. Hospitals across the Valley have reported an alarming increase in new cases, with an estimated 70 to 80 individuals testing positive for the dengue virus each day. This surge is particularly unsettling as it coincides with Dashain, one of Nepal's major festivals. During Dashain, many health workers traditionally take vacations, potentially straining healthcare resources during a critical time.
Dr Sher Bahadur Pun, chief of the Clinical Research Unit at Sukraraj Tropical and Infectious Disease Hospital, voiced deep concerns about the situation. He emphasized that "the number of positive cases is surging at an alarming rate," indicating a resurgence of the dengue virus in the Kathmandu Valley.
What exacerbates this worrisome scenario is the apparent lack of preventive measures against dengue infection. While some municipalities in the Kathmandu Valley initiated search-and-destroy campaigns during the monsoon season, these efforts were unfortunately discontinued. Experts contend that this lackadaisical approach by authorities is largely responsible for the renewed spread of the dengue virus. They insist that robust measures, including search-and-destroy campaigns and awareness drives, are essential to contain the virus-spreading vectors.
As of now, the Ministry of Health and Population has confirmed over 35,000 infections and 20 deaths related to dengue in Nepal in 2023. However, public health experts suspect that the actual numbers are much higher due to underreporting, as more than 80% of cases are asymptomatic. The government's case reporting system is also seen as ineffective, contributing to the gap between reporte d and actual cases.
Koshi Province: A Grave Situation
Koshi Province, located in eastern Nepal, is one of the hardest-hit regions in the ongoing dengue outbreak. Since mid-July, the province has recorded 17 dengue-related fatalities and over 30,000 infections. Sunsari district, in particular, has been heavily affected, with 13 deaths and a staggering 19,432 infections.
The dengue infection has spread across all 14 districts of Koshi Province, affecting Morang, Jhapa, and Udayapur, which have also reported fatalities. Patients are currently receiving treatment in various healthcare facilities across the province, including the BP Koirala Institute of Health Sciences, as well as public and private hospitals.
Despite the earnest efforts of local governments to initiate anti-dengue campaigns, the province continues to struggle with a surge in infections. The situation exemplifies the challenges that Nepal faces in controlling the outbreak and underscores the need for a comprehensive approach to dengue prevention and management.
Baglung District: A Recent Surge
Dengue has recently emerged as a growing concern in Baglung district, located in the cooler Himalayan region. Recent data reveals that 130 people in the district have tested positive for dengue, with more than 90 cases confirmed in just the past month. Prabin Sharma, chief of the district health office, expressed deep concern over the rapid increase in infections.
Sharma pointed out that until a month ago, dengue infections were relatively low in the district, with only 40 reported cases. However, within the past month, this number has skyrocketed to 130, with Dhorpatan Municipality recording the highest number of cases. As dengue infections continue to spread, Sharma urged residents to take precautions to avoid mosquito bites.
In response to the surge, the district's municipalities have confirmed cases of dengue infection, with Dhorpatan Municipality, Baglung Municipality, and several others reporting cases. The increasing number of patients with dengue symptoms is placing additional pressure on healthcare facilities in the region.
Key Data and Statistics
As of October 2023, over two dozen people have lost their lives due to dengue, and more than 35,000 individuals have been infected with the virus in Nepal.
Kathmandu Valley has seen a resurgence of dengue cases, with hospitals reporting approximately 70 to 80 new infections daily.
Koshi Province has witnessed 17 dengue-related deaths since mid-July, along with over 30,000 confirmed infections.
Sunsari district in Koshi Province has recorded 13 fatalities and 19,432 cases of dengue infection.
Baglung district has recently seen a surge in dengue cases, with 130 people testing positive for the virus. In just the past month, over 90 new infections have been reported.
Conclusion
The dengue outbreak in Nepal is a pressing concern that affects regions across the country, from the Kathmandu Valley to Koshi Province and the unexpected emergence in Baglung District. These areas are at the forefront of the fight against dengue, and the situation necessitates immediate and concerted efforts.
To effectively combat the spread of the dengue virus, health authorities must prioritize comprehensive vector control measures, awareness campaigns, and timely reporting. As the nation grapples with this growing health crisis, the importance of early detection and access to proper medical care cannot be overstated.
Nepal's battle against dengue serves as a stark reminder that infectious diseases can pose significant challenges, even in cooler Himalayan regions. It calls for a united effort to protect the health and well-being of its citizens, and to prevent the dengue virus from further wreaking havoc across the nation.
For the latest
Dengue News
, keep on logging to Thailand Medical News.