BREAKING Medical News! Is SARS-CoV-2 Or COVID-19 Vaccine Induced Immunodeficiency Behind The Surge Of Meningitis Infections In France?
Medical News
: In a surprising turn of events, France is grappling with an unprecedented surge in meningococcal meningitis cases, and medical experts are now investigating a potential link between the surge and immunodeficiency triggered by either SARS-CoV-2 or vaccination.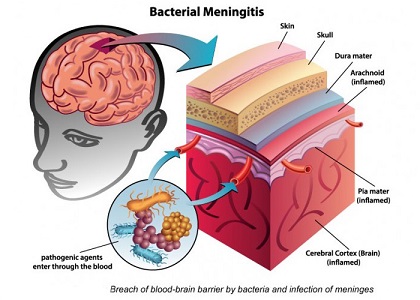 The Pasteur Institute, a renowned medical research center, raised the alarm on November 15, 2023, about the rise of meningitis infections in France, highlighting the urgent need for a comprehensive reassessment of the current vaccination strategy for meningitis.
https://www.pasteur.fr/fr/espace-presse/documents-presse/important-rebond-post-covid-meningite-meningocoques
https://www.ouest-france.fr/sante/maladies/apres-le-covid-19-un-rebond-sans-precedent-des-cas-de-meningites-en-france-0067b090-83c0-11ee-aabe-38ea97092852
https://www.lexpress.fr/sciences-sante/meningites-des-niveaux-jamais-atteints-en-france-TZRHDCU3LFHEDDTY2IOIQAC3EQ/
Meningococcal meningitis, a bacterial infection causing inflammation of the membranes around the brain and spinal cord, has become a major concern in France, especially among adolescents, where approximately one in three individuals are asymptomatic carriers of meningococci. The transmission occurs through close and prolonged contact, making it a pressing public health issue.
Meningitis is a very rare disease but in immunocompromised HIV individuals, it presents itself as a common secondary opportunistic infection.
https://www.cdc.gov/meningococcal/downloads/17-275138B-MeningococcalDis-HIV-FS.pdf
According to various past
Medical News
coverages and studies, during the COVID-19 pandemic, preventive measures such as mask-wearing and social distancing led to a substantial decrease in respiratory infections, including meningococcal meningitis, with reported cases declining by over 75% in 2020 and 2021.
However, as these preventive measures were relaxed, the Pasteur Institute observed a rapid resurgence in bacterial activity, prompting the institute to investigate the root causes.
Dr Samy Taha, a researcher at the Pasteur Institute's Invasive Bacterial Infections unit, noted that meningococcal meningitis experienced an "unprecedented rebound" in the fall of 2022. Now, in the autumn of 2023, the number of cases has surpassed the pre-pandemic levels, raising concerns about the potential causes behind this surge.
The Pasteur Institute's data reveals a significant increase in meningococcal meningitis cases, with 421 documented between January and September 2 023, compared to 298 cases during the same period in 2019 - an alarming 36% increase. Notably, this surge has occurred "even before the winter peak," according to a press release from the institute.
Muhamed-Kheir Taha, the head of the National Reference Center for Meningococci, emphasized that the current levels recorded in 2023 are "unprecedented" in France. The institute attributes this surge to a potential decline in general immunity, possibly caused by reduced strain circulation and a 20% drop in vaccination rates, particularly against meningococcus C during the initial COVID-19 lockdown.
In response to the alarming trend, the Pasteur Institute advocates a comprehensive reevaluation of the current vaccination strategy. While some countries like the United Kingdom have recommendations for groups Y and W, France lacks such guidelines. However, these strains have become predominant since the end of the COVID-19 pandemic, necessitating a critical review of the vaccination approach.
"We believe it is time to reconsider the current vaccination strategy," stated Muhamed-Kheir Taha, who is currently in discussions with the Health Authority. Researchers recommend expanding the tetra-valent vaccine targeting meningococci groups A, C, Y, and W to adolescents, as they are the primary carriers of the meningococcus.
The potential consequences of meningococcal meningitis are severe and can be life-threatening. Swift intervention is crucial, as the bacterial infection can lead to death in less than 24 hours. Even with proper treatment, the mortality rate remains at 10%, and survivors may face long-term complications such as amputation, hearing loss, cognitive issues, and learning difficulties.
As medical experts delve into the potential causes of this meningitis surge, a new angle emerges - could immunodeficiency be a contributing factor? It is already being seen and reported in numerous studies and past case reports that exposure to the SARS-CoV-2 virus and even the COVID-19 vaccines induce immune dysfunction in many and some even develop long term immunodeficiency issues.
Along with this, cases of reactivation of dormant pathogens including EBV, HHV-6, TB and also the rise of infections caused by various opportunistic pathogens are also being reported.
More independent studies are urgently warranted on this issue.
Meanwhile, the Pasteur Institute's call for an expanded meningitis vaccination strategy aligns with its commitment to public health and preventing the resurgence of infectious diseases. As discussions with the Health Authority continue, the Pasteur Institute underscores the importance of community awareness, early detection, and swift intervention to mitigate the impact of this unprecedented surge in meningitis cases.
The institute's researchers are diligently working to provide updated recommendations and strategies to safeguard the population against the evolving threat posed by meningococcal meningitis. As the medical community grapples with the intricate web of factors contributing to this surge, the possibility of SARS-CoV-2 or vaccine-induced immunodeficiency emerges as a critical avenue for further investigation. The debate over the role of immunodeficiency in the meningitis surge adds a layer of complexity to the ongoing efforts.
For the latest
Medical News
, keep on logging to Thailand Medical News.